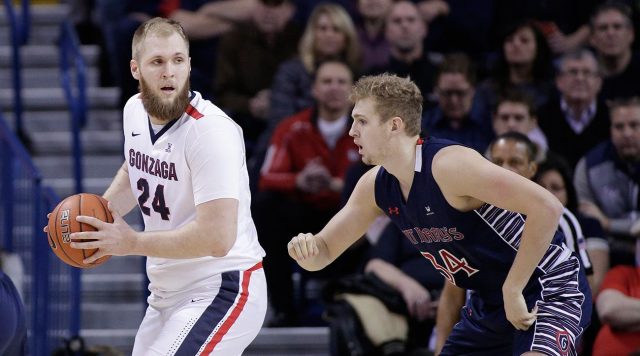 How Has Sharp Money Affected the Gonzaga-Saint Mary's Line?
The West Conference Conference championship game takes place this evening at the Orleans Arena in Las Vegas, Nevada, and the two participants should be familiar to bettors. The Gonzaga Bulldogs (31-1 SU, 21-7 ATS) will be playing in the conference championship for an incredible 20th consecutive season, while the Saint Mary's Gaels (28-3 SU, 16-10 ATS) have advanced to the finals in six of the last eight seasons. Both teams enter tonight's game nationally ranked, and a victory should ensure the Bulldogs a #1-seed in the NCAA Tournament.
These two teams have faced off twice this season, with Gonzaga posting double-digit victories on both occasions. In their most recent matchup, Gonzaga opened as 4-point road favorites and received 78% of spread tickets. Despite that one-sided public betting, the closing line was also Gonzaga -4. That's because sharp bettors were hammering the Gaels +4 and oddsmakers had no incentive to adjust the spread. This was the perfect example of "Sharps vs. Squares," but the sharper side was unable to cover.
The screenshot below, which is available to Sportsbook Insider subscribers, displays public betting information from the Gonzaga-Saint Mary's game on February 11th.

I have previously found that home-court advantage is vastly overvalued by basketball bettors but, although it varies from arena to arena, oddsmakers typically value home-court advantage at around 2.5-points. For that reason, it was hardly surprising to see Gonzaga open as 6.5-point favorites at the market-setting Bookmaker.eu. However, the early line movement and betting trends have been fascinating.
Despite closing as favorites in every game this season, the Bulldogs finished the regular season with the nation's second-best ATS record, They were also a public darling, receiving the majority of spread tickets in all but one game (January 26th against San Diego) this season. That trend has continued today, with Gonzaga receiving 73% of spread tickets at our contributing sportsbooks.
[click image below to enlarge]

Although the majority of tickets have taken Gonzaga, early sharp money has been all over Saint Mary's. According to our newly added money percentages, public money has been evenly split with the Gaels receiving 46% of spread dollars. That indicates that more bettors have taken the chalk, but larger wagers (often placed by sharp bettors or betting syndicates) have taken the underdog. With sharp money taking Saint Mary's, sportsbooks were forced to quickly adjust the spread.
As you can see from the line chart below, Bookmaker moved Saint Mary's from +6.5 to +5 within one minute of posting the line. That's usually an indicator that sharp bettors believe the opening line was vastly mispriced and were anxious to pounce on the Gaels immediately.
[click image below to enlarge]
You will notice that I have highlighted two steam moves triggered on Saint Mary's, which validates my initial claim that sharp money was responsible for this 1.5-point line move. It's not worth chasing steam when the value is gone, which means bettors shouldn't necessary take Saint Mary's despite these sharp money indicators. It's also worth noting there was almost immediately buyback when Bookmaker dropped the spread to 4.5.
I should also note that parlay percentage is an excellent indicator of square money. You won't find many sharps betting parlays since they're usually a losing proposition. At the time of publication, 71% of bettors who parlayed or teased this game had taken Gonzaga.
While most sportsbooks are hanging Saint Mary's +5, several square books (including Bovada) are offering Saint Mary's +5.5. This highlights the importance of having access to multiple sportsbooks and always shopping for the best line.
Sportsbook Insider Pro subscribers have access to real-time odds, public betting trends, money percentages, bet signals (including steam moves and reverse line movement alerts), injury alerts, value meter, line watcher, line predictor, and many other unique features.
The only plays we officially endorse are our Best Bets, and we will be releasing our picks later today. Those are only available to Sportsbook Insider Pro subscribers, so sign up now for a 4-day trial and start winning today!
Have any questions for the staff at Sports Insights? Make sure to utilize our live chat or call us directly at 877-838-2853.