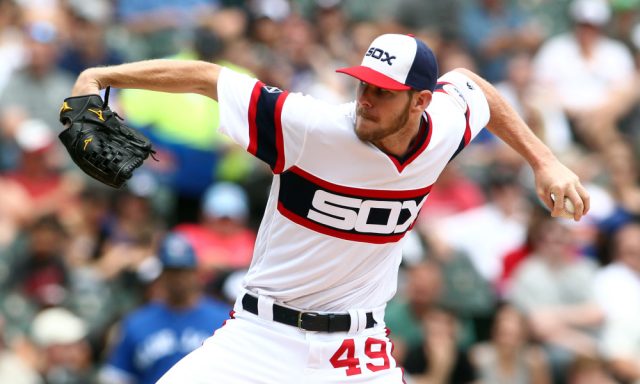 How Has Acquiring Chris Sale Impacted the Red Sox World Series Odds?
On Tuesday afternoon, the Boston Red Sox went all-in on the 2017 season, acquiring LHP Chris Sale from the Chicago White Sox in exchange for a package of highly touted prospects. The trade was headlined by 2B/3B Yoan Moncada, the top-ranked prospect in baseball according to most sources, along with RHP Michael Kopech, OF Luis Alexander Basabe and RHP Victor Diaz.
Sale, a 27-year-old lefty, has been one of the league's most dominant pitchers since joining the White Sox starting rotation in 2012. In five seasons, Sale has gone 70-47 with a 3.04 ERA, 1.061 WHIP and 10 strikeouts per nine innings. He has also finished in the top-six in the Cy Young Award balloting in all five seasons including a fifth-place finish last season. Despite concerns about his low-slot, high-elbow delivery, Sale has thrown at least 174 innings in each of his five seasons as a starter with an average of 203 innings pitched.
It's also worth noting that Sale has one of the most team-friendly contracts in baseball, as he still has three years remaining for a total of $38 million. For some contrast, the Red Sox signed David Price to a seven-year contract last offseason which paid an average annual salary of $32 million. By acquiring such a high-caliber player at a minimal financial cost, the Red Sox have maintained the flexibility to make another major move in free agency.
Following the conclusion of the 2016 season, the Red Sox were listed at +1000 to win the 2017 World Series at the Westgate Las Vegas Superbook. That tied them with the Los Angeles Dodgers and Washington Nationals for the second-shortest odds, trailing only the Chicago Cubs at +300. The Red Sox were also listed at +450 to win the AL Pennant, which made them the co-favorites alongside the Cleveland Indians.
Even with David Ortiz expected to retire, oddsmakers were optimistic about the Red Sox prospects for the 2017 season. With the addition of Chris Sale to a starting rotation that already included two former Cy Young winners (David Price in 2012, Rick Porcello in 2016), the Red Sox are now a force to be reckoned with…but how have their odds changed?
Shortly after the trade was announced, the Red Sox odds of winning the World Series improved from 10/1 to 5/1 at the Westgate Superbook. In terms of implied probabilities, that correlates to a 7.58% improvement from 9.09% to 16.67%. The Cubs, who recently shored up their bullpen with the acquisition of Wade Davis, remain the favorite to repeat as World Series champs.
It's not surprising to see Boston's odds of winning the World Series improve, but it's important to realize that sportsbooks often overadjust their number after this type of high-profile trade. They realize that the Red Sox will be one of the more popular future bets, and shade their number to force bettors into taking a bad number. "That [line move] seems a bit extreme," said Scott Cooley, an Odds Consultant for Bookmaker.eu. "I think if we were around 10/1 we would move to 8/1 or 9/1. They definitely become the odds-on favorite to win the AL now with odds around 4/1."
To provide some context, the Cubs saw their futures move in a similar fashion after making a flurry of moves last year. After acquiring Jason Heyward, John Lackey and Ben Zobrist, the Cubs odds of winning the World Series jumped from +1050 to +650. Although Heyward's contract is now viewed as an atrocity, it's important to remember that most sources had the outfielder listed as the number one available free agent.
Despite his impressive production, Chris Sale hasn't been particularly profitable for bettors. The White Sox have gone 81-67 with Sale on the mound, but $100/game bettors would have actually lost $545 blindly betting the powerful lefty. For what it's worth, Sale has closed as the favorite in 120 of 148 career starts. You can view the year-by-year breakdown in the table below.
| Year | Team Record | Units Won |
| --- | --- | --- |
| 2012 | 18-11 | +2.45 |
| 2013 | 14-16 | -3.32 |
| 2014 | 15-11 | -0.75 |
| 2015 | 16-15 | -2.79 |
| 2016 | 18-14 | -1.04 |
Although betting Sale on the moneyline hasn't been profitable, his starts have been consistently low-scoring with the under going 75-67-6. However, last season the under went just 13-18 in Sale's 31 starts.
| Year | Under Record | Units Won |
| --- | --- | --- |
| 2012 | 17-12 | +3.92 |
| 2013 | 15-13 | +0.75 |
| 2014 | 13-12 | +0.48 |
| 2015 | 17-12 | +3.20 |
| 2016 | 13-18 | -5.49 |
On average, the closing total for Sale's starts has been 7.4, but bettors could see that number on the rise next season. Boston's Fenway Park is one of the most hitter-friendly ballparks in the league, and the Red Sox offense ranked first in baseball in runs scored last season. It's also worth noting that the Red Sox are consistently one of the most popular teams amongst casual bettors, so it wouldn't be surprising to see the moneyline shaded to account for public money — especially in Sale's first few starts of the season.
Spring Training doesn't start until late February, but make sure to bookmark our free MLB odds page for the latest odds, trends, injuries, and futures.
Have any questions for the staff at Sports Insights? Utilize our live chat to speak with a customer service representative or e-mail us at help@sportsinsights.com.