Line Movement/ATS Records
Opening Line at Pinnacle: FSU -9.5, Total 64
Current Line at Pinnacle: FSU -10, Total 68
2013-14 ATS Records: FSU 11-2 (+8.16 units), Auburn 11-2 (+8.16 units)
BCS Championship Futures via Bovada
| BCS Title Odds at Bovada | Auburn | Florida State |
| --- | --- | --- |
| 1/8/13 | 200:1 | 14:1 |
| 5/21/13 | 150:1 | 28:1 |
| 9/18/13 | 150:1 | 12:1 |
| 9/24/13 | 200:1 | 12:1 |
| 11/10/13 | 50:1 | 2:1 |
| 12/1/13 | 5:1 | 1:3 |
| 1/6/14 | 3:1 | 1:4 |
While Auburn and Florida State finished tied among the top college football teams ATS last year, their roads to the 2014 BCS Championship Game were vastly different. FSU was one of the early favorites to win the 2014 BCS title last January while Auburn was coming off a poor 2012-13 season in which they finished 3-9 and fired head coach Gene Chizik. Though Auburn was a long shot to even be in this game, a victory would give those holding futures tickets a big payday.
Pinnacle opened Florida State at -9.5 and quickly moved to -8.5, mostly due to public betting. The line remained at -8.5 for nearly a month until money poured in on the Seminoles, pushing them to -10.5 before settling in at the current number of -10.
The combination of our College Football Betting Trends data and line movement indicate that, so far, sharp money jumped on Florida State, pushing the point spread to -10 and -10.5 across the sports betting marketplace.
The following Tweets from David Purdum (@DavidPurdum) also highlight the big money that Vegas casinos have taken on Florida State:
Below is a snippet of the Line History at Pinnacle, where FSU opened -9.5, moved to -8.5, and then back up to the current line of -10.  As you can see, the majority of bets (>60%) have been on Auburn since the game opened, but the line move on Florida State has balanced them out.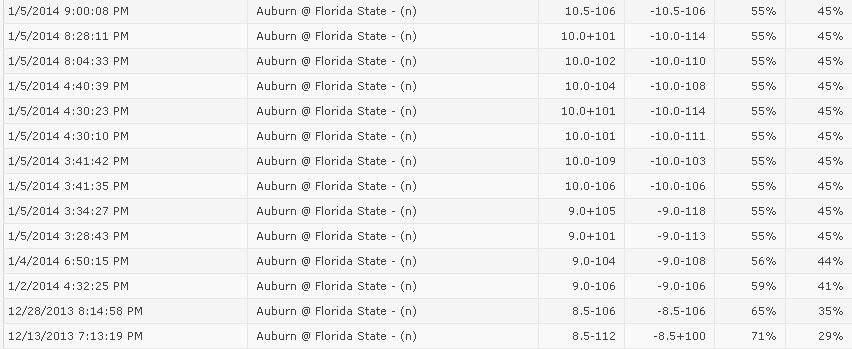 Which side do you like in the BCS Championship game? Or, are you looking at the total (O/U) instead? We invite you to leave your thoughts regarding the 2014 BCS Championship in the comments section below.
[adrotate group="4″]
The following two tabs change content below.
Dan McGuire
Dan McGuire is the Operations Manager and soccer specialist at Sports Insights. He can be reached at dan.mcguire@sportsinsights.com.
Latest posts by Dan McGuire (see all)