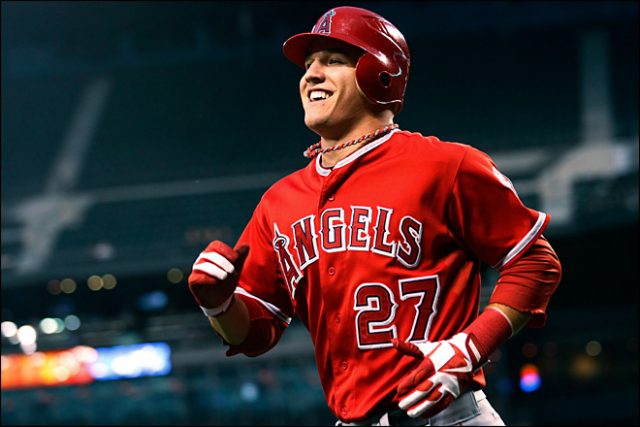 How Do Key Position Players Influence Sportsbooks and Bettors?
If you're an avid bettor or fantasy baseball player, you likely keep a close eye on lineups to see who is playing that day. Often times, a lineup may influence who you bet on depending on whether or not a key player is missing. In football and basketball, the best players in the league are worth around 4-6 points to the spread, which could mean the difference in 100+ cents to a moneyline. With that being said, how much do the best players in baseball impact a moneyline?
The MLB is brimming with young talent and new potential "faces of the game", but most people will agree that Mike Trout remains the best player in the game. One of these people is Scott Cooley, an oddsmaker at Bookmaker.eu. According to Cooley, MIke Trout is part of his top tier of position players along with Bryce Harper and Paul Goldschmidt. However, he considers Trout 1A and the other two 1B. These players are worth seven to ten cents to a moneyline.
In his second tier, two more players may move the line between four and seven cents: Josh Donaldson and Nolan Arenado. There are other great players, of course, but many of them may not be worth all that much to the line because of their teammates. "The value of a player to the odds, in any sport, greatly depends on his supporting cast. In an offense lined with hitters, one guy sitting out isn't going to have much impact on the odds. Baseball is also much different than other sports in that everyone contributes offensively and defensively, for the most part."
Though each situation is slightly different, when it comes down to it, five to ten cents on a moneyline does not mean much. If the Angels are -120 and move to -110 when Trout is missing from the lineup, their implied probability of winning only moves about two percent: from 54.5% to 52.4%. The market, of course, may feel that a player is worth even more.
Cooley says that he allows the market to decide just how much the line is going to move. "…The second movement is from the market perception. The oddsmakers initially adjust their numbers based on the absence of a key player, and the aftermath is usually from the abundance of action received."
While Trout may initially move a line ten cents, it wouldn't be uncommon to see the line move even more if bettors continue to hammer the other team. This can also happen with players that don't cause an initial movement from the books, too. In the table below, you'll see how the line moved in the 20-30 minutes after a key player was missing from the lineup. Only rest days from this season were used for these examples because players questionable for injuries are already factored into the equation. You can also see how the line moves correspond to implied probability (IP).
| Player | Before | After | IP change |
| --- | --- | --- | --- |
| Paul Goldschmidt | -105 | +111 | -3.83% |
| Aaron Judge | +117 | +131 | -2.79% |
| Mike Trout | +103 | +114 | -2.53% |
| Giancarlo Stanton | -133 | -120 | -2.53% |
| Bryce Harper | -170 | -155 | -2.18% |
| Miguel Cabrera | -153 | -140 | -2.14% |
| Nelson Cruz | +133 | +145 | -2.10% |
| Kris Bryant | -115 | -107 | -1.80% |
| Matt Kemp | -130 | -121 | -1.77% |
| Nolan Arenado | -168 | -156 | -1.75% |
| Evan Longoria | +126 | +135 | -1.70% |
| Josh Donaldson | -123 | -115 | -1.67% |
| Jose Altuve | +105 | +111 | -1.39% |
| George Springer | -174 | -165 | -1.24% |
| Carlos Correa | -210 | -200 | -1.07% |
| Daniel Murphy | -122 | -117 | -1.03% |
| Anthony Rizzo | -166 | -160 | -0.87% |
| Corey Seager | -210 | -202 | -0.85% |
| Francisco Lindor | -138 | -134 | -0.72% |
| Yoenis Cespedes | +136 | +140 | -0.70% |
| Yonder Alonso | +106 | +109 | -0.69% |
| Ryan Braun | +109 | +112 | -0.68% |
| Marcell Ozuna | -129 | -126 | -0.58% |
The first thing I'd like to say is that not every line is created equally. The pitchers on both teams, how well the player is performing at the time, and the previous line moves are all factors that will influence bettors. These are just examples that can help put things in perspective. Is Matt Kemp better than Jose Altuve? Hell no! Like Cooley said, a player's teammates can matter just as much as the player themselves. A Kemp-less Braves lineup looks a lot worse than an Altuve-less Astros lineup so bettors will react accordingly.
Bettors often tend to overreact when a player is hot. Aaron Judge has been great this year, but is he really worth more than Trout is to the Angels lineup? You'll see that Yonder Alonso, when he was at his hottest, caused the line to immediately jump three cents when he rested. When asked about players on hot streaks, though, Cooley stated, "We need a fairly large sampling for us to notice 'hot' players. Oddsmakers don't overreact to recent streaks." While oddsmakers don't overreact, it is clear that bettors do.
Some players just haven't taken a rest day this season (eg. Machado and Votto) so we can't place them in the table. Also, catchers are tough to assess because their rest days are often easy to predict. When asked about catchers, Cooley said, "Certainly catchers that call the game and control the flow are viewed more highly in the eyes of the oddsmakers. Molina is a great example of a catcher that we always have an eye on in terms of when he sits and when he plays."
While bookmakers only move the line for a handful of players, the betting market moves the line quite a bit for a bunch more. Follow us on Twitter @SportsInsights to be sure you don't miss breaking injuries for these key players. Will you jump on the line before it moves or wait until the market overreacts and take the other side? Check our free odds page to see line histories, injuries, and public betting data.