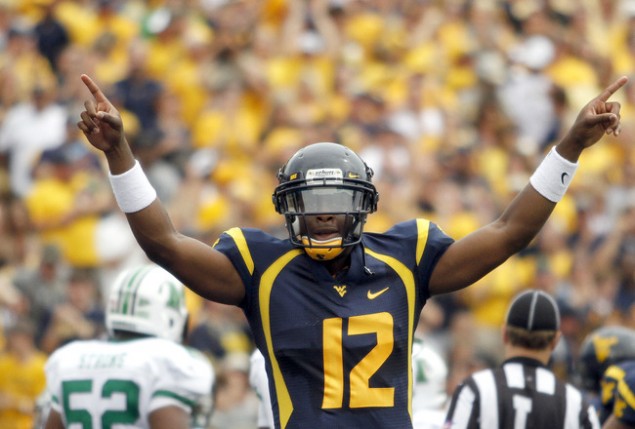 Heisman Update: It's Geno Smith vs. The World
To say that Geno Smith put up videogame numbers in last weekend's game against Baylor would be an injustice. After all, how often do you pick up the sticks for a game of Madden and throw for more touchdowns than incompletions? That's right. In Saturday's 70-63 victory over Baylor, the West Virginia quarterback completed 45 of 51 passes for 656 yards and eight touchdowns.
This ridiculous performance catapulted Smith to number one in the nation in quarterback rating (208.4), touchdowns (20), completion percentage (83.4%) — all without throwing a single interception. In fact, the only major category Smith does not lead the nation in is passing yards (where he trails only Marshall QB Rakeem Cato).
These unbelievable statistics have made Smith the trendy Heisman pick, but what are the odds that the senior gunslinger will hear his name called at the Downtown Athletic Club in December? Before the season, Smith had 15/2 odds to win the 2012 Heisman Trophy at Bovada. Those odds put Smith behind frontrunner Matt Barkley (3/1) as well as Wisconsin's Montee Ball (5/1), Michigan's Denard Robinson (5/1) and Oklahoma's Landry Jones (7/1).
Although Bovada has not been updating their Heisman props, a look at Sportsbook.com's Heisman futures reveal Smith's soaring odds. The table below displays the players with the best chances to take home college athletics most coveted trophy.
| | | |
| --- | --- | --- |
| Player | Team | Odds |
| Geno Smith | West Virginia | even |
| EJ Manuel | Florida State | +400 |
| DeAnthony Thomas | Oregon | +400 |
| Collin Klein | Kansas State | +400 |
| Matt Barkley | USC | +800 |
| Braxton Miller | Ohio State | +1000 |
| Marqise Lee | USC | +1200 |
| Aaron Murray | Georgia | +1200 |
| A.J. McCarron | Alabama | +1500 |
| Teddy Bridgewater | Louisville | +2000 |
| Marcus Lattimore | South Carolina | +2500 |
As you can see, Smith has jumped to even money (+100) and is the clear Heisman frontrunner. That said, many people saw Stanford's Andrew Luck as the odds on favorite at this time last season and we all know how that turned out.
The Mountaineers (4-0) are ranked 8th in the most recent AP Top 25 Poll, but their schedule does not get any easier down the stretch. This weekend West Virginia is a 7-point underdog against #11 Texas and in the upcoming weeks they will host #7 Kansas State (10/20), #15 TCU (11/3) and #17 Oklahoma (11/17). They are fortunate enough to have their toughest games scheduled at home this season, but that is a difficult stretch of games which becomes even more trying if they make it to the Big 12 Championship.
Last season Robert Griffin III was able to win the Heisman despite Baylor suffering three losses, but typically Heisman winners typically come from the nation's most elite teams. Can Smith's Heisman hopes survive multiple losses? Will West Virginia's defense prove costly? Are these astronomical numbers really sustainable? Please leave your comments in the section below.