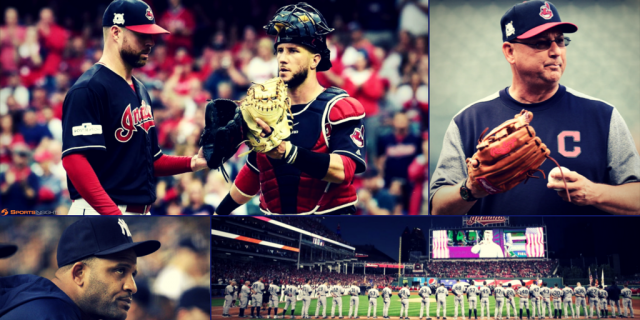 Game 5 Elimination Chamber: Yankees vs. Indians
With the Indians so hot down the stretch, I don't think anyone would have guessed that they'd be one game away from losing the ALDS. In fact, they could easily already be out if it weren't for their game 2 come-from-behind win.
Game 5 of the ALDS and NLDS has been anything but predictable over the past decade, with underdogs going 9-6 dating back to 2005.
Cleveland will have their ace Corey Kluber facing off against their former ace CC Sabathia in tonight's elimination game. The Yanks shocked the world by beating up on Kluber in the aforementioned game 2, but luckily for him, the Indians' offense bailed him out. He allowed six runs in just 2.2 innings pitched, easily his worst start dating back to May.
The Yankees could have opted to go with Sonny Gray, who pitched game 1, but decided to go with the seasoned veteran. Sabathia went 5.1 innings in game 2 and allowed 2 earned runs. I have a feeling Gray could get an early nod out of the bullpen if Sabathia has struggles in the first few innings.
This game opened with Cleveland as a -190 favorite at Bookmaker, but the line has since moved to -201, suggesting that the Indians have essentially a 2/3 chance of winning based off implied odds.

This exact same matchup in game 2 opened with Cleveland -235, but it was bet down to -205 by gametime despite 71% of bets on the Indians. This game has a bit of a different look, with the line actually moving towards Cleveland. They're getting 57% of bets as of about 3 PM eastern so it's clear that bettors aren't as confident in Kluber or the Indians as they were just a few days ago.
There's a slight chance of showers tonight, but nothing that is going to cause the game to be postponed. However, there will be a nasty breeze coming in from right field that could blow down some fly balls in that direction. The total remains where it opened at 7.5.

Check the latest odds and percentages on our free MLB odds page and follow the new @ActionNetworkHQ Twitter account for all your sports gambling needs.