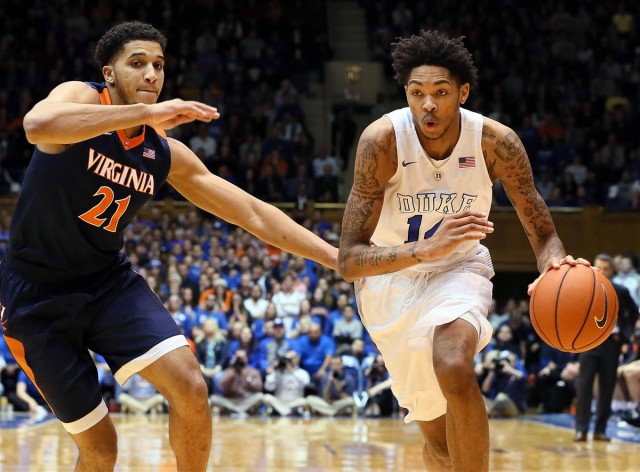 Find Value Betting NCAAB Conference Tournament Unders
Last season we published an article which explained how bettors could build their bankroll by taking the under in early season college basketball tournaments. We already knew that the under had been historically undervalued and hypothesized that players would be particularly rattled by these high-pressure, nationally-televised games. Additionally, we speculated that the long travel schedule and constant back-to-back games would lead to increased fatigue and lower scoring games.
[ Sign up for a 4-day trial of Sportsbook Insider Pro ]
At the time of publication, the featured system had posted a record of 203-146 (58.2%) with +44.94 units won. This system continued to thrive and went 10-4 (+5.32 units won) during the 2014-15 season. Following that season, the NCAA formally voted to reduce the shot clock from 35 seconds to 30 seconds, which dramatically impacted college basketball over/unders.
For example, the average total has increased by roughly 8.5 points this season. The aforementioned betting system focused on neutral court unders with totals of 145 or greater. This was a logical filter since we have found that the under has provided historical value in games with high totals while the over has provided additional value in games with low totals.
With the new shot clock causing the average total to increase, the number of system matches skyrocketed from 14 in 2015 to 82 in 2015. Although our system continued to maintain profitability (the system finished 48-34), it was obvious that we could no longer judge current games based on previous totals.
That said, we believed that the same theory regarding early season, neutral site games could be applied during conference tournaments. These are marquee, high-pressure games played on back-to-back nights — much like early season tournaments. We have also found that the familiarity between teams has led to decreased scoring in conference games.
Using our Bet Labs software, our initial research found that the under has gone 1,329-1,226 (52.6%) in conference tournament games. Most of these games are played at a neutral site, but the higher seeds actually receive home court advantage in the early rounds of small conference tournaments. By eliminating these games and focusing on neutral site games, we're able to increase our units won while decreasing our sample size. This small tweak caused our return on investment (ROI) to move from 1.7% to 2.7%.

For bettors to break even over the long haul, they need to win at least 52.38% of their bets. This percentage assumes the standard -110 juice, and the break-even point would be slightly lower for anybody with access to a reduced juice book. This basic conference tournament betting system has won at a 53.1% rate with a sample size of over 2,100 games which shows a clear-cut edge. However, we believed that additional filters could improve our results.
Most conference tournaments require that teams win at least four to five games on consecutive days in order to emerge victorious. We believed that in later rounds, fatigue would become an increasingly significant factor. These games are physically exhausting, and we presumed that shooting percentages would wane as the conference tournament reached its final days. We were right.
Since 2005, neutral court unders have gone 148-105 (+33.36 units) during the conference tournament finals and 268-221 (+30.73 units) during the conference tournament semifinals. That means bettors would have gone a combined 416-326 (56.1%) by simply taking the under in the last two rounds of every conference tournament.

---
Bet Labs users are able to copy this system directly from our Think Tank, and bettors are able to view the latest odds and trends from our free college basketball odds page.
Have any questions for the staff at Sports Insights? Utilize our live chat to speak with a customer service representative or e-mail us at help@sportsinsights.com.
David Solar is the Content Manager at Sports Insights and can be reached directly at david@sportsinsights.com.
3/7/16 Update: This system has gone 8-7 ATS (+0.32 units) during the 2016 postseason and is now 424-333 ATS (56%) overall.