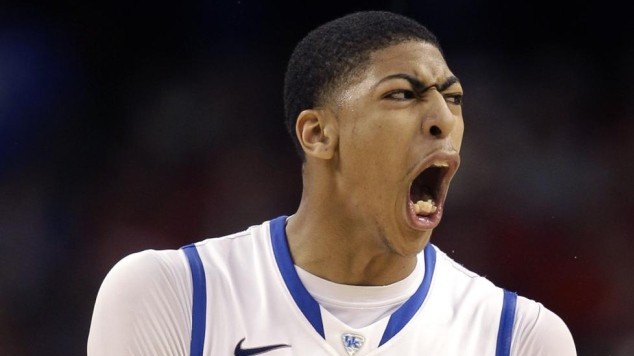 Fear the Brow: Who Do Oddsmakers Think Will Be Selected After Anthony Davis?
The NBA draft is scheduled for tomorrow night, and the fireworks have already begun. Just over a week ago,  the Washington Wizards dealt away Rashard Lewis' expiring contract and a second round pick (as well as all future cap flexibility) to New Orleans in exchange for Emeka Okafor and Trevor Ariza — indicating the Hornets are entering a full-on rebuilding mode. Then yesterday, things got really interesting.
The Houston Rockets dealt away Chase Budinger to the Timberwolves for the 18th overall pick in Thursday's draft. This gives GM Darryl Morey three first-round picks, and plenty of ammunition to explore a trade for Dwight Howard. Most recently the Bobcats — who own the second pick in the draft despite a historically incompetent season — acquired Ben Gordon and a 2013 first-round pick from the Pistons in exchange for Corey Maggette. The motivation for both teams was financial, as both players own bloated contracts with Maggette's deal expiring one year earlier.
These deals have caused some movement in the NBA draft props at Bovada and Sportsbook.com. In fact, based on the odds at these two sportsbooks, we have an interesting insight into whom bookmakers believe will be drafted early — but how does that compare to the so-called draft experts?
| | | | |
| --- | --- | --- | --- |
| Team | Chad Ford | NBAdraft.net | Oddmakers |
| New Orleans | Anthony Davis | Anthony Davis | Anthony Davis |
| Charlotte | Thomas Robinson | Thomas Robinson | Thomas Robinson |
| Washington | Bradley Beal | Bradley Beal | Bradley Beal |
| Cleveland | Michael Kidd-Gilchrist | Harrison Barnes | Michael Kidd-Gilchrist |
| Sacramento | Harrison Barnes | Michael Kidd-Gilchrist | Harrison Barnes |
As you can see, there is essentially a consensus on the first five picks, but things get a lot shakier after that. Right now, Anthony Davis is a lock to go number one overall although Sportsbook.com is currently offering -5000 odds on Davis being the top pick. There is some intrigue with the second pick, however. Sportsbook.com has Robinson as a -140 favorite to be the second player off the board, but there are many reports that Charlotte is looking to shop their pick.
The most popular rumor has Cleveland dealing their two first round picks (#4 and #24) to move up two spots and select Florida SG Bradley Beal. This would be interesting as the Wizards would almost definitely select Beal if he is available at number three. With a point guard (John Wall), center (Nene), power forward (Okafor) and small forward (Ariza) already in the fold, the team is clearly in need of a young shooting guard to compliment franchise cornerstone Wall. Right now, Beal is a -150 favorite at Sportsbook.com and -180 favorite at Bovada to be selected with the number three pick.
As for the number four pick? If Cleveland opts against trading up, they will have a tough decision between Kentucky's Michael Kidd-Gilchrist and UNC's Harrison Barnes. Bovada has Kidd-Gilchrist (-125) as a slight favorite to be selected over Barnes (+125), with the rest of the field being a long shot (+200). However, yesterday that line was -150/+150 in favor of MKG, showing that the competition is closer than initially believed. Whichever player is not selected by Cleveland, will likely be snatched up by the Kings at number five.
Once we exit those top five picks there is a lot less certainty, but oddsmakers still have a plethora of props for eager draft bettors.
| | | |
| --- | --- | --- |
| Team | Chad Ford | NBAdraft.net |
| Portland | Damian Lillard | Damian Lillard |
| Golden State | Andre Drummond | Andre Drummond |
| Toronto | Dion Waiters | Dion Waiters |
| Detroit | John Henson | John Henson |
| New Orleans | Austin Rivers | Austin Rivers |
Both Chad Ford and Aran Smith of NBAdraft.net see eye-to-eye on picks six through ten, but there is some disagreement among oddsmakers. Both of these experts have Portland opting for the uber-productive Damian Lillard who averaged 24.5 points, 5.1 rebounds and 4.0 assists per game last season at Weber State. However, Sportsbook.com has UConn's raw center Andre Drummond (-150) with higher odds of being selected ahead of Lillard (+110).
There are no draft props regarding either Dion Waiters or the Toronto Raptors, but there are bets for where ACC stars John Henson and Austin Rivers will be selected. Henson is a slight favorite to be selected ahead of Rivers (-125/-115) and the former Tar Heels' over/under on draft position of 9.5 is slightly higher than Rivers' 10.5.
Outside the top ten, it's tough to project how this draft will unfold, but there are definitely a number of fascinating props to examine. Will there be six ACC players selected in the first round? With an over/under of 5.5 there seem like five locks: Harrison Barnes, John Henson, Austin Rivers, Tyler Zeller and Kendall Marshall — but who is the sixth? Mason Plumlee? Mike Scott? Bernard James? With a -155 juice on the under, bookmakers believe those players will be selected in the second round, if at all.
The same type of prop bet exists on Big East first rounder's, although the total is barely lower at 5. Andre Drummond, Dion Waiters and Jeremy Lamb are first round locks. Moe Harkless and Fab Melo are close to sure things as well. But who would be that sixth? The Marquette duo of Darius Johnson-Odom and Jae Crowder are possibilities, as is West Virginia's Kevin Jones. With -120 juice on both sides, sportsbooks hope to get even money on both sides and simply collect the vig.
One prop that jumped off the page at me was whether Kansas' point guard Tyshawn Taylor would be a first-round selection. Chad Ford projected the high-scoring guard (17.3 ppg as a senior) as a mid-second round pick, yet yesterday sportsbook had -180 odds that he would be selected in the first round. The public undoubtedly saw him as a second round/undrafted player (+140 odds) as this morning those odds had completely switched with Taylor getting +120 odds to be selected in the first. In a draft devoid of point guards, it wouldn't be too surprising to see a team reach for the NBA-ready Taylor.
Looking for other potential prop bets? The table below shows the prop bets available at Bovada and Sportsbook.com
| | | |
| --- | --- | --- |
| Bet | Odds | Sportsbook |
| College Seniors Selected in the 1st? | 4.5 (-120) | Sportsbook.com |
| Kentucky Players in Lottery | 2.5 (+120o/-160u) | Sportsbook.com |
| Jared Sullinger Draft Position | 18.5 (-130o/-110u) | Bovada |
| Terrence Jones Draft Position | 17.5 (-120) | Bovada |
| Perry Jones Draft Position | 14.5 (-120) | Bovada |
| Kris Joseph Draft Position | 44.5 (-140o/even) | Bovada |
| Tyler Zeller Draft Position | 14.5 (-200u/+150o) | Sportsbook.com |
The last and most recent prop bet listed concerns the potential trade of Dwight Howard. Bovada has asked, "Will Dwight Howard be traded before the 2nd round of the NBA draft ends?" Although they believe he will not be dealt, the odds suggest that this event is plausible with +120 on Yes and -160 on No.
What do you think? Will Howard be dealt on Thursday? Will Jared Sullinger's injury cause his draft stock to plummet? Do the Portland Trailblazers want to once again roll the dice with a young and athletic big man after the disasterous selection of Greg Oden? Post your thoughts in the comments section below.