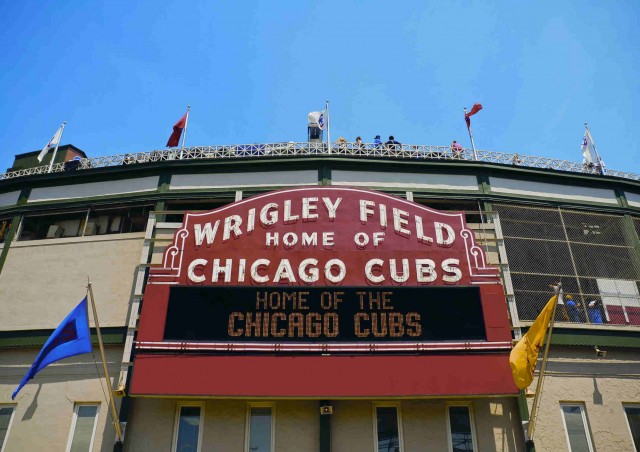 Do Day Games Negatively Affect the Chicago Cubs?
Many of our younger readers may not realize this, but the Chicago Cubs did not install lights to play night games at Wrigley Field until 1988. Part of the reason is that there's a certain old-fashioned charm to playing in the natural sunlight, but the larger issue is the neighboring community.
Wrigley Field is located in a very residential area, and many locals did not want the peace disturbed by the loud noises and horrid traffic caused by 81 home games per season. For that reason the Cubs play more afternoon games than any other team in baseball, and it seems some players think this may have contributed to the Cubs' epic struggles over the past century.
After a long road trip, Red Sox slugger David Ortiz was quoted as saying, "When you come down to the Cubs' schedule it's a game-changer, believe it or not. They play so many day games at home and then they have to travel to another city and adjust themselves to the night games." Ortiz referenced former Cubs outfielder Alfonso Soriano who agreed that the Cubs' wealth of day games lead to increased fatigued and decreased performance.
While players feel that the Cubs struggle because of their frequent day games, we wanted to know whether bettors could take advantage of this situation so we consulted with our Bet Labs software.
Our first step was to select the stadium filter and select Cubs from the "team" filter and then highlight "fade system" to ensure that we are always betting against the Cubs. The following table shows the value of betting against the Cubs at home and on the road.
| Criteria | Record | ROI | Units Won |
| --- | --- | --- | --- |
| Home | 386-381 | +55.42 | 7.2% |
| Road | 435-336 | +14.09 | 1.8% |
| Overall | 821-717 | +69.51 | 4.5% |
As you can see, it's been profitable to bet against the Cubs regardless of where the game is being played, but it is particularly profitable to fade the Cubs at Wrigley Field. Our next goal was to see whether fatigue or the time of game had any impact on these results. To accomplish this we first highlighted the Cubs at home and selected the "time of day" filter to examine day games at Wrigley.
Since most of the Cubs' day games are played at either noon or 3 p.m. locally, we selected games played at or before 4 p.m eastern time in Bet Labs. While you would expect it to be more profitable to bet against the Cubs during day games, this system actually falters with a 238-254 record and just 19.42 units won as well as an ROI of just 3.9% — a nearly 50% drop off from all home games.
Once we add the "days between games" filter to focus solely on back-to-back games, our system actually slips even more with a 205-221 record for +13.78 units and a 3.2% ROI. This seems to indicate that David Ortiz is wrong about the Cubs schedule and that they are simply an awful team that is slightly less bad during day games.

Of course, it's also possible that the long grind of the season impacts these players and that the team is affected adversely by travelling after a day game. To test this, we looked at Cubs road games when they played at home in the previous game. Although this produced a small sample size, this fade system resulted in a 64-47 record with +7.72 units won and a 7% ROI. When the team does not have a day off between games, the system drops to 36-30 for +1.01 units won and a 1.5% ROI.
Ultimately, it's safe to say that the presumption that Cubs players are affected by playing in a large number of day games is incorrect. The best time to bet against the Cubs is during night games at Wrigley, not day games. Given Big Papi's tendency to whine about the smallest issues (like his recent spat with the official scorer or complaint about the Sox schedule) it would seem that this is just more empty grievances.
Have any questions for the team at Sports Insights? Please contact our customer service department at 877-838-2853, email us at help@sportsinsights.com, or utilize our live chat to speak directly with a representative.
[adrotate group="3″]