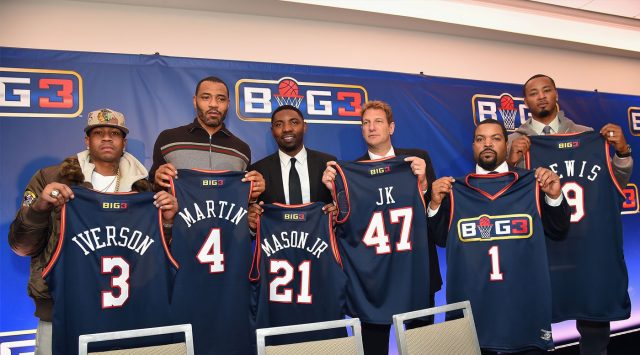 BIG3 Championship Odds
On January 11, 2017, Ice Cube announced the formation of a new three-on-three traveling basketball league. The league includes eight teams composed of former NBA players participating in an eight-game regular season. The games take place every Saturday, with a weekly quadruple-header that features all eight teams. The postseason will feature just one semifinal matchup before the championship.
Games will be played on a half court, but there are several additional unique rules including a four-point shot, no foul outs, no defensive three-second violations, and many others. Halftime takes place when the first team scores 30 points, and the game is won when the first team reaches 60.
A day after a player combine was held, the BIG3 draft took place on April 30th. The captain and co-captains selected 24 players from a pool of 70. Former North Carolina star Rashad McCants was the first overall pick, but many prominent players went undrafted including Steve Francis, Kendall Gill, Joe Smith, Smush Parker, D.J. Mbenga, Kareem Rush, Earl Boykins and Al Thornton.
Following the draft, BetOnline posted odds on the BIG3 champion with Allen Iverson's team (3's Company ) and Chauncey Billups team (Killer 3's) listed as the co-favorites at +450.
The list below displays the full roster for each team along with their odds to win the championship.
Team: 3's Company
Coach: Allen Iverson
Roster: Allen Iverson, DerMarr Johnson, Andre Owens, Michael Sweetney, Ruben Patterson
Odds to win: +450
Team: 3 Headed Monsters
Coach: Gary Payton
Roster: Rashard Lewis, Jason Williams, Kwame Brown, Eddie Basden, Mahmoud Abdul-Rauf
Odds to win: +600
Team: Ghost Ballers
Coach: George Gervin
Roster: Mike Bibby, Ricky Davis, Maurice Evans, Marcus Banks, Ivan Johnson
Odds to win: +800
Team: Killer 3s
Coach: Charles Oakley
Roster: Chauncey Billups, Stephen Jackson, Reggie Evans, Larry Hughes, Brian Cook
Odds to win: +450
Team: Power
Coach: Clyde Drexler
Roster: Corey Maggette, Cuttino Mobley, Jerome Williams, DeShawn Stevenson, Moochie Norris
Odds to win: +800
Team: Trilogy
Coach: Rick Mahorn
Roster: Kenyon Martin, Al Harrington, Rashad McCants, James White, Dion Glover
Odds to win: +700
Team: Tri-State
Coach: Julius Erving
Roster: Jermaine O'Neal, Bonzi Wells, Xavier Silas, Lee Nailon, Mike James
Odds to win: +500
Team: Ball Hogs
Coach: Rick Barry
Roster: Brian Scalabrine, Josh Childress, Derrick Byars, Rasual Butler, Ivan Johnson
Odds to win: +800
Will you be paying attention to the BIG3 this season? Which team do you think is the most talented? Please leave your opinions in the comment section below.