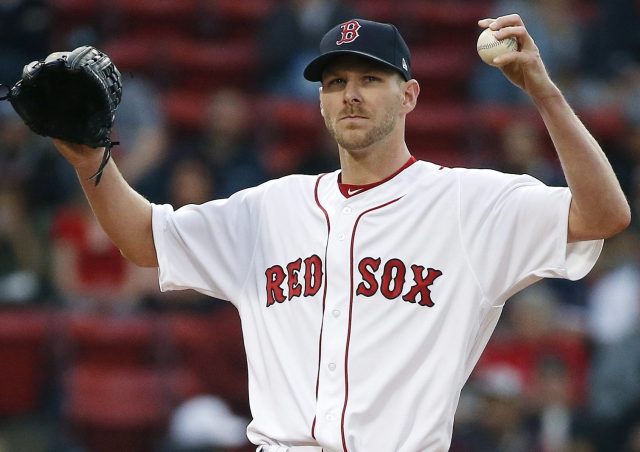 Big Reverse Line Movement Against Chris Sale and the Red Sox
Red Sox Yankees, Sunday Night Baseball…get ready for a long night. Two southpaws take the hill tonight in the Bronx. One is a household name and Cy Young frontrunner in Chris Sale. The other, Jordan Montgomery,  probably won't be known by many of the viewers across the country tuning into ESPN. However, it appears that sharp bettors are taking their chances on the Yankees.
Despite not starting for another 7+ hours, the Sox Yanks game has more bets that we have tracked than all but two of the day games. The majority of bettors are siding with Chris Sale, and who could blame them? The Sox are getting 74% of bets as of 12:30 PM eastern, but most of those are coming from square bettors who are throwing a few bucks down so they have someone to root for while they watch the game.
If we look at percent of dollars wagered, it is the Yankees who have received 71%. These large bets on New York have caused significant reverse line movement. At the large offshore book Pinnacle, the Red Sox opened at -173, but are down to -148 while the Yankees have gone from +159 to +136.
If we look at the book-by-book betting breakdown, bets are much more evenly split at 5Dimes and Bookmaker, two of the largest offshore sportsbooks that cater to sharp bettors.

This season, Sale has been terrific against the Yankees: 2 starts, 15.2 innings, 1.15 ERA, and 23 strikeouts. However, the Red Sox have lost both games. Can the Boston lineup provide Sale some support and get the public a victory tonight or will Montgomery and the Yankees reward sharp bettors?
If you want to see percentage of dollars, sign up for our pro membership. In addition, you'll also receive our in-house best bet and contrarian picks (up a combined 97.9 units this year), steam and reverse line moves, access to our nightly betting hangout, and more.