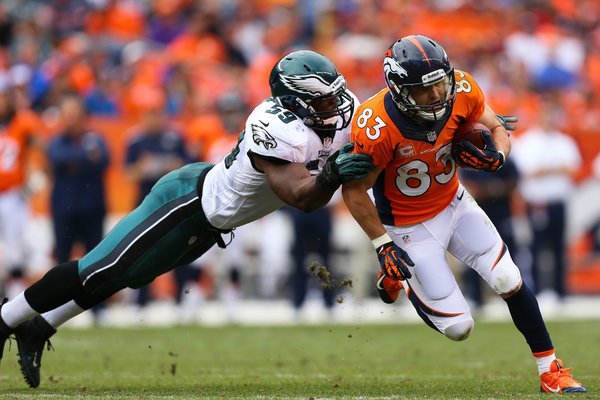 What Bettors Should Know for Sunday, August 24
MLB – Last night the Athletics got a crucial 2-1 victory over the Angels and now share the lead atop the AL West. Tonight they'll square off again as Oakland are playing on Sunday Night Baseball in consecutive weeks after not appearing at all since 2006.
NFL – Last night was a bad one in terms of injuries as Broncos WR Wes Welker suffered a concussion, as did Ravens RB Bernard Pierce. Both are questionable to play Week 1.
– The Rams avoided a major scare as QB Sam Bradford left the game with a knee injury but suffered no damage.
– Packers DT BJ Raji will miss the entire season due to a torn biceps.
– While not injury-related, Broncos K Matt Prater will miss the first four games of the season due to suspension for violating the substance-abuse policy.
Fantasy Football Previews: QB: http://t.co/Tiuy02uH0E RB: http://t.co/QWhS1ABqfQ WR: http://t.co/jdAOX3AlAJ DEF: http://t.co/JijCam4Qf6

— SportsInsights.com (@SportsInsights) August 23, 2014
NCAAF – The college football season technically began yesterday with Eastern Washington defeating Sam Houston State 56-35. We've got you fully covered with all the weekly line moves, future odds, title contenders, props and more at our NCAAF blog.
Five teams in the top 10 of NCAAF title odds are from the SEC: http://t.co/AvYM38jWIZ — SportsInsights.com (@SportsInsights) August 23, 2014
Recently named starting QBs: WISC – Tanner McEvoy VA TECH – Michael Brewer WASH – Jeff Lindquist PITT – Chad Voytik OHIO ST – JT Barrett

— SportsInsights.com (@SportsInsights) August 23, 2014
EPL – In a wild finish, Arsenal came back to earn a 2-2 draw at Everton in a key match for the title race. Over 60% of bettors were on the slight underdog Arsenal +180 which usually spells doom. 
Coveted midfielder Angel Di Maria will sign with Manchester United for a fee of roughly €70M. — SportsInsights.com (@SportsInsights) August 23, 2014
Golf – The first tournament of the FedEx Cup concludes today with a number of players seeking a win. Here are the odds to win heading into the final round: Day +225, Furyk +280, Mahan +600, Kuchar +900, Todd +1000, Na +1900, Chappell +2200, McIlroy +2500.
NBA – The Cavaliers completed their deal to acquire Kevin Love yesterday and things are looking bright in Cleveland.
After an action packed off-season, we examine the odds & implied probability for each NBA team to win their division. http://t.co/Fz3nxzujrr

— SportsInsights.com (@SportsInsights) August 23, 2014
Tennis – The US Open begins tomorrow so check out how the odds-to-win have changed since opening. Sports Betting – New Jersey will continue to fight against the ineptitude of not allowing sports betting in state:
September showdown is set to override Chris Christie's sports-betting veto: Mulshine http://t.co/4cxif4k306 via @njdotcom — David Payne Purdum (@DavidPurdum) August 23, 2014
Our annual Early Bird Football Special is here! Save 40% off Best Bet picks, Live Odds & public betting percentages: http://t.co/zCU2GV3x8v

— SportsInsights.com (@SportsInsights) August 24, 2014
Ready to build your own winning betting systems? This is your last chance to save over 35% on our Gridiron Promo: http://t.co/LXTMQrzrZJ

— Bet Labs Software (@Bet_Labs) August 23, 2014