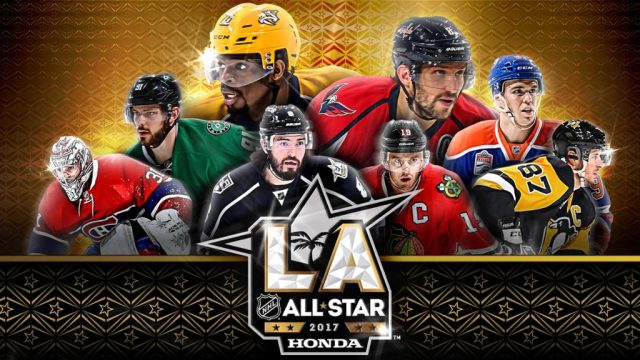 Betting on the 2017 NHL Skills Competition
The best players in the NHL are gathered in Los Angeles for this weekend's All-Star festivities and tonight, they'll test their speed, power, and nifty mitts for the skills contest.
Each of the four divisions will have their own team and will try to earn points by winning head-to-head matchups in each of the events. Bovada has posted odds for several of the competitions, as well as head-to-head odds. Let's take a look at some of them.
WINNING DIVISION
Central: +250
Atlantic: +260
Metro: +260
Pacific: +280
The Central division, headlined by Patrick Kane, Vladimir Tarasenko, and Patrick Laine, are slightly favored over the rest. I'll be staying away from this bet because each team is stacked with skilled players and most of these contests will be decided by very small margins, making anything possible.
ACCURACY SHOOTING (Head to head)
Patrick Kane (-140) vs. Jeff Carter (+110)
Connor McDavid (-120) vs. Patrick Laine (-110)
Sidney Crosby (-125) vs. Auston Matthews (-105)
John Tavares (-150) vs. Kyle Okposo (+120)
For this contest, I would advise bettors to take both of the two plus money dogs, Carter and Okposo. In a contest like this, even the best shooters can end up missing several shots in a row. While Kane and Tavares are better players and more of household names, Carter and Okposo are both gifted goal scorers. If one of those two win, you win money.
FASTEST SKATER (Head to head)
Taylor Hall (-160) vs. Nikita Kucherov (+130)
Nathan MacKinnon (+160) vs. Connor McDavid (-200)
Brad Marchand (-115) vs. Cam Atkinson (-115)
Vladimir Tarasenko (-110) vs. Bo Horvat (-120)
This contest is another one where I would advise fading the public names, in this case Connor McDavid. Nathan McKinnon is incredibly fast and could easily beat the budding superstar, McDavid. I do feel Hall is rightly favored, but at -160, doesn't provide enough value to bet on. The other two are likely toss-ups, but should be avoided.
HARDEST SHOT (Head to head)
Victor Hedman (-145) vs. Seth Jones (+115)
Brent Burns (-105) vs. Patrick Laine (-125)
P.K. Subban (-300) vs. Drew Doughty (+240)
Shea Weber (-500) vs. Alex Ovechkin (+350)
The most popular contest of the bunch is also the one where players can actually break away from the rest of the pack. In past contests, players like Zdeno Chara and Shea Weber have been able to top 105 with ease, while others have generally sat around 100 mph or below. This year, there are a couple of names that I feel provide value. Seth Jones is a big boy who is becoming one of the better defensemen in the league. At +115, I feel that he could top Hedman and provide a solid payout. Patrick Laine may just be the next elite goal-scorer in the league. At the Jets' team skills competition, he topped 101 mph. Given the big stage, I feel that he could improve on that and approach 105. Brent Burns actually posted the slowest shot in the competition a couple of years ago, not even reaching 95 mph. While he is on his way to a Norris Trophy this year, I feel that this contest is not his forte.
PICK SUMMARY
Accuracy: Jeff Carter (+110), Kyle Okposo (+120)
Fastest Skater: Nathan McKinnon (+160)
Hardest Shot: Seth Jones (+115), Patrick Laine (-125)
If you have any thoughts or questions, feel free to reach out to the Sports Insights staff by utilizing our live chat feature, commenting below, or emailing us at help@sportsinsights.com.