Betting Late Season MLB Overs at Coors Field
For years Coors Field in Colorado has been notorious for being a hitter-friendly ballpark. These days it's a rarity that we see the Colorado Rockies play a home game in which the total is less than 10 — an extreme anomaly considering that totals across baseball have been dropping. The main reason behind these high-scoring games and large totals is the thin air in the mile-high city.
Higher altitudes lead to lower air density which has tremendous impact on both batted balls and pitched balls. Due to the reduced drag, balls travel significantly farther at Coors Field. In fact, baseballs in Colorado will travel approximately 5% farther than at ballparks located at sea level. However, while most fans may realize that hitters benefit from the mile-high air, they may not realize the full impact that pitching at Coors Field has on pitchers.
Although baseballs actually move slightly quicker in Coors Field, the air density can have serious impact on breaking balls. For example, a curveball is said to break approximately 20% less in Colorado as opposed to a ballpark located at sea level. That means that not only will a batted ball travel farther, but also a pitcher with a big 12-6 curveball or other big breaking balls will become increasingly more hittable.
On the other hand, the average fastball will actually drop significant more at Coors Field. Perhaps that explains why many of the more successful Rockies pitchers have featured strong fastballs and pitches with heavy sinking action (i.e. Aaron Cook and Ubaldo Jimenez).
We wanted to determine whether bettors could take advantage of this trend by betting on the total. Our original hypothesis was that overs would be more profitable at Coors Field — especially late in the season as the humidity rises thus causing a decrease in air density. To accomplish this, we turned to our Bet Labs software for answers.
Our first step was to select the Colorado Rockies from the "Home Team" filter and then focus on the "Over." Our initial results were encouraging as this produced a 399-353 record with 26.51 units won and a 3.5% ROI. Knowing that unders perform better in games with high totals and overs perform well in games with low totals, we wanted to ignore all high totals and focus on games in which the total was 10.5 or less. As you can see from the screenshot below, this simple step nearly doubled our return on investment while maintaining a large sample size:


Now that we have revealed a definitive edge for bettors, our goal was to see whether oddsmakers actually accounted for the increased humidity during the dog days of summer and whether this could be exploited. To do this, we selected the "Game Month" filter and opted to focus on games played in August, September and October. This is also advantageous because late in the season pitchers will be more fatigued which will help to exploit this edge.
Our results were overwhelmingly positive as the overall units won actually increased despite the number of past matches dropping by well over 50% (from 615 to 208). Since 2005, this basic system has produced a 129-79 record with 45.36 units won and a 21.8% ROI. Not only that, but the results have been incredibly consistent as you can see in the table below: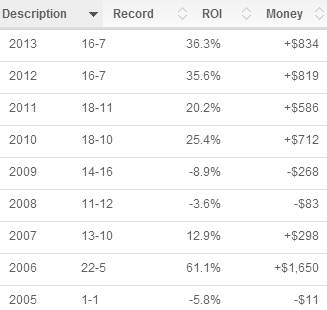 With a large sample size, consistent year-to-year results, and a strong guiding philosophy this system clearly fits the three main characteristics of winning betting systems. Those who are interested can add this system in our new and improved Bet Labs Think Tank by clicking here.
To summarize, higher altitudes lead to a decrease in air pressure which causes less drag on the baseball. This decrease in drag causes the baseball to travel farther which explains why games are so high-scoring in Coors Field where the elevation is 5,280 feet. As humidity rises, that air density continues to decrease which amplifies this already significant trend.
Have any questions for us? Leave your comments in the section below and we'll be sure to respond immediately.
9/23/14 Update: This system has gone 16-7 (+7.58 units, 33% ROI) during the 2014 season. Overall record: 145-86 (+52.94 units, 23% ROI).
[adrotate group="3″]