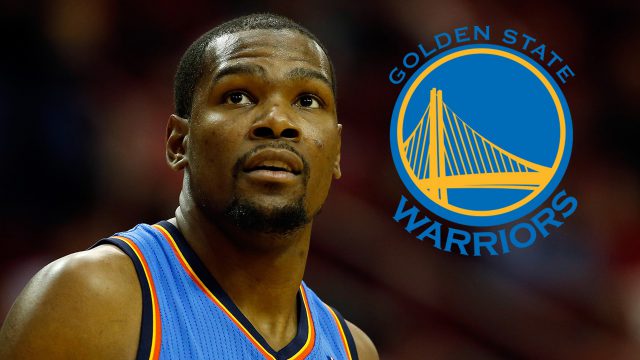 Betting Impact of Kevin Durant Signing with Golden State Warriors
In a move that will undoubtedly shift the balance of power in the NBA, Kevin Durant announced on Monday that he will be joining the Golden State Warriors. Just months after winning the most regular season games in league history, the Warriors managed to add the seven-time All-Star and 2014 Most Valuable Player.
[ Try Sports Insights today with a 4-day Pro trial ]
The Warriors were already listed as the favorite to win the 2017 NBA Championship, but by adding one of the league's best players to a roster that already includes three All-NBA performers (Stephen Curry, Draymond Green and Klay Thompson), Golden State has transformed into a juggernaut on par with the most dominant teams in league history.
Following their acquisition of Durant, the odds of the Warriors winning the title jumped from +250 to -150 at the Westgate Superbook in Las Vegas. The Westgate also listed Golden State at -350 to win the Western Conference and set the over/under on their win total at 68.5.
#Warriors Props via @LVSuperBook

-150 to win 2017 title
-350 to win Western Conference
+300 to win at least 74 games
Over/Under 68.5 Wins

— David Solar (@TheDavidSolar) July 5, 2016
Many NBA analysts have been quick to compare Golden State to the 2010-11 Miami Heat with LeBron James, Dwyane Wade and Chris Bosh, but oddsmakers have a far more favorable opinion of this year's Warriors roster.
After LeBron James took his talents to South Beach, the Heat opened +175 to win the title before ultimately losing to the Dallas Mavericks in the NBA Finals. According to the archives at SportsOddsHistory, that made them the biggest preseason title favorite on record…until now.
| Year | Winner | Favorite |
| --- | --- | --- |
| 2015-16 | Cleveland Cavaliers (+280) | Cleveland Cavaliers (+280) |
| 2014-15 | Golden State Warriors (+2800) | Cleveland Cavaliers (+275) |
| 2013-14 | San Antonio Spurs (+1200) | Miami Heat (+200) |
| 2012-13 | Miami Heat (+225) | Miami Heat (+225) |
| 2011-12 | Miami Heat (+225) | Miami Heat (+225) |
| 2010-11 | Dallas Mavericks (+2000) | Miami Heat (+175) |
| 2009-10 | Los Angeles Lakers (+225) | Los Angeles Lakers (+225) |
| 2008-09 | Los Angeles Lakers (+300) | Los Angeles Lakers (+300) |
| 2007-08 | Boston Celtics (+450) | Los Angeles Lakers (+350) |
| 2006-07 | San Antonio Spurs (+550) | Dallas Mavericks (+400) |
| 2005-06 | Miami Heat (+280) | San Antonio Spurs (+180) |
Historical Context
Although it's difficult to find NBA futures from before the 2005-06 season, many experienced bettors recall that the 1997-98 Chicago Bulls opened -150 to win the championship. That team finished the regular season with a 62-20 record before defeating the Utah Jazz in the NBA Finals. The championship was their sixth in eight seasons, and marked Michael Jordan's final season as a Bull.
It's interesting to see that oddsmakers have the Warriors listed as the largest preseason favorite since the 1998 Chicago Bulls considering that these two dynasties share so much in common. In addition to the obvious connection through head coach Steve Kerr, they are the only two franchises to win 70+ regular season games. During the 1995–96 season, the Chicago Bulls finished 72-10 en route to their fourth title in six seasons. Although the Warriors went 73-9 last season, they did not win the championship.
As I noted earlier, oddsmakers have set the Warriors win total at 68.5 games next season and it seems highly likely that square bettors will pound the over. After all, the team won 73 games last season and added arguably the league's most dynamic scorer. However, Golden State struggled with injuries down the stretch and it seems likely that the team will rest their star players throughout the regular season to ensure they're healthy for the playoffs. For that reason, there may be excellent contrarian value on the under.
Scott Cooley, an Odds Consultant for Bookmaker.eu, agrees with that assessment. "The win total wagering will be interesting," said Cooley. "Public bettors will see the over 68 and think it's a steal considering Golden State broke the record last year. That number seems about right. Personally, I don't think they get to 70, or even 68, because I'm expecting a more conservative game plan from Steve Kerr this year in terms of minutes played from the key components. Curry, and a few others, were running on dead legs by the end of the OKC series, and it ultimately cost them the title."
In addition to this win total, the Westgate Superbook has posted odds on the Warriors breaking last season's record for regular season wins. Golden State is +300 to win at least 74 games and -360 to win 73 games or less. After accounting for the juice, that translates to a 23.3% implied probability that the Warriors will break last season's record.
The Decision
Durant's decision to leave Oklahoma City came as a shock to both fans and oddsmakers alike; however, some sportsbooks were definitely braced for this possibility. While square books like Sportsbook.com had Durant's odds of re-signing with the Thunder listed at -800, those odds were significantly lower (-300) at the market-setting Bookmaker.eu.
Updated odds to sign Kevin Durant via @BookMakerdotEU

OKC -300
GS +425
MIA +745
SA +1000
NYK +2000
BOS +2330
LAC +3300
WAS, LAL +6000

— Sports Insights (@SportsInsights) June 29, 2016
According to Cooley, there was a good deal of action on this prop bet but there weren't many wagers placed on Golden State. "Early bets were on some of the longer odds, such as San Antonio and Miami, but the last two days we had it opened the majority of action went on Oklahoma City," said Cooley. "The swirling rumors really had wagering all over the place. We did take some Golden State bets, but certainly turned a profit with the prop."
Spread Value
For better or worse, Kevin Durant's legacy just changed dramatically. Although there are those who support Durant's decision to join the Warriors, it seems that a majority of fans believe that Durant took the easy way out by joining the league's most talented team. The phrase "if you can't beat them, join them" has been particularly prevalent over the last twenty-four hours.
It can be debated whether or not Durant's legacy will be affected by this decision, but it's clear that his value to the spread has taken a major hit. Over the past two seasons with the Thunder, Kevin Durant has missed 65 games. In those games, the average point spread was Oklahoma City -1.5. However, with Durant in the lineup the average point spread was Oklahoma City -5.9. That puts his value at roughly 4.4 points.
Cooley concurred that figure is right on the mark. As a member of the Oklahoma City Thunder Kevin Durant was worth 4-5 points to the spread, depending on the opponent. That figure was actually higher than new teammate Stephen Curry, who was worth 3-4 points.
Due to the high level of talent on Golden State's roster, Durant's absence will have significantly less impact to the line. "With the Warriors, Durant is going to be worth 2-3 points to the spread," said Cooley.
Public Perception
Last season the Warriors went 45-36 ATS (55.6%) during the regular season, which made them the third-most profitable team for bettors. In 82 regular season games, Golden State closed as an underdog on just four occasions, going 3-1 ATS in those games. Perhaps most impressive was their unprecedented level of public support. According to my research, the Warriors received at least 51% of spread bets at our contributing sportsbooks in 75 of 82 regular season games (91.5%) last season.
The public loves to root for the high-scoring teams and winners. As a result, a majority of spread bets are consistently placed on the favorite. With the media and popularity of fantasy sports providing consistent hype for winning teams and explosive offensive performances, sportsbooks react by shading their lines, forcing public bettors to lay extra points or bigger odds when betting on favorites. There's no doubt that bettors will be lining up to take the Warriors next season, and there could be value fading them in early season games.
"We're anticipating another high-volume season of Warriors tickets," Cooley said in regards to questions about seeing an influx of Golden State money next season. "We took more action on that team than any other last year, and it wasn't even close, so now that Durant is in the mix the squares are going to play them night in and night out. Of course, the sharp players will be looking for inflated lines to capitalize on value."
I always advocate going against the grain in order to take advantage of artificially inflated lines. Public bettors will lay the favorite regardless of the line, and there has been tremendous historical value on large underdogs. Since 2005, double-digit 'dogs have gone 1,140-1,044 ATS (52.2%) during the regular season including a 234-188 ATS record (55.5%) when they're receiving no more than 30% of spread bets.
The Warriors will be one of the most public teams in the history of sports betting, and there will likely be plenty of opportunities to bet against them next season. The Big Three in Miami struggled to gel in their first season, going just 40-41 ATS despite an impressive 58-24 record straight up. In fact, that Heat team was just 5-13 ATS in the first eighteen games of the season.
Golden State is one of the most talented teams ever assembled, but their lines will be heavily shaded to account for public money. For anybody employing a contrarian strategy, plan on fading the Warriors early and often next season.
The 2016-17 regular season doesn't start until October, but the NBA Summer League is underway. Bettors can track the latest odds, public betting trends, injuries and even futures by visiting our free NBA odds page.
Have any questions for the staff at Sports Insights? Utilize our live chat to speak with a customer service representative or e-mail us at help@sportsinsights.com.