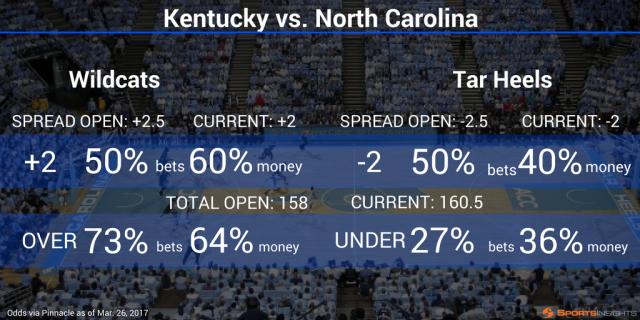 Bets Are Split, but Money Has Pushed the Line Towards Kentucky
Perhaps the biggest elite eight game this year takes place early this evening as Kentucky takes on North Carolina in the first #1 vs. #2 seed battle this tournament. The top seeded Tar Heels opened at -2.5 and bettors have had a tough time deciding on who to choose. In fact, as it currently stands, spread bets are split 50/50.
However, it appears that larger bets being made by sharper bettors have been placed on Kentucky. As a result, the line at Pinnacle moved to +2 for the first time just before noon eastern today. If we look at the percentage of dollars feature that can be found on our live odds page, we can see that six out of every ten dollars bet on the spread are on Kentucky.

So far in the tournament, UNC has gone 2-1 against the spread and Kentucky has gone 1-1-1 based on Pinnacle's closing lines.
If you'd like dollar percentages on these games, as well as best bet picks, bet signals, and more, consider giving our pro membership a whirl.