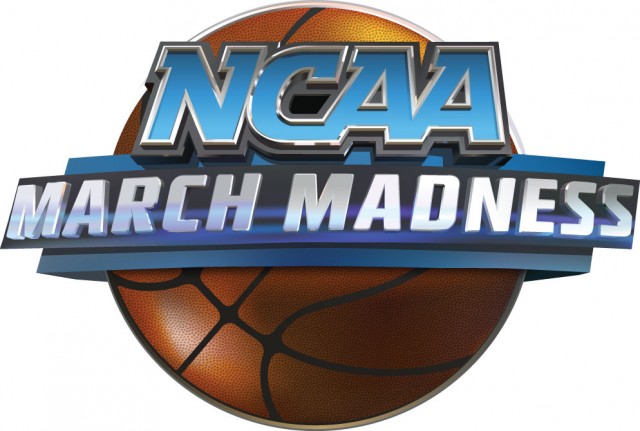 Bet Sharp During the College Basketball Postseason
Whether you're a die hard or casual basketball fan, the postseason is the most magical time of the year. Some people will simply fill out one bracket for their office pool. Others will fill out dozens of brackets in a hopeless quest for that elusive perfect bracket. For sports bettors, this is an opportunity to bet a high volume of do-or-die games nearly every day for a month straight.
While most fans will focus on the field of 68 in the NCAA Tournament, conference tourneys have already begun and can offer a great deal of value for sharp bettors. Knowing that large underdogs in low scoring games are typically undervalued during the regular season, we wanted to know whether this trend continued during the postseason.
Using our Bet Labs software, we first used the "game month" filter to focus solely on games played during the month of March. We then used the "conference/non-conference filter" and narrowed our search to feature only conference games. After some tinkering, we found out that it was most profitable to spotlight underdogs of at least 8 points in games in which the total was 131.5 or less. This makes sense because the fewer points we expect to be scored, the less likely it is that a favorite will win in a blowout.
With this criteria entered into Bet Labs, the last filter we utilized was the "days between games" filter. This was important to add because many of the results were skewed by teams like South Carolina Upstate, Binghamton, Mercer, and other small conference schools that don't typically have odds posted for their games. To make sure that these teams were not included, we highlighted teams who have played in the past seven days.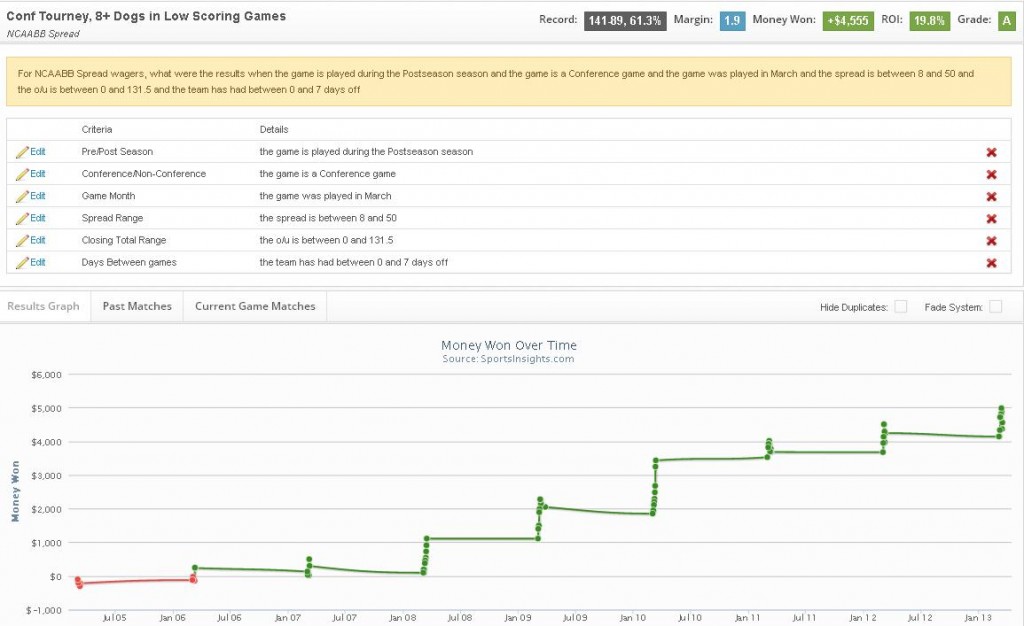 It's important to note that although this system focuses on conference games, there are many instances where conference rivals end up playing each other during the NCAA Tournament. If we adjust the "days between games" filter to focus on games played in the past two days instead of seven, the return on investment remains nearly unchanged, although the number of units won is nearly cut in half (76-50 ATS, +22.59 units).
This system is particularly impressive because its consistent year-to-year returns are one of the three major criteria we look for in a winning betting system. This system also has a significant sample size and wide data ranges which ensures that we are not custom fitting the data.
We've recently added a number of new NCAAB filters to Bet Labs, including conference tournament, round, seed and opponent seed. Using this data, we discovered that this system is particularly profitable in the Colonial Athletic Conference Tournament (16-3, +12.45 units) or when the team is a double digit seed (44-25, +16.91 units).
Bet Labs subscribers can receive current game matches for this system or create winning college basketball systems of their own, however, for a limited time we are giving everybody access to a limited version of NCAAB Bet Labs. Signup now and enjoy a sneak peek of our free College Basketball Central which includes:
NCAA Tournament Bracket Simulator
Live Odds and Betting Trends
College Basketball Bet Labs Demo
Updated NCAA Tournament Futures
Not currently a member? Try our 6-day trial for just $25 and be prepared for this exciting time of the year.
[adrotate group="3″]