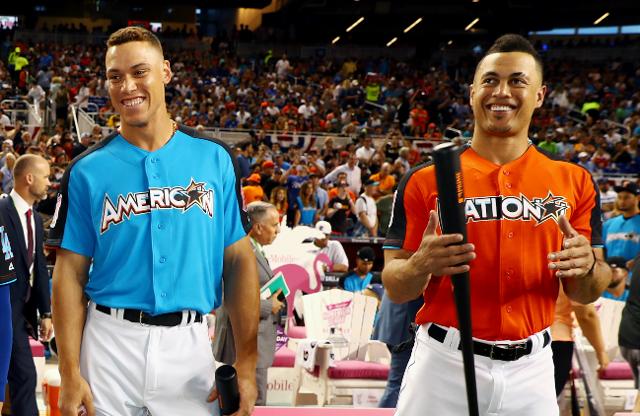 The Bash Brothers Part Deux: Props on the Yankees' New Slugging Duo
As a Red Sox fan, I'm honestly upset about this one. For whatever reason, there have been Giancarlo Stanton to Boston rumors for years, but of course he ends up with the Yankees. As if they need a second dong-swatting man child playing in their Little League-esque stadium. Men at Work may have to rework their lyrics for "Land Down Under" because 6'4″ and full of muscle hardly does these two justice.
With this in mind, BetOnline has posted a few props regarding Stanton and his new teammate, Aaron Judge, for the 2018 season.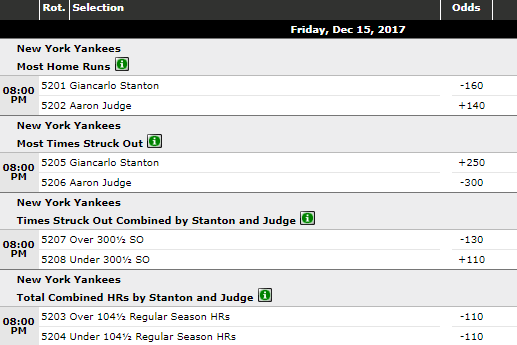 First off: which one of these two bruisers will be the King of New York? The oddsmakers expect that Stanton and his 59 homers will keep the upper hand next season. I believe there is value with Judge at +140 given Stanton's injury history and potentially difficult transition from a small market in Miami to the Big Apple.
The strikeout props are entertaining, but not something worthy of a wager. Last year, Judge had a whopping 208 strikeouts while Stanton had a mere 163. Both played at least 155 games, though, so BetOnline had no choice but to lower the over/under to 300.5.
However, the prop that stuck out most to me was the total combined home runs. Give me the under!
Obviously, both put up monster seasons in 2017, but as Bet Labs analyst John Ewing notes, we may need to pump the brakes. Historically, players have hit nearly 25% less homers in the year following a 50-home-run season. If you took the 110 combined home runs from this past year and subtracted 27, you'd be left with "just" 83. Not to mention, if either player misses any stretch of time and is limited to 35-40 homers, the other would basically have to push for 70 dingers. At -110 juice, this one should not be a hard decision.
Bovada also added a couple props of their own. Clearly they think that the 104.5 over under is way too high.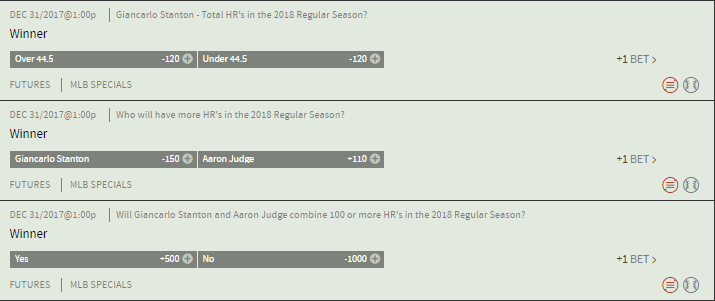 The Winter Meetings are here so hopefully we'll have more baseball news throughout the week. By the way, hey Red Sox…