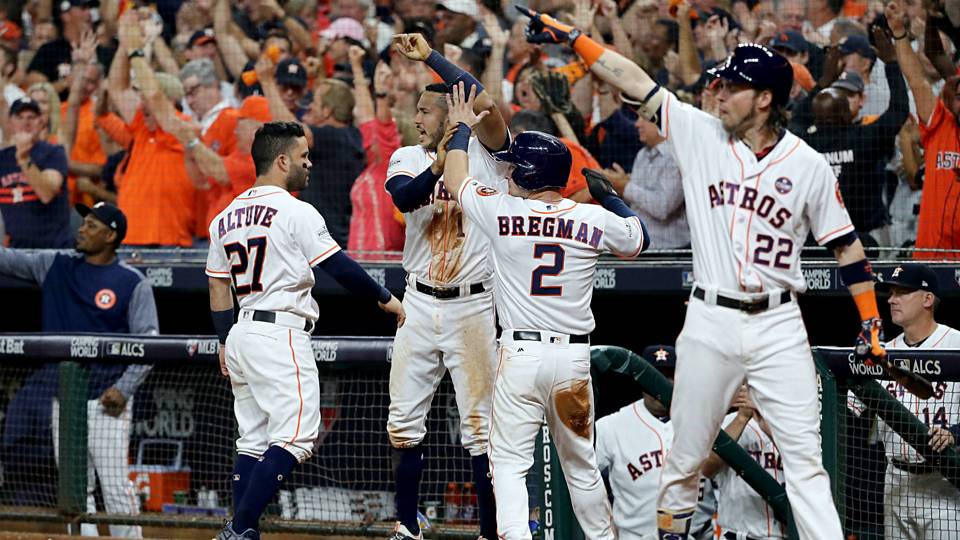 Astros Yankees ALCS Game 7 Betting Preview
On Friday night, Justin Verlander pitched a gem and the Astros' bats came back alive as Houston won 7-1 to force a decisive Game 7. They'll send Charlie Morton to the mound against CC Sabathia, and Houston is a slight -125 favorite to reach the World Series. The Yankees are +115 underdogs now and they had reached +445 after going down 2 games to 0. Here's a look at how the ALCS odds have changed since the beginning of the season:
Team
Oct 21
(BOL)
Oct 19
(5Dimes)
Oct 18
(BOL)
Oct 17
(BOL)
Oct 16
(BOL)
Oct 14
(BOL)
Oct 13
(BOL)
Oct 7
(BOL)
Sep 11, 2017
(BOL)
Aug 1
(BOL)
Jul 3
(BOL)
Jun 4
(BOL)
Apr 1, 2017
(5Dimes)
Nov 3, 2016
(Westgate)
Houston Astros
-125 (tied 3-3)
+195 (down 3-2)
-150 (Tied 2-2)
-260 (up 2-1)
-550 (up 2-0)
-275 (up 1-0)
-165
+125
+225
+225
+250
+225
+530
+550
New York Yankees
+115 (tied 3-3)
-235 (up 3-2)
+130 (Tied 2-2)
+220 (down 2-1)
+445 (down 2-0)
+230 (down 1-0)
+145
+1500
+450
+400
+450
+450
+1150
+1100
Before the season started, an exact World Series matchup between the Dodgers and Astros was listed at 50/1 odds. The odds of a Dodgers/Yankees matchup in the World Series was listed at 72/1 odds.
For Game 7 tonight, the roof is expected to be closed since there's high humidity and high temps in Houston. Mark Carlson is behind the plate, and there's been no real advantage in terms of O/U or Home/Away historically with him umpiring.
Astros opened -130 and dropped down to -120 before rising back up to -130 where they're currently at. Tickets have been nearly split, with 53% on NYY and 47% on HOU. Most of our contributing books show the majority of bets on NYY, but Carib is reporting heavy public action on HOU.

Public bettors do like the Over at each contributing book, but we haven't seen any increase in the total. After analyzing the betting market, the lines and public agree that tonight is nearly a toss-up. Houston has some momentum after their Game 6 win, but New York will feel good sending CC Sabathia to the mound.