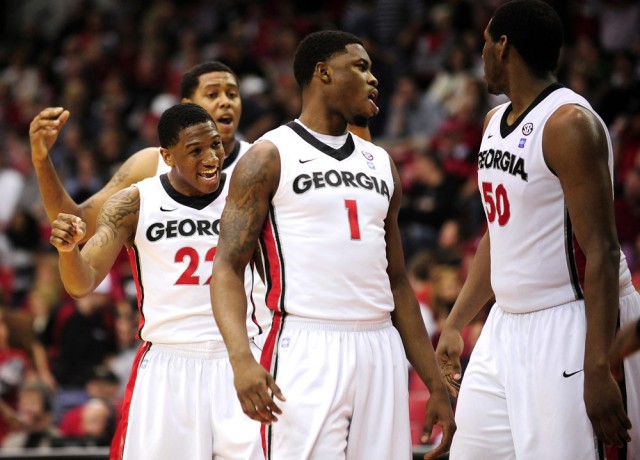 Are Losing Teams Undervalued in NCAABB Conference Tournament Betting?
Although the major conferences do not begin NCAA conference tournament play until next week, the journey to the tourney is already underway for several schools. The Mountain West, Missouri Valley and Ohio Valley conference tournaments began earlier this week, and we wondered aloud: Where does the value lie in NCAABB conference tournament betting?
To unearth historically profitable betting systems, we utilized our BetLabs software. In order to focus solely on conference tournament games, we made sure to look for conference games played on a neutral court in March. Knowing that the public loves to bet on favorites, we once again initiated our contrarian philosophy and focused specifically on underdogs.
Our next objective was to make sure that every game in this system involved a prominent and relevant school. We quickly examined the top ten conferences in terms of the Ratings Percentage Index (RPI) and selected teams exclusively from those conferences. The screenshot below, which is taken from CBSSports.com, shows the ten best conferences in terms of RPI.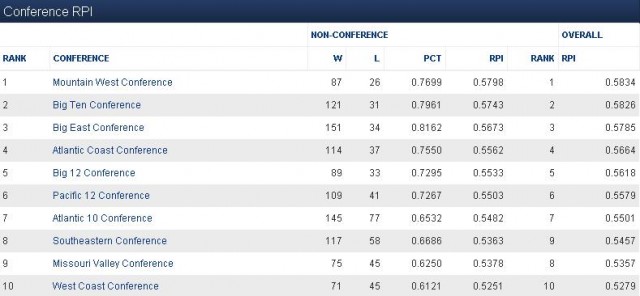 Once we had our sample selected, we hypothesized that teams with a losing record would be greatly undervalued in conference tournament play. Our reasoning was simple: tournament games are typically very competitive as no team wants to see their season end. Therefore, we believed that sub .500 teams would actually cover the spread at a higher than usual rate. In fact, the results were far more impressive than we could have hoped.
Teams fitting our criteria have posted a record of 68-33 (67.3%) since 2006 — good for 31.72 units and an astronomical 31.4% return on investment (ROI). Although this is a relatively small sample size, it's a great sign that the gains have been consistent as opposed to having just one big season. The screenshot below displays this system within BetLabs along with the results.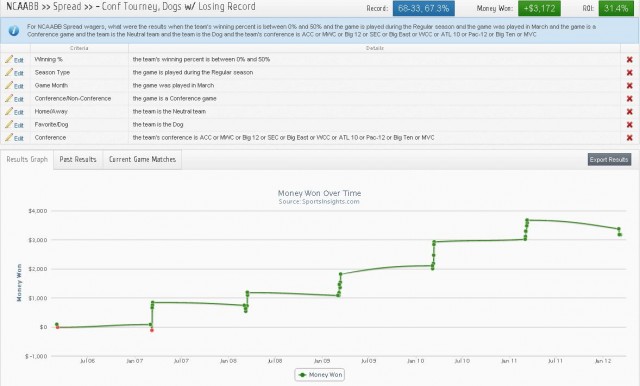 Right now there are two games fitting this system on the schedule, including Missouri State (+2.5 against Southern Illinois) and Pepperdine (+3.5 against San Diego). We will continue to monitor these games, but make sure to check in by viewing our College Basketball Betting Trends.
Additionally, we offer free one-on-one BetLabs demonstrations for any individuals looking to create their own betting systems. Sign up here and begin testing all of your betting theories today.