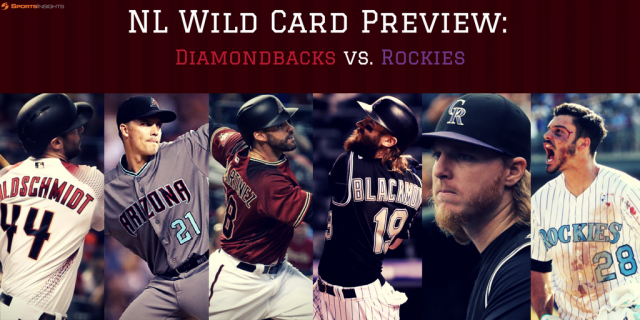 2017 NL Wild Card Preview: Diamondbacks vs. Rockies
Regular season head-to-head: Arizona 11-8
One hell of a pitcher's duel last night in the Bronx! Let's see if Zack Greinke or Jon Gray can put up an ERA lower than 18 tonight…tall task if I do say so myself.
With the NL West being so stacked this season, we have a divisional wild card game on our hands—which isn't as rare as you may think. This will be the 4th time in the 12 wild card games since the new format began in 2012.
Tonight's game between the #Dbacks and #Rockies will be the 4th divisional wild card game

Favorites are 3-0 so farhttps://t.co/MvNsySVM3C pic.twitter.com/406zu5aKio

— Sports Insights (@SportsInsights) October 4, 2017
These teams are no strangers to each other and the hitters and pitchers should know their opponent very well at this point. Gray has two starts against Arizona this season, going 11 innings with 5 earned runs and an impressive 16 strikeouts. Greinke has a whopping five starts against the Rockies, with 34.1 innings pitched, 13 earned runs, and 37 strikeouts. He also pitched at least seven innings in four of the five games.
This line has been bouncing around ever since yesterday. At Pinnacle, it opened on Sunday night with Arizona -168 and Colorado +155. Yesterday at about midnight, the Rockies bottomed out at +146, but the line has been moving since Greinke and the D-Backs ever since.

As of 3 PM eastern, the line has reached ARI -178, COL +164. I do believe there is some value on the Rockies at this point, especially if the line continues to creep up.
The total sits at 8.5 where it opened, but there is a lot of money on the under that has pushed it to the verge of 8.

This season, the under did go 12-5-2 in the 19 meetings between the two teams, which may be something that bettors have caught onto.
Check our free MLB odds page for the most recent lines.