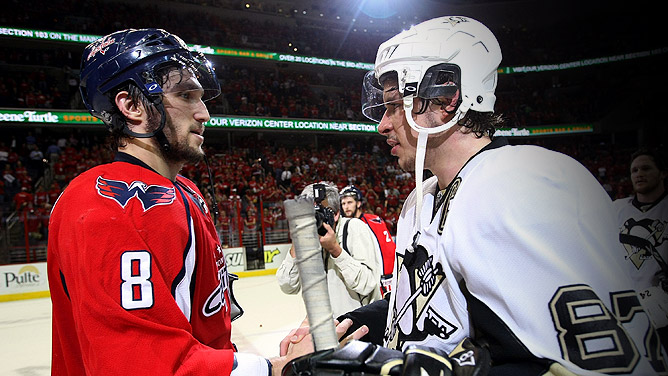 2017 NHL Playoffs Conference Semifinal Series Odds
The opening round of the 2017 NHL Playoffs unfortunately didn't provide any Game 7's, but we did get to see 18 overtimes, a record for one round. In the Eastern Conference Semifinals, Washington takes on Pittsburgh while Ottawa plays the Rangers. Over in the West, St. Louis meets Nashville and Anaheim faces Edmonton. Here are the odds to win each series and advance to the Conference Finals:
Matchup
Before Game 7
Before Game 6
Before Game 5
Before Game 4
Before Game 3
Before Game 2

Before Game 1
April 24 Opener
WAS/PIT
WAS +230
PIT -270
(PIT up 3-2)
WAS +450
PIT -600
(PIT up 3-1)
WAS +115
PIT -135
(PIT up 2-1)
WAS +415
PIT -525
(PIT up 2-0)
WAS +165
PIT -190
(PIT up 1-0)
WAS -145
PIT +125
WAS -120
PIT +100
NYR/OTT
NYR +210
OTT -250
(OTT up 3-2)
NYR -160
OTT +140
(Tied 2-2)
NYR +145
OTT -165
(OTT up 2-1)
NYR +305
OTT -365
(OTT up 2-0)
NYR +135
OTT -155
(OTT up 1-0)
NYR -145
OTT +125
NYR -150
OTT +130
NAS/STL
NAS won 4-2
NAS -400
STL +325
(NAS up 3-2)
NAS -1000
STL +650
(NAS up 3-1)
NAS -345
STL +285
(NAS up 2-1)
NAS -140
STL +120
(Tied 1-1)
NAS -255
STL +215
(NAS up 1-0)
NAS -125
STL +105
NAS -125
STL +105
ANA/EDM
ANA -120
EDM +110
(Tied 3-3)
ANA -390
EDM +320
(ANA up 3-2)
ANA -135
EDM +115
(Tied 2-2)
ANA +185
EDM -225
(EDM up 2-1)
ANA +475
EDM -650
(EDM up 2-0)
ANA +178
EDM -215
(EDM up 1-0)
ANA -120
EDM +100
ANA -135
EDM +115
Blues stayed alive with a Game 5 win, but still trail the Preds 3-2.
Ducks stormed back down 3-0 late in Game 5 to win 4-3 in overtime. Anaheim now leads the series 3-2.
Ottawa came back AGAIN to beat the Rangers, and now up 3-2 in the series.
Capitals stayed alive at home in Game 5, but still trail Pittsburgh 3-2.
Below was written on May 5:
The Penguins held on to win Game 4 to take a commanding 3-1 series lead over Washington. Pittsburgh is now just 1 win away from the Eastern Conference Finals.
The Ducks got another big road win in Game 4 in overtime 4-3, and that series is now tied 2-2.
Rangers won again to tied the series with Ottawa 2-2.
Preds are up 3-1 and look to close out St. Louis on their own ice.
Below was written on May 3:
Ducks won a crucial Game 3 on the road to get back into the series against Edmonton.
The Preds got back to their winning ways at home against the Blues to go up 2-1.
Below was written on April 30:
Oilers won another road game to take a 2-0 series lead over Anaheim. Edmonton is now -650 to advance to the Western Conference Finals.
The Blues came back to beat the Predators to even the series 1-1, but the Preds remain series favorites with the next 2 games at home.
Senators came back multiple times to win Game 2 by a 6-5 score in overtime. Ottawa now -365 to advance up 2-0.
Penguins made the most of their opportunities in Game 2 and crushed Washington 6-2. The Capitals are in trouble now, down 2-0 and heading back to Pittsburgh where they need to win to stay alive.
Below was written on April 28:
The Penguins, Oilers and Predators all got big road wins in Game 1 of their series'. The Senators were the only team to win at home in Game 1, and has improved their odds to advance from +125 to -155. If you liked Washington, Anaheim or St. Louis before the series, you can now get a much better price down 1-0.
Below was written on April 26, 2017 before the start of the Conference Semifinals:
Every matchup is extremely close, and last round 4 of the 8 series underdogs advanced. The Blues and Senators both have home-ice advantage, but both are small underdogs to advance. Washington/Pittsburgh is easily the most anticipated series, and oddsmakers give the Capitals the slightest of advantages to move on.
At BetDSI, bettors do have a consensus pick in all 4 matchups despite each being so close:
75% on Penguins
71% on Anaheim
60% on New York Rangers
60% on Nashville
Pittsburgh is a pretty popular series underdog by the public, and that may be good news for Capitals fans. Washington is also a contrarian favorite in Game 1 but are considerable -145 favorites, another good sign for the Caps.
Here are the odds to win the East, West, and Stanley Cup:
EAST

Team
5/3
(5Dimes)
4/24
(5Dimes)
4/17
(5Dimes)
4/10
(5Dimes)
Pittsburgh
+140
+195
+200
+420
Washington
+245
+180
+225
+200
Ottawa
+455
+540
+1500
+1390
New York Rangers
+485
+405
+1225
+725
Montreal
N/A
N/A
+600
+600
Boston
N/A
N/A
+1225
+1300
Toronto
N/A
N/A
+1225
+1520
Columbus
N/A
N/A
+2300
+495
WEST

Team
5/3
(5Dimes)
4/24
(5Dimes)
4/17
(5Dimes)
4/10
(5Dimes)
Nashville
+140
+335
+500
+1175
Edmonton
+160
+250
+545
+750
Anaheim
+480
+235
+385
+650
St. Louis
+1350
+335
+300
+1350
Chicago
N/A
N/A
+500
+196
San Jose
N/A
N/A
+1100
+625
Minnesota
N/A
N/A
+1700
+390
Calgary
N/A
N/A
+2800
+1175
STANLEY CUP

Team
5/3
(5Dimes)
4/24
(5Dimes)
4/17
(5Dimes)
4/10
(5Dimes)
Nashville
+345
+750
+1100
+2500
Pittsburgh
+350
+430
+400
+850
Edmonton
+385
+580
+1200
+1525
Washington
+500
+380
+450
+430
Ottawa
+955
+1100
+3250
+3000
Anaheim
+1000
+545
+875
+1275
New York Rangers
+1175
+830
+2550
+1500
St. Louis
+3000
+750
+700
+3300
Montreal
N/A
N/A
+1200
+1250
Calgary
N/A
N/A
+7000
+2500
Toronto
N/A
N/A
+2550
+3300
Boston
N/A
N/A
+2800
+2800
Chicago
N/A
N/A
+1065
+450
Minnesota
N/A
N/A
+4000
+875
Columbus
N/A
N/A
+5000
+1000
San Jose
N/A
N/A
+2500
+1325
And in case you wanted to see how odds changed throughout the opening round:

Matchup
Before Game 7
(5Dimes)
Before Game 6
(5Dimes)
Before Game 5
(5Dimes)
Before Game 4
(5Dimes)
Before Game 3
(5Dimes)
Before Game 2
(5Dimes)
Before Game 1
(BetOnline)
Opener
(BetOnline)
NYR-MON
NYR won 4-2
MON +250
NYR -300
(NYR up 3-2)
MON -150
NYR +130
(Tied 2-2)
MON -345
NYR +285
(MON up 2-1)
MON -110
NYR -110
(Tied 1-1)
NYR -175
MON +155
(NYR up 1-0)
MON -133
NYR +113
MON -125
NYR +105
BOS-OTT
OTT won 4-2
BOS +200
OTT -240
(OTT up 3-2)
BOS +415
OTT -525
(OTT up 3-1)
BOS +140
OTT -160
(OTT up 2-1)
BOS -190
OTT +165
(Tied 1-1)
BOS -420
OTT +335
(BOS up 1-0)
BOS -210
OTT +180
BOS -180
OTT +155
CBJ-PIT
PIT won 4-1
PIT -1500
CBJ +1000
(PIT up 3-1)
PIT -2500
CBJ +1400
(PIT up 3-0)
PIT -700
CBJ +500
(PIT up 2-0)
PIT -320
CBJ +260
(PIT up 1-0)
PIT -152
CBJ +132
PIT -180
CBJ +155
TOR-WAS
WAS won 4-2
WAS -750
TOR +525
(WAS up 3-2)
WAS -260
TOR +220
(Tied 2-2)
WAS -115
TOR -105
(TOR up 2-1)
WAS -300
TOR +250
(Tied 1-1)
WAS -800
TOR +550
(WAS up 1-0)
WAS -400
TOR +300
WAS -310
TOR +220
STL-MIN
STL won 4-1
STL -420
MIN +335
(STL up 3-1)
STL -1400
MIN +925
(STL up 3-0)
STL -400
MIN +325
(STL up 2-0)
STL -125
MIN +105
(STL up 1-0)
MIN -193
STL +160
MIN -143
STL +123
SJS-EDM
EDM won 4-2
EDM -320
SJ +260
(EDM up 3-2)
EDM -115
SJ -105
(Tied 2-2)
EDM -290
SJ +245
(EDM up 2-1)
SJ -120
EDM +100
(Tied 1-1)
SJ -170
EDM +150
(SJ up 1-0)
EDM -140
SJ +120
EDM -135
SJ +115
NAS-CHI
NAS won 4-0
NAS -1250
CHI +800
(NAS up 3-0)
NAS -400
CHI +325
(NAS up 2-0)
NAS -135
CHI +115
(NAS up 1-0)
CHI -166
NAS +145
CHI -175
NAS +150
CGY-ANA
ANA won 4-0
ANA -2500
CGY +1400
(ANA up 3-0)
ANA -650
CGY +475
(ANA up 2-0)
ANA -300
CGY +250
(ANA up 1-0)
ANA -155
CGY +135
ANA -165
CGY +145