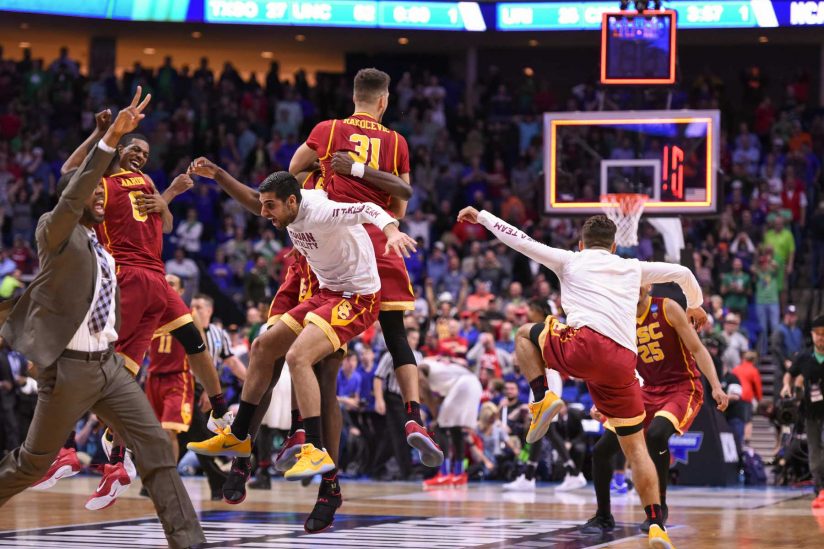 2017 NCAA Tournament: Round of 64 Betting Recap
The Round of 64 lacked the crazy finishes and big upsets we're used to seeing in the NCAA Tournament. USC over SMU was the biggest upset as they reached +890 on the live moneyline, while 11-seeds overall were 3-1 ATS and SU. There were no surprises to any #1-#4 seeds, and #5-Minnesota lost as an UNDERDOG to #12-seed MTSU.
ATS Trends:
Favorites went 16-15 ATS and 26-4 straight up
Teams getting <50% of bets went 18-13 ATS (Favorites 6-3 ATS)
Teams getting <40% of bets went 11-6 ATS (Favorites 4-1 ATS)
Teams getting <30% of bets went 2-1 ATS
Seeds to go 3-1 ATS in opening round: 4,7,8,11,12
The ACC was the worst conference ATS at 2-6, while the Big-12 was the best at 4-2
4 of the 6 best ATS teams in the regular season failed to cover in the 1st round (SMU, Gonzaga, Nevada, Northern Kentucky)
Overs went 22-9-1 in the Round of 64 (also went 3-1 in the First Four games)
Most-bet games by ticket counts:
1) Michigan/Okla St 41,015
2) Princeton/ND 35,760
3) URI/Creighton 32,647
Biggest upsets (spread, moneyline):
USC (+6.5, +275) vs. SMU
Xavier (+2, +126) vs. Maryland
Northwestern (+1, +118) vs. Vanderbilt
Bad Beats/Late Covers:
Vanderbilt late foul- After going up 1 with 15 seconds left, Vandy mistakenly fouled Northwestern to give them free throws and the win.
Seton Hall "intentional" foul- This late call was controversial and unfortunate for Seton Hall backers (61% of tickets, 70% of money):
This was called a flagrant. pic.twitter.com/IcqB89sFfP

— CBS Sports CBB (@CBSSportsCBB) March 17, 2017
Oklahoma State late three- Michigan was up 4 after late free throws but Cowboys backers (34% of tickets, 32% of money) soon rejoiced:
Michigan (closed -2.5) received 66% of spread bets according to @SportsInsights. #badbeat pic.twitter.com/aWbTph1jNC

— David Solar (@TheDavidSolar) March 17, 2017
Prop Bets that have cashed:
Most Points for both teams in game: O/U 178.5    Arizona won 100-82 to cashon the opening day
Most Points for single team in a game: O/U 97.5    Arizona scored 100 on Thursday, and UNC 103 and Kansas 100 on Friday
#1-seeds winning by less than 40 pts- It wasn't a widely bet prop, but an exciting one nonetheless:
Fun ending to this prop bet as #Jayhawks flirted with 40 but UC Davis converted a 3-point play with 10 seconds left to lose by 38. https://t.co/GlKMkjDaw7

— Sports Insights (@SportsInsights) March 18, 2017
As a reminder, you can track the entire betting market including all odds, %'s, bet signals and more with a Pro trial.