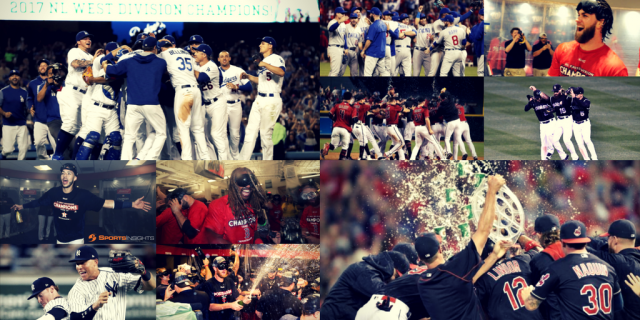 2017 MLB Playoffs: Division Series Prices
Throughout the Division Series, we'll be updating prices to advance to the ALCS and NLCS (odds via BetOnline and 5Dimes):
Series
After Game 4
After Game 3
After Game 2
After Game 1
Pre-Series
Houston/Boston
HOU wins 3-1
HOU -440
BOS +370
HOU -1370
BOS +750
(HOU up 2-0)
HOU -365
BOS +305
(HOU up 1-0)
HOU -171
BOS +151
Cleveland/ New York
CLE -180
NYY +170
(Series tied 2-2)
CLE -410
NYY +340
CLE -1370
NYY +750
(CLE up 2-0)
CLE -370
NYY +310
(CLE up 1-0)
CLE -190
NYY +165
Washington/Chicago
WAS +315
CHC -380
(CHC up 2-1)
WAS -120
CHC +100
(Series tied 1-1)
WAS +210
CHC -250
(CHC up 1-0)
WAS -135
CHC +115
Los Angeles/ Arizona
LA wins 3-0
LA wins 3-0
LAD -1275
ARI +825
(LAD up 2-0)
LAD -450
ARI +375
(LAD up 1-0)
LAD -240
ARI +200
[Previews below written before the start of each series]
Houston vs. Boston
Regular season head-to-head: Houston 4-3
This series should be very interesting for a couple of reasons. The first is Boston's starting pitching inconsistencies. Chris Sale is really the only starter who has a set spot in the rotation and even he has been knocked around the past couple of months. Last year's Cy Young winner Rick Porcello may not even get a start, while David Price will likely be coming out of the bullpen by design.
Meanwhile, Houston has a new ace in Justin Verlander, who has had plenty of showdowns with Sale in the past. While in Chicago, the White Sox went 0-4 in Sale vs. Verlander matchups, but the Tigers were easily the better team during that era. This season, the Sox and Tigers split two games in which the two faced off.
Houston has the bats to hit just about anyone, but when they're on, Boston's pitchers generally have the upper hand. Don't forget about the Red Sox bullpen, whose 3.15 ERA was second best in the MLB behind Cleveland.
Washington vs. Chicago Cubs
Regular season head-to-head: Washington 4-3
The Cubs struggled big time out of the gates—a World Series hangover if you will. However, they returned to form in the second half and assured folks that they are still a top-tier contender. Theo Epstein's big midseason splash looks to be paying off, as Jose Quintana could be the best starter they have right now.
Chicago's big struggles this season have came on the mound, as none of their starters have been able to improve upon their 2016 seasons. They'll also have to deal with Jake Arrieta's hamstring injury, which kept him out for a chunk of time in the second half.  They still have a stacked lineup with plenty of depth around the diamond, but their bats will be tested against the Nationals' duo of Max Scherzer and Stephen Strasburg.
The only issue is that Scherzer had to leave his final regular season start with a hamstring injury, which may keep him out until the third game of the series. Starting their best two pitchers in games 1 and 3 rather than 1 and 2 may not seem like a big deal, but it may end up being very important given the short 5-game series.
If the Nats can't win game 1 with Strasburg, they'll be in big trouble. Gio Gonzalez would likely start game 2 and although he's had a solid season, it would give the Cubs a terrific chance to take the series back to Wrigley up 2-0…which is obviously not good.
Another player who will have plenty of buzz around him is Jon Lester. He had one of the worst regular seasons of his career, but has a terrific playoff resume with over 130 innings pitched and a 2.63 ERA to go along with it. Will his recent performance continue or will his October self take over?
Cleveland vs. New York Yankees
Regular season head-to-head: Cleveland 5-2
The Yankees season looked like it was heading down the tubes as Luis Severino managed to go just 1/3 of an inning, but their offense and bullpen were able to salvage the game to eliminate the Twins.
Their potent offense, which finished second in the MLB in runs, is going to have to try and put up some runs against an Indians team that put up an MLB best 3.30 team ERA. Which will prevail, hitting or pitching? Well…the thing is, both teams are actually great at both. The Yankees pitching staff had the 5th best ERA in baseball and the Indians bats were 6th best.
Considering how hot the Indians have been down the stretch, I'd be willing to bet that nobody is giving the Yankees a chance in this series. Cleveland can pitch Corey Kluber twice in five games, while the Yankees probably won't know what to do with their rotation considering how bad Severino was in the wild card game.
I believe that there is some contrarian value in taking the Yankees. Out of the 10 wild card game winners from 2012-2016, five have won the division series, showing just how unpredictable baseball can be.
LA Dodgers vs. Arizona
Regular season head-to-head: Arizona 11-8
The Dodgers breezed through the middle part of the season but had some issues late, and they actually lost the season series against Arizona 11-8.
The DBacks bashed their way through the Wild Card Game against Colorado and have plenty of offensive firepower to challenge LA. Obviously they can't match up starter-for-starter and Clayton Kershaw is a big part of that, as he'll start Game 1 against Taijuan Walker. However, the DBacks probably feel pretty confident that they can continue their success against LA this year and the familiarity should be an advantage.
Follow us on Twitter @SportsInsights for updated odds as we push through the postseason.