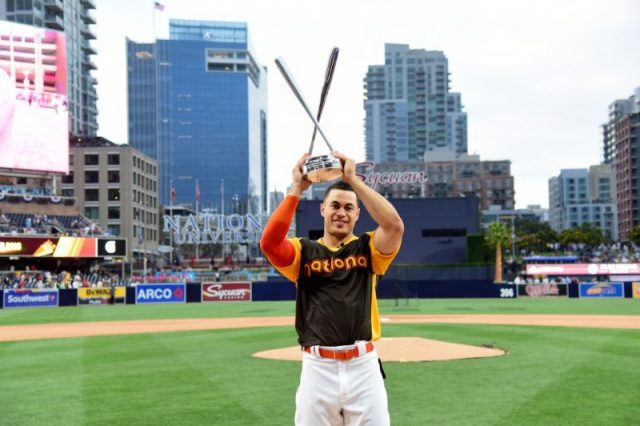 2017 Home Run Derby Odds
With the field of eight set, odds have been released for next week's home run derby in Miami. The defending champion, Giancarlo Stanton, will look to defend his crown at his home field, while the second coming of Babe Ruth, Aaron Judge, will try to knock him off the throne. Stanton and Judge are the one and two seeds, respectively, so they wouldn't face off unless they both reach the finals.
The @TMobile #HRDerby bracket is out.

Get ready for some POWER. pic.twitter.com/RQJ64bX70w

— MLB (@MLB) July 5, 2017
If you haven't watched in recent years, note that the derby is no longer the classic 10-out format that it used to be. It is now a timed event with bonus time awarded for long home runs. This has led to more swings and more dingers, which should seemingly favor a more physically fit player.
Player
July 10
(BetOnline)
July 7
(BetOnline)
July 6
(Paddy Power)
Giancarlo Stanton
+175
+165
+120
Aaron Judge
+200
+195
+163
Miguel Sano
+575
+800
+1400
Cody Bellinger
+750
+900
+900
Justin Bour
+950
+1400
+1600
Gary Sanchez
+1200
+1400
+2000
Mike Moustakas
+1600
+1400
+1400
Charlie Blackmon
+1800
+2000
+1200
It should come as no surprise that Stanton and Judge are at the top of the list, but the gap between them and the rest of the field is astonishing. These two have been known to bash mammoth homers, and should get some additional time that their opponents won't have.
Setting a good pace is also important because if these guys over-exert themselves in the early rounds, they can get tired out by the finals. Most of you will remember Josh Hamilton's performance in the home run derby in old Yankee Stadium, but people forget that he didn't even win that year. Despite hitting 28 homers in the first round, he lost 5-3 in the finals to Justin Morneau.
Given the unpredictability of the event, I would advise that you take anyone/everyone other than Stanton and Judge. All of them can hit home runs and the odds should be much tighter than they are. This reminds me of the Slam Dunk Contest in which Aaron Gordon was -150, Derrick Jones Jr. was +115, and Glenn Robinson III was +1200. Of course, Robinson took home the title. While that event is a little more fluky, both should be considered more of a gimmick than an actual event where the best man or team generally wins.
Here's how the public is betting the HR Derby at William Hill's Nevada sportsbooks:

Here are odds on 1st round matchups and prop bets:
Stanton -380 vs. Sanchez +260
Judge -305 vs. Bour +225
Bellinger -160 vs. Blackmon +120
Sano -135 vs. Moustakas -105
Longest home run: Over 499.5 feet (-350), Under 499.5 feet (+250)
Most home runs: Over 46.5 (+150), Under 46.5 (-190)
Feel free to comment with any thoughts or contact us with any questions by emailing help@sportsinsights.com.