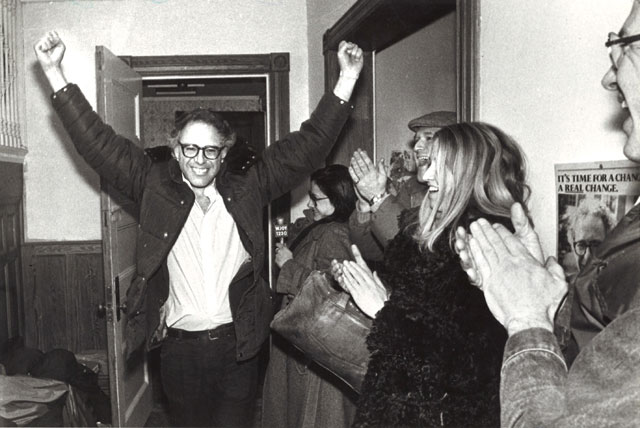 2016 Presidential Election Betting: Here Comes Bernie!
In our last post, we explained how the 2016 presidential election was down to a three-person race between Hillary Clinton, Donald Trump and Bernie Sanders.
This may have taken some readers by surprise because, according to the corporate media and political insiders, the general election is already set. It's a done deal. It will be Clinton vs. Trump in November.
However, something very interesting is happening that almost no one is talking about: Bernie Sanders is making an epic 4th quarter comeback.
Sanders hit rock-bottom after losing the New York Primary. His nomination odds plummeted from +400 to +1,400 while his 2016 odds sank from +700 to +3,300. (Odds via Bovada)
Sanders was left for dead. His grassroots revolution was completely written off. Talking heads and party elites demanded that he drop out of the race and "unite" the party behind Clinton.
But over the course of the last two weeks, Sanders has surged.
First, Sanders won the Indiana Primary with 53% of the vote. Then, earlier this week, he won the West Virginia Primary by more than 15 points. Along the way, Sanders' odds have improved substantially.
.@BernieSanders' nomination odds improved from +1200 to +1000 following his #WVPrimary win. His 2016 odds went from +3300 to +1600. (Bovada)

— Sports Insights (@SportsInsights) May 11, 2016
Meanwhile, Clinton's odds continue to fall. Since New York, she has gone from -5,000 to -2,500 to win the nomination while her 2016 odds have slipped from -340 to -275. (Bovada)
Clinton still leads Sanders by about 280 pledged delegates; however, the two candidates are trending in the opposite directions. And we expect this to continue.
As it stands now, there are eight states left who haven't voted yet. And there's an outside chance that Sanders could win almost every single one.
Don't believe me? Let's take a look at the odds at 5Dimes.
| State | Sanders | Clinton |
| --- | --- | --- |
| Oregon | -350 | +250 |
| Montana | -675 | +425 |
| North Dakota | -635 | +415 |
| South Dakota | -290 | +210 |
| Kentucky | +165 | -215 |
| California | +200 | -280 |
| New Mexico | +225 | -305 |
| New Jersey | +655 | -1365 |
As you can see, Sanders is expected to win Oregon, Montana, North Dakota and South Dakota. It's pretty much a toss-up in Kentucky, California and New Mexico. The only state Clinton is expected to take handily is New Jersey.
Of all the remaining states, California is the most important (475 delegates are up for grabs). Right now, Clinton holds a slight lead but that will likely evaporate in the coming weeks as Sanders builds momentum and barnstorms through the state.
Another wild card to take into account: the ongoing FBI investigation of Clinton's emails. Rumors are swirling that a decision regarding whether or not to indict is coming down the pike in late May.
Interestingly, BetOnline recently started posting Joe Biden's odds.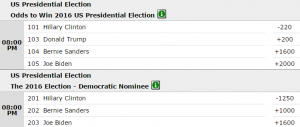 In this case, it appears that the Democrats may be prepping for a Clinton indictment.
More closely, establishment insiders will turn to Biden if Clinton is forced to drop out. This would set up an epic Sanders vs Biden showdown at the Democratic Convention in Philadelphia later this summer.
What do you think?
Is the Sanders surge much ado about nothing? Are you sticking with Trump or Clinton to win the White House? Or is Sanders primed to pull off the greatest comeback in modern political history?
Feel free to leave your thoughts in the comments section below.