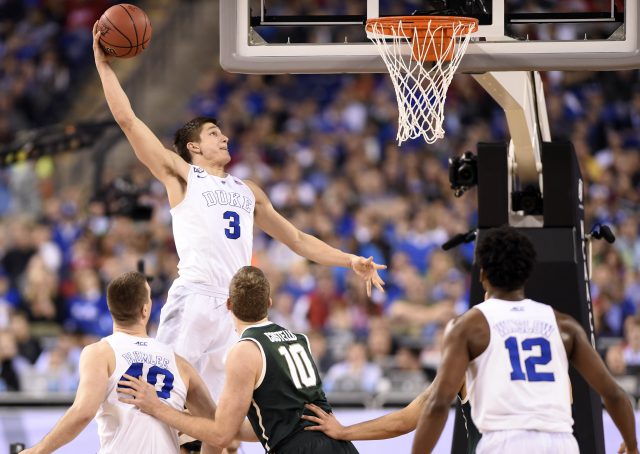 2016 NCAAB Betting: Will Any School Go Undefeated This Season?
The perfect season. It's the Holy Grail for any college basketball team, yet no school has won the national championship following an undefeated regular season since Indiana went 32-0 way back in 1976. In fact, only eight teams have ever completed the perfect season since the NCAA tournament's introduction in 1938.
Several teams have come close recently, including the 2014-15 Kentucky team that entered the Final Four with a 34-0 record before losing to Wisconsin. The 1991 UNLV Runnin' Rebels, widely regarded as one of the best teams in NCAA history, entered the tournament with a perfect record before being bounced by eventual champion Duke in the Final Four.
[ Receive all of our winning picks by signing up for a 4-day trial of Sportsbook Insider Pro ]
The perfect college basketball season is one of the rarest feats in sports. Even some of the most prestigious accomplishments have been more commonplace including the 500-yard passing game in the NFL (16), the unassisted triple play in MLB (15) and the triple crown of thoroughbred racing (12). Clearly the perfect season is an anomaly, but this season oddsmakers believe two schools could make history.
On Thursday afternoon, 6'10 center Marques Bolden finally made a decision on his college for next season, choosing Duke over Kentucky. Bolden, who was the top uncommitted recruit in the class of 2016, joins fellow five-star recruits Harry Giles, Jayson Tatum and Frank Jackson in the Blue Devils top-ranked recruiting class.
With their leading scorer, Grayson Allen, surprisingly deciding to return for his junior season Duke was already listed as the pre-season favorite to win the national championship. The addition of Bolden caused the Blue Devils odds of winning the national championship to move from +525 to +500 at 5Dimes.
On Friday morning, 5Dimes posted several additional prop bets for the upcoming college basketball season. At the time of publication, Duke was listed at +2500 to enter the NCAA tournament with an undefeated record and +4000 to post the perfect season.
Despite losing out on Bolden, oddsmakers are also optimistic about Kentucky's prospects of going undefeated the season. The Wildcats, who have the second-best odds (+700) of winning the national championship, are +3150 to enter the NCAA tournament with an undefeated record and +5500 to post the perfect season. Looking for something slightly more generic? Bettors can also take any team to post a perfect season at +2000.
So what does that mean in real world terms? When we account for the juice charged by 5Dimes, we find the following implied probabilities:
Duke: 2.60% chance of entering tournament undefeated, 1.41% chance of perfect season
Kentucky: 1.88

% chance of entering tournament undefeated, 1.04% chance of perfect season

Any Team: 3.23% chance of perfect season
No sportsbook offered odds on the perfect season last year, but 5Dimes did offer a similar prop bet prior to the 2014-15 season. Back in November of 2014, Kentucky was listed at +1000 to win the national championship with an undefeated record. That team, which was led by Karl-Anthony Towns, Devin Booker and Willey Cauley-Stein, came within two wins of making history.
There doesn't appear to be any value on this prop bet and I hate tying up funds for months at a time, so I'll be avoiding this prop bet with more fervor than I avoid meeting my girlfriend's parents. Still, it's tough to imagine either one of these freshman-heavy teams posting the perfect season. That's especially true of the Blue Devils who will have to deal with stiff competition in the ACC including Louisville, North Carolina and Virginia.
What do you think? Are any of these props offering value? Please leave your thoughts in the comment section below.