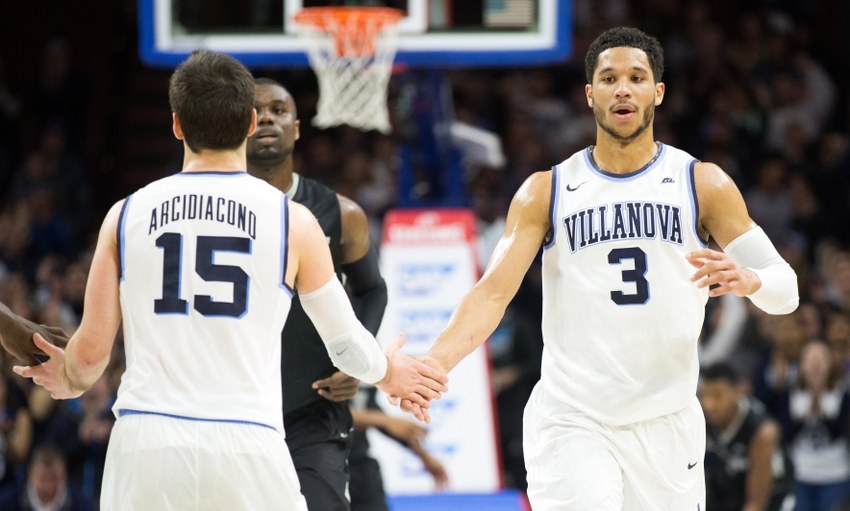 2016 NCAA Tournament: First Round Opening Line Report
The 2016 NCAA Tournament field has been set with the First 4 round beginning on Tuesday, and the Round of 64 starting up on Thursday afternoon. As always there's a fair share of teams who feel snubbed including St. Mary's, St. Bonaventure, Monmouth, but the tournament will still go on.
Before we look the Round of 64 games, we'll quickly delve into each First 4 matchup:
Fairleigh Dickinson (16) vs. Florida Gulf Coast (16)
BetOnline opened FGCU -6.5 but dropped them to -6 despite the majority of early bets on the team formerly known as "Dunk City". Casual bettors may be remembering FGCU's memorable tourney run in 2013 and may flock to bet what they know. However the team is completely different at this point so there could be value on underdogs FDU if the public pushes the line up.
Vanderbilt (11) vs. Wichita State (11)
5Dimes actually opened Wichita State -4.5 in this matchup but has since moved to -3. Most of the market currently lists Wichita St -3 despite early bettors taking the Shockers to advance to the Round of 64. We'd expect the public to continue to take Wichita St but for sharp bettors to come back on Vanderbilt if the line rises.
Southern (16) vs. Holy Cross (16)
Most books opened Southern -3 but have moved to -2.5 despite early bettors on the favorites. Sharper early bettors appear to be taking Holy Cross with the points.
Tulsa (11) vs. Michigan (11)
No surprise here but public bettors are all over Michigan so far, as the Wolverines are getting over 80% of bets and money. However, the line hasn't budged yet so books seem wary on moving Tulsa above +3 at this point.
Below shows a snapshot of our Pro Live Odds page, displaying the opening and current lines from both BetOnline and CRIS, two of the more prominent offshore sportsbooks. It also shows the # of bets on each game so far, as well as betting percentages around the market for Thursday's Round of 64 games: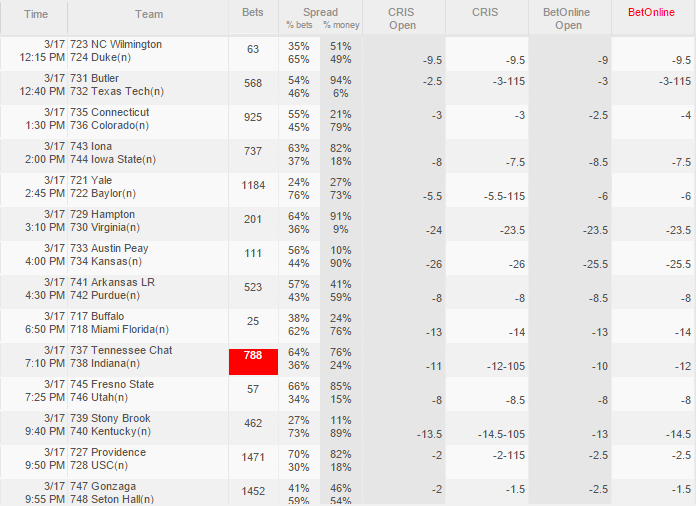 Butler (9) vs. Texas Tech (8)
Despite spread betting to be roughly squal so far, much of the early money is coming in on Butler which has moved them from -2.5 to a juiced up -3.
Yale (12) vs. Baylor (5)
Early bettors couldn't wait to take 5-seed Baylor on this short line, and we'd expect the public to move this line up during the week. There could potentially be value on Yale if it moves above +6, and we'd recommend bettors wait if taking Yale.
Tennessee-Chattanooga (12) vs. Indiana (5)
Tennessee Chattanooga appears to be an early trend pick of bettors but the line is actually moving against them, from +10 to +12 at BetOnline. This indicates sharper bettors are on Indiana and a good spot to take a much better favorite.
Providence (9) vs. USC (8)
Providence is the 9-seed here but are favored over the 8-seed USC Trojans. Right now 70% of spread tickets are on the Friars to cover and it's the most bet game of the tournament, which means there could definitely be some value on USC as we move through the week.
And below shows Friday's Round of 64 games with both open and current odds, # of bets, and betting percentages around the market: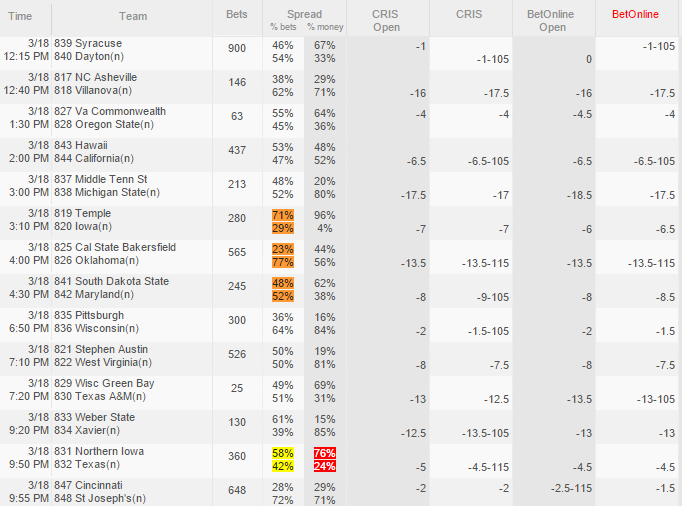 Syracuse (10) vs. Dayton (7)
This game opened around a pick 'em around the market which means the spread will move from -1.5 to +1.5 pretty easily throughout the week. Spread betting is fairly split so far but we'd expect public bettors to hammer Cuse over the next couple days, possibly presenting value on Dayton.
South Dakota St (12) vs. Maryland (5)
South Dakota State could be a trendy underdog upset pick but the line on Maryland has moved from -8 to -9 despite even betting. Similar to Indiana, this may be a good opportunity to take the favorites to cover.
Cincinnati (9) vs. St. Joseph's (8)
Bettors are probably remembering St. Joe's Atlantic-10 tourney win as they're getting nearly 75% of spread bets over the 9-seed Bearcats. However, the line hasn't really budged so this could be a good spot to take Cincinnati.
UNC Asheville (15) vs. Villanova (2)
Villanova is getting both public and sharp bets around the market and has moved from -16 to -17.5. The value on the Wildcats is probably gone at this point but early indications are that Nova is the bet here.
We also offer our very own March Madness Bracket Simulator where you can look at probabilities to advance for every single team, championship odds, matchup trends and more.