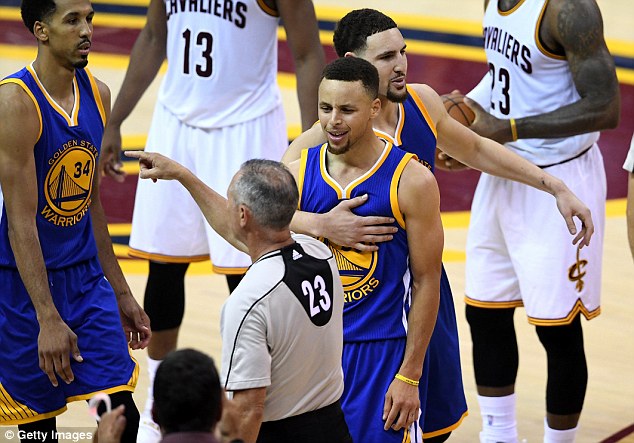 2016 NBA Finals Game 7 Preview: Cavs at Warriors
In a series filled with blowouts and drama, the Cavs will look to become the first team to come back from a 3-1 deficit to win the NBA Finals. It would be a monumental win not only for the Cavs but the entire city of Cleveland. However, they'll have to win a road game in Golden State in Game 7 over one of the best teams of all-time. The last time the Warriors lost 3 consecutive games was from Nov 20, 2013 to Nov 23, 2013 (vs. MEM, at LAL, vs. POR).
Before Game 6 even ended, 5Dimes opened Warriors -4.5 for Game 7. Before the series began, the lookahead line was Warriors -5 so this made sense. However, after the Warriors won the first 2 games of the series, the Game 7 lookahead line was Warriors -6.5. Oddsmakers made an adjustment and possibly an overreaction even though the Cavs would still have had to win a game in Golden State to get the series to 7 games.
At our contributing sportsbooks, spread tickets are nearly even with 51% on Cleveland and 49% on Golden State. When looking at the individual breakdown at each book, it's incredible how even the spread betting has been:
Since opening, most of the market moved the Warriors from -5 to -4.5 on Friday morning, but moved back to Warriors -5 by Friday night. As of Sunday morning, the money wagered from our source has been nearly split, which is ideal for oddsmakers to avoid any risk. Here's a look at how the line and betting percentages have moved since opening:

Over at William Hill, the Warriors are getting 59% of the tickets but only 22% of the money wagered. This indicates that early, bigger bets are taking the Cavs to cover the spread. On the moneyline, both tickets (80%) and money wagered (86%) are on the Cavs +160. Bettors have clearly started feeling comfortable taking Cleveland to win straight up as Golden State has started to look rattled the last couple games.
This has even spilled over to the families of the players, most notably Ayesha Curry, who voiced her opinion on these games being rigged for ratings. The NBA doled out a questionable suspension to Draymond Green for Game 5 and a lot of talk has indeed been about the officials and their role in the series. Tim Donaghy, a former NBA official guilty of fixing games, tweeted out "I am told Game 7 officials are D. Crawford, M. McCutchen and M. Callahan. You don't need to wait till Sunday to find out." Well it turns out Donaghy was absolutely correct, and here are their ATS records for home teams all-time:
Crawford 320-309
McCutchen 299-320
Callahan 290-301
Judging by the numbers, there's no real advantage for either side. It's hard to believe that someone like Donaghy would know well in advance of the ref assignments but that's the way the NBA goes. You can also check out our Referees page to view the historical records.
As for the total, Pinnacle opened 206 while CRIS opened 207.5. Right now most of the market is sitting at 206.5 despite the majority of bets on the over. From our contributing sportsbooks, 75% of tickets are on the over but just 56% of the money wagered is on the over. This is the same over at William Hill, where nearly 60% of tickets are on the over, but 75% of the money wagered is on the under. The public typically will bet overs which creates value for sharper bettors who tend to lean towards the under. It's been an odd series to gauge because of all the blowouts, but oddsmakers are standing firm that they expect points. The six highest NBA Finals totals that we've ever tracked have all come from this series (previous high was 205.5 in 2009 between the Lakers and Magic).
Now, does either team have an edge based on historical trends? First off, road teams have won just 24 of 125 Game 7's in the NBA Playoffs all-time (19.2%). When looking at just the NBA Finals, road teams have won just 3 of 18 Game 7's (16.6%). Since 2005, home teams in Game 7 are 28-9 straight-up and 23-14 ATS (+$767).
Teams with home-court advantage throughout the playoffs also tend to have the best player, and the NBA Regular Season MVP has won 18 straight Game 7's in the playoffs. The MVP has also gone 6-1 all-time in NBA Finals Game 7's. These trends clearly all point to the Warriors taking care of business at home, but that's why they play the games. Here's a quick look at how this year's NBA FInals has unfolded:
| Game # | Closing Odds | Result |
| --- | --- | --- |
| 1 (at GS) | GS -6 | GS 104-89 |
| 2 (at GS) | GS -6 | GS 110-77 |
| 3 (at CLE) | CLE -1.5 | CLE 120-90 |
| 4 (at CLE) | CLE -2.5 | GS 108-97 |
| 5 (at GS) | GS -5.5 | CLE 112-97 |
| 6 (at CLE) | CLE -2 | CLE 115-101 |
Prior to the series starting, the exact outcome of Warriors in 7 was listed at +300 odds, and the Cavs to win in 7 was listed at +800 odds. Cavs even reached +1450 to come back and win the series after going down 3-1:
Matchup
Pre-Series
After Game 1
After Game 2
After Game 3
After Game 4
After Game 5
After Game 6
GS-CLE
GS -220
CLE +180
GS -380
CLE +315
(GS up 1-0)
GS -750
CLE +600
(GS up 2-0)
GS -390
CLE +320
(GS up 2-1)
GS -2750
CLE +1450
(GS up 3-1)
GS -550
CLE +425
(GS up 3-2)
GS -200
CLE +170
(Tied 3-3)
LeBron James is now the big favorite to win NBA Finals MVP at -260 odds. He was available at +1200 odds after Game 4, which shows how massive his impact has been in Game 5 and Game 6.
Lastly, home teams have absolutely dominated on the 1st half line in this year's playoffs, going 58-25 ATS. The home team has also gone 5-1 ATS on the 1st half line in the Finals, so it will be interesting to see if Golden State can continue this trend and get out to a hot start in Game 7.
Are the Warriors the smart play at home in Game 7, or will LeBron James and the Cavs make history? Are you hedging any future bets based on this game? Feel free to leave your comments and thoughts below and track all the latest line moves and betting percentages at our Free Live Odds page.