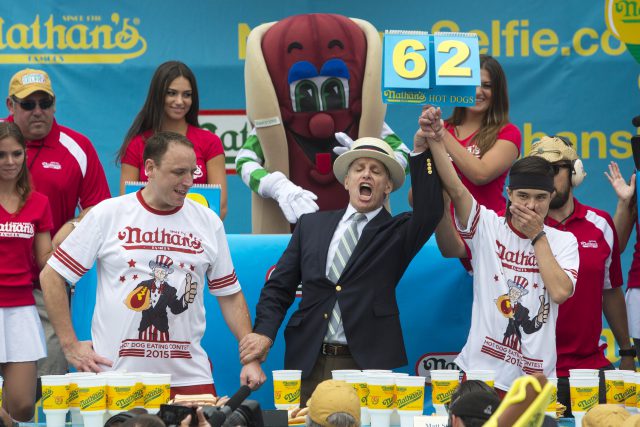 2016 Nathan's Hot Dog Eating Contest Odds
The 100th annual Nathan's Hot Dog Eating Contest will take place on the Fourth of July at the flagship Nathan's restaurant on Coney Island. This yearly ode to gluttony and overindulgence is an American tradition on par with fireworks, football, and bald eagles soaring majestically through the sky. It's almost like a slow motion train wreck where viewers are powerless to look away.
Last year Matt "Megatoad" Stonie downed 62 hot dogs in ten minutes to end Joey "Jaws" Chestnut's eight-year winning streak. A standard Nathan's hot dog has 280 calories, which means Stonie downed over 17,000 calories in the time it takes to fold my laundry — and that doesn't even include the buns! This was also a remarkable accomplishment considering that Chestnut was listed as a -800 favorite before the competition, with the field listed at +550.
Since reducing the length of the competition from 12 to 10 minutes in 2008, Chestnut has consumed an average of 62.875 hot dogs per contest including a world-record 69 back in 2013. This year the over/under on total hot dogs eaten by the winner has been set at 63.5, with the juice slightly favoring the over. As you can see from the table below, Chestnut has surpassed that threshold just three times in the last eight years.
| Year | Hot Dogs |
| --- | --- |
| 2006 | 52* |
| 2007 | 66* |
| 2008 | 59 |
| 2009 | 68 |
| 2010 | 54 |
| 2011 | 62 |
| 2012 | 68 |
| 2013 | 69 |
| 2014 | 61 |
| 2015 | 62 |
Matt Stonie opened as a slight favorite for this year's competition, but Joey Chestnut seems to be comfortable with his newfound underdog status. Unfortunately, Chestnut may be disappointed to learn that the limits on these types of prop bets are extremely low.
an underdog story is the best. I wonder what the max bet is? I'll bet big on myself. Will u @MattStonie

— Joey Chestnut (@joeyjaws) June 17, 2016
At the time of publication, Stonie (-130) was listed as a slight favorite over Chestnut (-110) although there are several different betting opportunities for this event. BetOnline is offering over/unders on total hot dogs consumed for both competitors, but their oddsmakers don't believe that either competitor will consume at least 64 frankfurters.

On the women's side, Miki Sudo will look to win for the third consecutive year after downing 38 hot dogs in 2015 and 34 hot dogs in 2014. Her toughest competition should come from Sonya Thomas, who is also known by her first-rate nicknames including "The Black Widow" and "The Leader of the Four Horsemen of the Esophagus."
Thomas became the first champion of Nathan's Hot Dog Eating Contest for Women when she downed 40 hot dogs in 2011. She followed up that achievement by winning the competition in 2012 (46 dogs) and 2013 (36 3/4 dogs).
Sudo opened as a -175 favorite against Thomas (+135) but early money has taken the reigning champ. Over the past few weeks, Sudo's odds of winning this year's contest have improved from -175 to -250 while Thomas has slipped from +135 to +170. Bovada has also set the over/under at 39.5 hot dogs eaten by the winner.
I believe that Chestnut will reclaim his throne this year and that one of the male competitors will down at least 64 wieners, but I'm no expert. What do you think? Will you be watching this year's contest? Please leave your thoughts and comments in the section below.
Have any questions for the staff at Sports Insights? Utilize our live chat to speak with a customer service representative or e-mail us at help@sportsinsights.com.