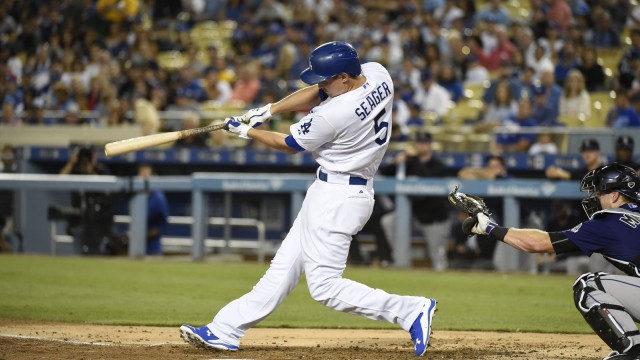 2016 MLB Rookie of the Year Odds
The 2016 MLB season begins on Sunday, and many last-minute prop bets are just starting to populate. On Tuesday (3/30) morning, BetOnline became the first major offshore sportsbook to post odds for the 2016 MLB Rookie of the Year. This was an interesting development because sportsbooks almost always post Rookie of the Year odds for the NBA and NFL, but typically ignore MLB.
This award is somewhat different from other sports since players with major league experience are often times eligible for the award. Since 1971, rookies have been defined as any player with less than 130 at bats, 50 innings pitched or 45 days on the major league roster. There has also been some disagreement on whether veteran Asian players (like 2001 award winner Ichiro Suzuki) should be eligible.
It's also interesting to note that postseason numbers aren't included, which is good news for Mets LHP Steven Matz. The 24-year old tallied pitched 35 2/3 innings during the regular season and 14 2/3 innings during the postseason, which equates to 50 1/3 innings combined. Matz has been phenomenal in his short career, but he's not the favorite for the NL Rookie of the Year — that honor belongs to Dodgers SS Corey Seager.
The brother of Mariners 3B Kyle Seager, Corey Seager is the consensus top prospect in baseball. According to ESPN's Keith Law, Seager "has electric hands at the plate and does everything very easily — his swing, hip rotation and power look effortless." The 6'4″ slugger is listed at -110 to win the NL MVP Award making him the clear cut front-runner.
The table below displays the current NL Rookie of the Year odds at BetOnline.
National League (NL)
| Player (Team) | BetOnline (3/30) |
| --- | --- |
| Corey Seager (LAD) | -110 |
| Steven Matz (NYM) | +400 |
| Kenta Maeda (LAD) | +400 |
| Hector Olivera (ATL) | +700 |
| Trevor Story (COL) | +700 |
| Trea Turner (WSH) | +1000 |
| Lucas Giolito (WSH) | +2000 |
| Domingo Santana (MIL) | +2000 |
| Tyler Glasnow (PIT) | +2500 |
| Jose Peraza (CIN) | +2500 |
| J.P. Crawford (PHI) | +3300 |
| Josh Bell (PIT) | +5000 |
In the American League there's more competition for that top spot, but the most obvious takeaway is the wealth of Twins prospects. Byron Buxton (+250), Byung-ho Park (+275) and Jose Berrios (+600) have the three best odds of winning this award.
Buxton, listed as the number two prospect in baseball, has incredible physical tools and could emerge as one of the league's best base stealers. Last season the 22-year old outfielder batted .305 with 7 home runs and 22 stolen bases while splitting time between AA and AAA. However, Buxton struggled after being called up to the majors, batting just .209 with 44 strikeouts in 129 at bats.
Many baseball fans may be unfamiliar with Byung-ho Park, but he's probably the most interesting option among Twins players. Minnesota won the rights to negotiate with Park after placing a $12.85 million posting fee before signing him to a four-year contract worth $12 million. Last season the 6'1″ first baseman hit .343 with 53 HR and 146 RBI for his Korean league team.
The table below displays the current AL Rookie of the Year odds at BetOnline.
American League (AL)
| Player (Team) | BetOnline (3/30) |
| --- | --- |
| Byron Buxton (MIN) | +250 |
| Byung-ho Park (MIN) | +275 |
| Jose Berrios (MIN) | +600 |
| A.J. Reed (HOU) | +600 |
| Joey Gallo (TEX) | +750 |
| Blake Snell (TB) | +1000 |
| Tyler White (HOU) | +1000 |
| Nomar Mazara (TEX) | +1200 |
| Tyler Naquin (CLE) | +1600 |
| Sean Manaea (OAK) | +1600 |
| Hyun-soo Kim (BAL) | +2000 |
| Aaron Judge (NYY) | +2000 |
| Tim Anderson (CWS) | +3300 |
| Max Kepler (MIN) | +3300 |
One of the biggest concerns when betting on the Rookie of the Year odds is the uncertainty surrounding call-up dates for top prospects. Cubs 3B Kris Bryant was called up on April 17th last season and Houston's Carlos Correa wasn't called up until June 8th. Both players ultimately won the Rookie of the Year award, but this delay puts them at a clear disadvantage. That's one of the reason's I like opening day starters like Park.
Washington's Lucas Giolito (+2000) looks filthy from the highlights that I have seen, but it's unclear if he'll be called up before June. He's a potential steal if he's able to join the rotation early in the season, but I would rather have Steven Matz (+400) knowing that he will break camp in the Mets rotation. Colorado's Trevor Story (+700) could be another great value if he breaks camp as the everyday shortstop.
Bettors can track the latest odds, betting percentages, injuries and more by visiting our free MLB odds page. Interested in receiving our highly profitable Best Bets or the Pinnacle ML steam move? Sign up for Sportsbook Insider today!
Do you agree with our selections? Are any of these players offering value? Were there any major omissions? Please leave your thoughts in the section below.