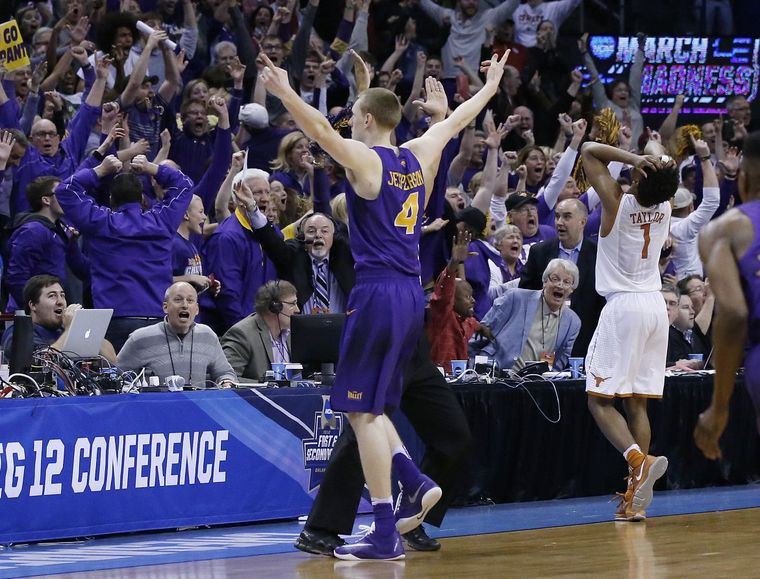 2016 March Madness: Round of 64 Betting Recap
Day 1 of the 2016 NCAA Tournament was stellar, but Day 2 may have been even better. We saw 2 buzzer-beaters in Friday night's action as well as a slew of moneyline upsets.
– On Thursday morning it was announced that Cal point guard Tyrone Wallace broke his hand in practice Wednesday. Following the announcement Cal dropped from -6.5 to -4.5 against Hawaii for Friday's Round of 64 game and they ended up losing 77-66.
– The two highest bet games on Thursday netted great results for sportsbooks (Yale over Baylor and Little Rock over Purdue), but the highest bet games on Friday were both wins for the public (Notre Dame over Michigan and Northern Iowa over Texas).
– Overs went 20-12 in the opening round.
– Favorites went 17-15 in the opening round.
– The Atlantic-10 and MVC have already gone over the conference win totals for the tournament.
– Moneyline underdogs went just 2-14 straight up on Thursday but went 6-10 straight up on Friday.
– The biggest upsets of the tournament so far:
1. Middle Tennessee State (+1529) over Michigan State
2. Little Rock (+348) over Purdue
3. Stephen Austin (+266) over West Virginia
4. Hawaii (+222) over California
5. Yale (+213) over Baylor
– Middle Tennessee State's upset shattered nearly 1/4 of brackets who picked Sparty to reach the title game and it was the second largest tourney upset in our database behind only Norfolk State over Missouri:
Worth noting that Middle Tennessee State closed +2500 at 5Dimes. https://t.co/jLQ3hfc201

— Sports Insights (@SportsInsights) March 18, 2016
– Via David Purdum, more money was bet on Michigan State to win the title than any other team at LV Superbook. This was another great early win for sportsbooks, who did very well on Thursday too. According to Purdum, Caesars sportsbooks won $1 million company-wide just on Thursday's games alone.
– Here's a breakdown of how each seed fared ATS in the opening round: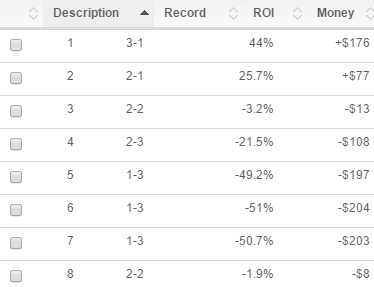 – Via ESPN Stats and Info, this was the first NCAA Tournament ever where a 13, 14, and 15 seed won on the same day:
Odds on each seed to get at least one opening round win were:

13 seed: -150
14 seed: -115
15 seed: +285 https://t.co/G5GYmnksLP

— Sports Insights (@SportsInsights) March 19, 2016
– This tourney has also set a record for most teams seeded 11 or higher to advance from the Round of 64:
"..a record eight teams seeded No. 11 or lower advanced to the second round. The previous record was 7 (2013).." via @slmandel

— Jon Campbell (@JonnyOddsShark) March 19, 2016
– 9-seeded favorites over the 8-seed had historically been poor, going just 5-12 ATS since 2005. However, this year they "improved" to 2-2: Butler (-4) over Texas Tech 71-61 and UConn (-3) over Colorado 74-67 were the 9-seeds to cover, but St. Joe's beat Cincinnati on Friday night, and 8-seed USC got this close cover against Providence Thursday:
26% of spread bettors still covered on USC +2. https://t.co/DqPGxyqO5F

— Sports Insights (@SportsInsights) March 18, 2016
– In Thursday's best game, #12-seed Little Rock pulled off a massive comeback to stun Purdue in double overtime 85-83. Little Rock reached +1410 on the live moneyline ($100 to make $1,400) while Purdue was as high as -3500 ($3,500 to make $100):
Everything had to go right for Little Rock to pull off its incredible comeback: https://t.co/AoWztfKnJh https://t.co/U7dMjMxEp1

— SB Nation (@SBNation) March 18, 2016
– On Friday night we saw this incredible buzzer-beater by Northern Iowa over Texas:
UNI opened +5 and closed +3 on the spread. https://t.co/Pi2yPTTomO

— Sports Insights (@SportsInsights) March 19, 2016
– Prior to Friday's games we highlighted the importance of betting against the public in the tournament due to so many casual and square bettors:
Fading the trendy underdog has won historically, but how about fading the trendy favorite? #MarchMadness pic.twitter.com/tKmetbDamT

— Sports Insights (@SportsInsights) March 18, 2016
– With MTSU and Bakersfield both covering, that record improved to 11-1 ATS:
With MTSU and Bakersfield both covering yesterday, teams getting <20% of bets in the tourney are now 11-1 ATS (since 2005 via @Bet_Labs).

— Sports Insights (@SportsInsights) March 19, 2016
Be sure to keep up with all the latest line moves, betting trends, breaking injuries and more at our Free Live Odds page.
Check out our Bracket Simulator to find out the probabilities for each team to advance in each round.
Reminder that we offer an introductory trial for our Pro membership, which includes all picks, bet signals, betting trends, and more. Our NCAAB Best Bets are up over +23 units on the season and we have more plays for this weekend's games.