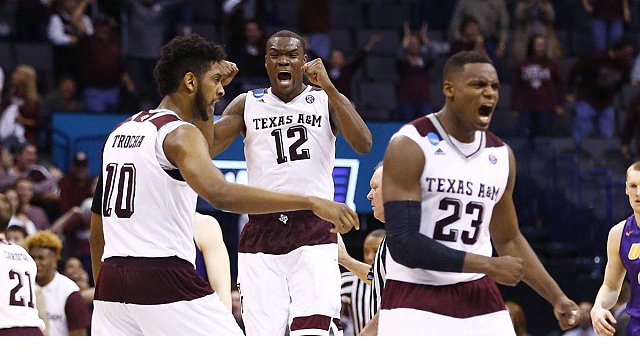 2016 March Madness: Opening Rounds Betting Recap
The first four days of the tournament were as much as you could ask for, with a massive first round upset, a trio of buzzer beaters, a waved-off buzzer beater, close covers, and a whole lot more.
– Thursday was a great day for sportsbooks and rough day for public bettors, as two highest bet games on Thursday netted great results for sportsbooks (Yale over Baylor and Little Rock over Purdue). According to David Purdum, Caesars sportsbooks won $1 million company-wide just on Thursday's games alone.
– Here's some video proof of #12-seed Little Rock pulling off the massive comeback to beat Purdue in double overtime 85-83. Little Rock reached +1410 on the live moneyline ($100 to make $1,400) while Purdue was as high as -3500 ($3,500 to make $100):
Everything had to go right for Little Rock to pull off its incredible comeback: https://t.co/AoWztfKnJh https://t.co/U7dMjMxEp1

— SB Nation (@SBNation) March 18, 2016
– On Friday night we saw this incredible half-court buzzer-beater by Northern Iowa over Texas. Public bettors were actually on the underdogs in those one:
UNI stuns Texas with half-court buzzer-beater for the win: https://t.co/laeNt5X244 pic.twitter.com/5E4IJg4OPl

— Deadspin (@Deadspin) March 19, 2016
– Notre Dame got a late tip-in to beat Stephen Austin on Sunday in a game that was close throughout. Stephen Austin did close +1.5 on the spread, meaning they became the first 14-seed to cover a game in the Round of 32 in our database (0-7 ATS prior):
Notre Dame's Rex Pflueger tips in the game-winner. Wow. https://t.co/JiZzv9oAlC

— Bleacher Report (@BleacherReport) March 20, 2016
– Late Sunday night brought us this finish from Wisconsin over Xavier:
Wisconsin (+4.5) closed with just 23% of spread bets and 36% of moneyline bets. https://t.co/XvF3PtgmXA

— Sports Insights (@SportsInsights) March 21, 2016
– But the best finish of the opening rounds went to Texas A&M, who overcame a 12-point comeback with under a minute left to force two overtimes and beat Northern Iowa. Texas A&M reached +675 on the live moneyline over the last few minutes, but there wasn't even one available in the final minute. Northern Iowa ended up covering the spread but moneyline bettors weren't be so happy. Here's a look:
Texas A&M erased a 12-point deficit in 35 seconds!! #MarchMadness https://t.co/Jp30IGhGOS

— NCAA March Madness (@marchmadness) March 21, 2016
– Moneyline underdogs went just 2-14 straight up on Thursday but went 6-10 straight up on Friday (Trends and betting data can be accessed with a membership in our archives at BetLabsSports.com). They went 3-13 in the Round of 32.
– The biggest upsets of the tournament so far:
1. Middle Tennessee State (+1529) over Michigan State
2. Little Rock (+348) over Purdue
3. Stephen Austin (+266) over West Virginia
4. Hawaii (+222) over California
5. Yale (+213) over Baylor
– Middle Tennessee State (+1529) over Michigan State is the second-largest moneyline upset we've ever tracked in the NCAA Tournament, behind only Norfolk State over Missouri in 2012. The moneyline was actually available as high as +2500 at 5Dimes.
– Via David Purdum, more money was bet on Michigan State to win the title than any other team at LV Superbook.
– Overs went just 1-3 in the First Four games but came back to go 20-12 in the Round of 64. They went 6-10 in the Round of 32 for an overall record of 27-25.
– Favorites went 28-24 overall: 3-1 in the First Four, 17-15 in the Round of 64, and 8-8 in the Round of 32.
– Favorites receiving <50% of bets have been a great bet in the Round of 32, going 29-17 ATS before this season. In this tournament they went 3-0 ATS with wins coming from Gonzaga, Syracuse and Maryland.
– 9-seeded favorites had gone 5-12 ATS entering this year and all four 9-seeds were favorites in this tournament, going 2-2 ATS.
– Teams receiving <20% of spread bets went 2-0 ATS in the tourney (Middle Tenn St and Cal State Bakersfield) and are now 11-1 ATS in our database going back to 2005.
– 10 and 11 seeds have performed the best ATS in this tournament, going 5-1 ATS and 5-2 ATS respectively. 1-seeds are next best at 5-3 ATS.
– Despite Middle Tennessee State's incredible upset, 15-seeds went just 1-4 ATS and 16-seeds went 1-3 ATS.
– Conference Win Totals: MVC went Over 1.5 with wins from Wichita State and Northern Iowa. The Atlantic-10 also went Over 1.5 while the ACC has incredibly gone over 11.5 already (12-1 record overall).
– Via ESPN Stats and Info, this was the first NCAA Tournament ever where a 13, 14, and 15 seed won on the same day: These were the odds of each seed to win at least 1 game in the tourney:
13 seed: -150
14 seed: -115
15 seed: +285
– This tourney has also set a record for most teams seeded 11 or higher to advance from the Round of 64:
"..a record eight teams seeded No. 11 or lower advanced to the second round. The previous record was 7 (2013).." via @slmandel

— Jon Campbell (@JonnyOddsShark) March 19, 2016
Be sure to keep up with all the latest Sweet 16 and Elite 8 line moves, betting trends, breaking injuries and more at our Free Live Odds page.
You can also check out our Bracket Simulator to find out the probabilities for each team to advance in each round and each matchup.