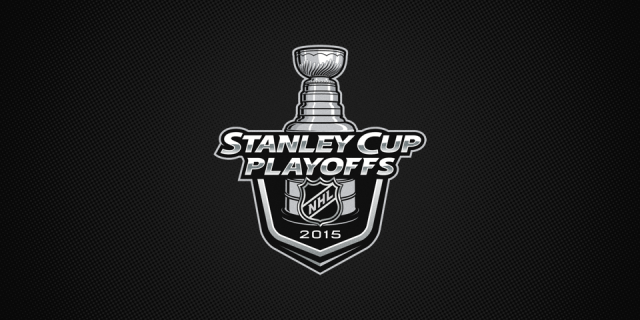 2015 NHL Playoffs: Why Are Lower Seeds Undervalued in the First Round?
The 2015 NHL Playoffs are here and we've already discussed some of the most profitable betting trends, futures movement and injury concerns in our Stanley Cup Playoffs Preview. However, we also wanted to provide our readers with a historically profitable betting system to track this postseason.
Unlike in the NBA playoffs where the top seeds almost always emerge victorious, the NHL playoffs are a chaotic time filled with a copious number of upsets and Cinderella stories. Lower seeds are consistently able to ride hot goaltenders to the promised land, and this has been particularly true over the past few years. In 2012, the 8th-seeded Los Angeles Kings defeated the 6th-seeded New Jersey Devils in the Stanley Cup Finals. In 2010, the 7th-seeded Philadelphia Flyers reached the Finals before losing to the Chicago Blackhawks.
Over the past decade, six teams have reached the Stanley Cup Finals with a seed of 6 or lower. For comparison sake, in the 68-year history of the NBA Finals there have only been two teams (the 1969 Boston Celtics and the 1995 Houston Rockets) who have won the Championship with a seed of 4 or lower.
With lower seeds performing at such a high level, we wanted to know whether bettors could capitalize on this historic trend. Using our Bet Labs software, we found that when lower seeds (5-8) faced higher seeds (1-4), the lower seeds had gone 235-280 with +11.56 units won. Although this showed that there was an advantage to betting on lower seeds, it simply was not worthwhile to bet such a large number of games for such a small return on investment (ROI). However, when we focused solely on first round (Conference Quarterfinals) games, our sample size shrinks by nearly 150 games while our units won remains essentially unchanged.
Historically, road teams have been undervalued in hockey, and we wanted to know whether this trend continued during the postseason. In fact, the visitor/home splits for this betting system were striking. Since 2005, home teams fitting these criteria have gone just 79-90 with -18.48 units lost while visitors fitting these criteria have gone 91-110 with +30.18 units won and a 15% ROI.
We always preach the value of buying on bad news and selling on good news as part of our overall contrarian philosophy. One of the best ways to buy low is by taking teams who are coming off a loss since the betting public tends to overreact to recent events. By looking at teams who lost their previous game, our units won drops from +30.18 to +26.02 while our sample size shrinks by nearly 48%.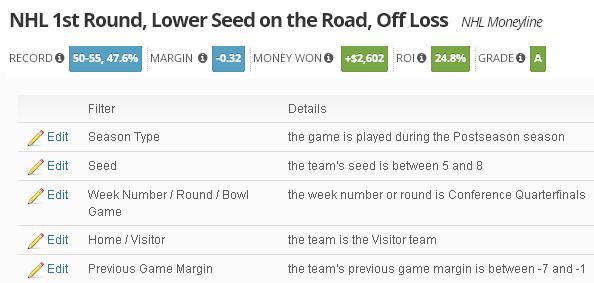 As you can see from the screenshot above, our system has produced a 50-55 record since 2005. Despite this losing record, the system takes so many moneyline underdogs that it remains extremely profitable.
Prior to the start of the 2013-14 NHL season, the NHL realigned their conferences and cut down the number of divisions from six to four. Along with these changes, they adjusted the playoff format with the top three teams in each division making the playoffs along with two wild card teams. Under the new playoff format, there were essentially two brackets in each conference with teams being seeded between 1 and 4.
This obviously threw a wrench in our system since there were no longer any teams seeded between 5-8; however, the higher seeded team still retains home ice advantage for games 1, 2, 5 and 7. We also knew that underdogs are typically undervalued in games with low totals, and chose to focus on games with an over/under of 6 or less.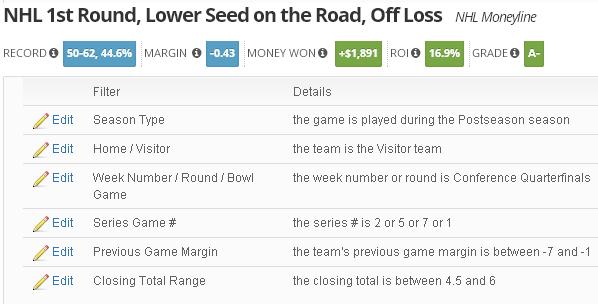 Last year was awful for betting underdogs and, as a result, this system produced a woeful 2-10 record (-6.79 units) during the 2014 playoffs. Despite such tremendous losses, this system has still earned +16.58 units over the past five seasons and could see a bounce-back performance this year.
There are no current game matches, but Bet Labs members can view all system matches and receive email/text alerts by copying this system from the Think Tank.  Bettors can also track the latest odds and public betting trends by visiting our free NHL odds page.
Have any questions for the staff at Sports Insights? Utilize our live chat to speak with a customer service representative or e-mail us at help@sportsinsights.com.
David Solar is the Content Manager for Sports Insights and can be reached directly at David@sportsinsights.com.
4/28/15 Update: This system has gone 7-4 (+5.19 units won) during the 2015 NHL playoffs and is now 57-66 (+24.10 units won) overall.