The 2014 NHL Stanley Cup Final is the Kings to lose, as they hold a 3-1 series lead over the Rangers. LA won Game 1 in overtime 3-2 after coming back from 2 goals down and then did the same in Game 2, winning 5-4 in double overtime. The Kings held a 3-game advantage looking to put away the Rangers in Game 4 but fell in a close one 2-1 to keep New York alive. 5Dimes opened the Kings as -160 series favorites with the Rangers listed at +140, but with a 3 games to 1 series lead, the Kings are now -1200 favorites with the Rangers listed at +775 (via 5Dimes).
Game 5 is Friday night back in Los Angeles and you can see the latest betting trends and odds above. You can also track the lines and betting percentages for each game from our free betting trends page. The public has been on the home favorite Kings as they look to end the series and win their 2nd Stanley Cup in 3 years.
On the injury front, Daniel Carcillo has finished his 6-game suspension for the Rangers but did not suit up in Game 4, and it's still unknown if he'll be in for Game 5. Backup goalie Cameron Talbot remains questionable with an undisclosed injury, which could be a big issue if something happens to starter Henrik Lundqvist.
Heading into the series, Rangers goalie Henrik Lundqvist was the favorite to win the Conn Smyth trophy but those odds have since been adjusted, with Kings d-man Drew Doughty and forward Anze Kopitar the co-favorites at +150. Prior to the Stanley Cup Final beginning, the most likely outcome for the series (based on odds at BetOnline) was Kings in 7, followed by Kings in 5, then Kings in 6. The Kings would likely be road underdogs in New York for Game 6 but big home favorites in Game 5 and Game 7 in LA.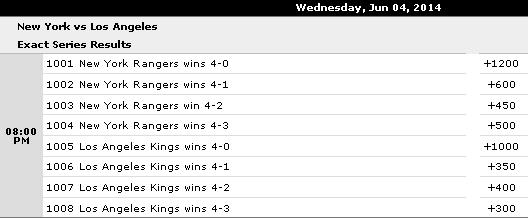 What's most impressive about the Kings is that they were once +10,000 longshots to win the Stanley Cup back in April when they were down three games to none against San Jose. Below shows a graph from our Futures page showing how odds have changed through the course of the season via Sportsbook.com: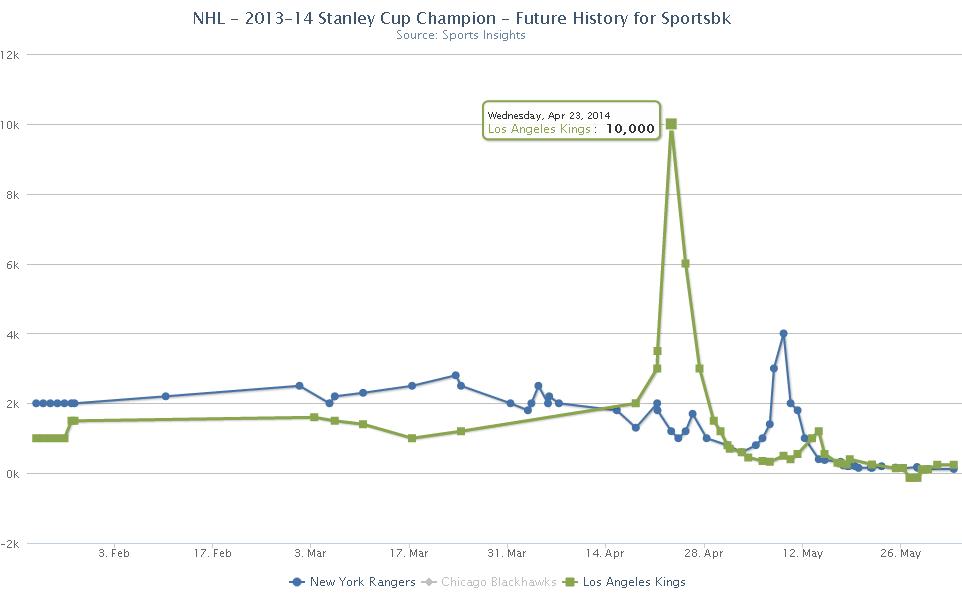 Will the Kings hold on and win their second Stanley Cup in the last three years, or will the Rangers come back and hoist the trophy for the first time since 1994? Feel free to leave your comments below. [adrotate group="4″]
The following two tabs change content below.
Dan McGuire
Dan McGuire is the Operations Manager and soccer specialist at Sports Insights. He can be reached at dan.mcguire@sportsinsights.com.
Latest posts by Dan McGuire (see all)