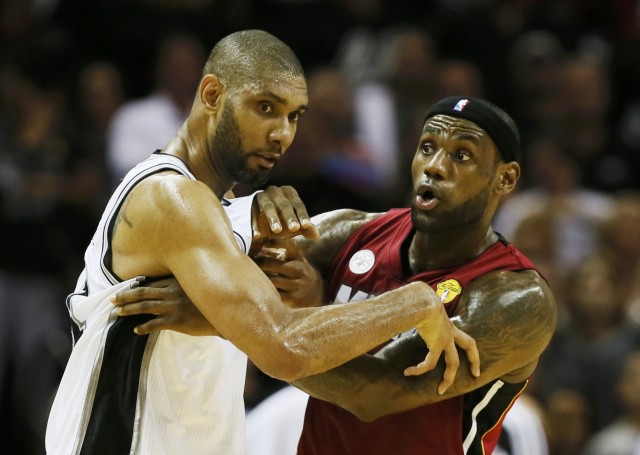 2014 NBA Finals: Will the Heat Bounce Back in Game 2?
Although the San Antonio Spurs defeated the Miami Heat 110-95 in Game 1 of the 2014 NBA Finals on Thursday, most of the post-game discussion involved the sauna-like conditions at the AT&T Center. In a bizarre occurrence, the arena's air conditioning malfunctioned causing the game to be played at extreme temperatures.
Perhaps this explains why LeBron James was forced to leave the game in the fourth quarter due to cramping. With King James on the bench, the Spurs went on a late 31-9 run en route to a blowout victory — but how will LeBron and his Heat teammates bounce back from this trying defeat?
Since taking his talents to South Beach in 2010, the Heat have gone 49-33 against the spread (ATS) during the playoffs including a 9-6 mark in Game 2's. It was also just a few weeks ago that we published an article detailing how favorites had been extremely profitable following a blowout loss during the NBA playoffs, which got us thinking: Could the Heat be undervalued after Thursday's 15-point loss?
Using our Bet Labs software, we decided to examine how the Heat had fared following a playoff loss. We know that the betting public tends to overreach to recent trends, so our philosophy is always to buy on bad news and sell on good.
| Criteria | ATS Record | Units Won | ROI |
| --- | --- | --- | --- |
| After Playoff Loss | 18-7 | +10.35 | 41.4% |
| After Playoff Loss of 11+ | 10-0 | +9.70 | 97% |
| On the Road After Loss | 10-3 | +6.71 | 51.6% |
| After Game 1 Loss | 5-0 | +4.87 | 97.3% |
As you can see, the Heat have been excellent following a loss which falls in line with our past research regarding the NBA Zig-Zag Theory. Those impressive returns are only heightened when we examine losses of at least 11 points as the Heat have gone 10-0 ATS following a blowout loss.
If this situation feels a bit familiar, that's because it's quite similar to last year's NBA Finals. Although the first two games were played in Miami, San Antonio won Game 1 92-88 before Miami bounced back with a 103-84 victory in Game 2.
Although Miami appears to be offering value to NBA bettors, we do not currently have a play on this game. However, our Pro members should check back tomorrow to see whether this game qualifies as one of our NBA Best Bets (which have gone 339-268, +41.9 units over the past two seasons).
[adrotate group="4″]