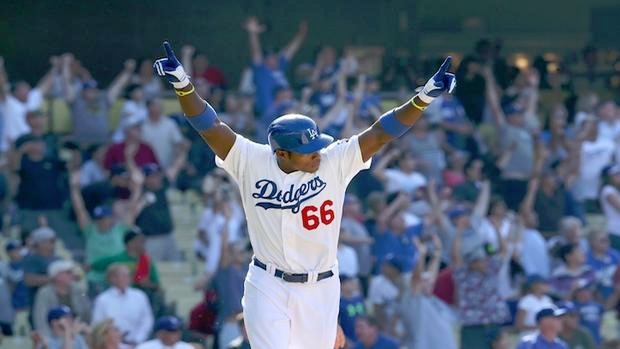 2014 MLB Season Win Totals
With all pitchers and catchers now reported to Spring Training, sportsbooks have begun releasing 2014 MLB Season Win Totals.  Las Vegas Hilton and Atlantis Casino in Reno were the first two books to post, with Sportsbook.com posting their own win totals shortly thereafter.
We decided to look at how these oddsmaker projections compared to non-betting projections such as Baseball Prospectus.  While there's some general agreement on most teams between the two sportsbooks, the biggest discrepancies appear to be on the Astros, Royals, Twins, and Reds.
Updated: 2/19/14
| Team | Sportsbook.com | Las Vegas Hilton | Atlantis Reno | Baseball Prospectus |
| --- | --- | --- | --- | --- |
| Dodgers | 93.5 | 93.5 | 92.5 | 98 |
| Cardinals | 91 | 91.5 | 90.5 | 88 |
| Tigers | 89.5 | 89.5 | 91.5 | 88 |
| Athletics | 89 | 89 | 86.5 | 88 |
| Nationals | 87.5 | 87.5 | 90.5 | 88 |
| Red Sox | 88 | 87.5 | 87.5 | 89 |
| Rays | 87.5 | 87.5 | 88.5 | 89 |
| Angels | 87.5 | 87.5 | 84.5 | 88 |
| Braves | 87.5 | 87.5 | 86.5 | 84 |
| Rangers | 86.5 | 86.5 | 86.5 | 84 |
| Yankees | 86.5 | 85.5 | 83.5 | 82 |
| Giants | 86 | 85.5 | 86.5 | 87 |
| Pirates | 84 | 84.5 | 86.5 | 78 |
| Reds | 83.5 | 83.5 | 87.5 | 83 |
| Mariners | 81 | 80.5 | 81.5 | 83 |
| Diamondbacks | 80 | 80 | 81 | 80 |
| Indians | 80.5 | 80 | 82.5 | 79 |
| Royals | 80.5 | 79.5 | 85.5 | 79 |
| Brewers | 80 | 79.5 | 78.5 | 81 |
| Blue Jays | 79.5 | 79.5 | 77.5 | 80 |
| Padres | 79 | 78.5 | 76.5 | 81 |
| Orioles | 78.5 | 78 | 80.5 | 75 |
| White Sox | 77 | 77 | 76.5 | 76 |
| Phillies | 76 | 76 | 78 | 76 |
| Rockies | 76.5 | 75.5 | 76.5 | 78 |
| Mets | 73.5 | 73.5 | 71.5 | 73 |
| Twins | 71 | 71.5 | 65.5 | 71 |
| Marlins | 69.5 | 69.5 | 66.5 | 69 |
| Cubs | 69 | 68.5 | 65.5 | 71 |
| Astros | 64 | 63.5 | 57.5 | 66 |
[adrotate group="4″]