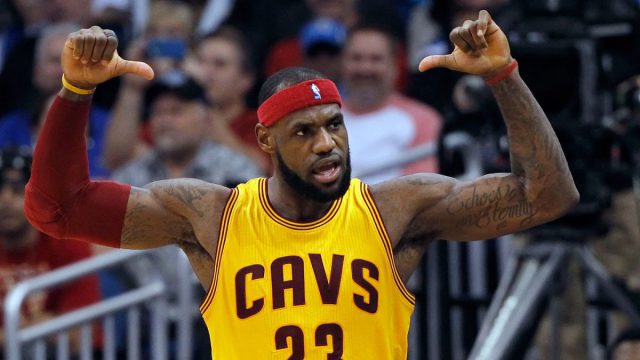 Where Will LeBron James Play Next Season?
The NBA Finals concluded on Sunday night with LeBron James and the Cleveland Cavaliers defeating the Golden State Warriors in a thrilling seven-game series. The victory gave the city of Cleveland its first professional championship since 1964 when the Cleveland Browns won the NFL title game. It also allowed King James to fulfill his promise of bringing a championship back to Northeast Ohio.
Nearly two years after announcing "I'm coming home," James helped break one of the most notorious curses in all of sports. However, oddsmakers at one offshore sportsbook aren't certain that the Prodigal Son will remain in Cleveland. On Tuesday (6/21) morning, Bovada posted a prop bet on LeBron James' team next season and the odds were somewhat surprising.
The table below compares the opening odds with the current odds and will be updated as new information becomes available.
| Team | Bovada (6/22) | Bovada (6/21) |
| --- | --- | --- |
| Cleveland Cavaliers | -900 | -300 |
| Miami Heat | +650 | +450 |
| Los Angeles Lakers | +850 | +550 |
| New York Knicks | +1500 | +1200 |
| Los Angeles Clippers | +1800 | +950 |
Thanks to the lucrative television deal signed by the league in 2014, the NBA salary cap is set to increase from $70 million to $94 million. As a result, many teams will be equipped with cap space this summer, with several teams capable of offering max-level contracts to this year's top free agents. It's also projected that salary cap could reach $114 million for the 2017-18 season.
Due to this rising salary cap, the most logical move for LeBron James is opting out of his current contract and signing a two-year deal with Cleveland including a player option for the second season. Since James has been in the league for over 10 years and has been with the his current team for two years, he is eligible for a four-year contract with 7.5% annual raises at 35% of the salary cap. That means his four-year contract would be worth roughly $147 million. Not exactly chump change.
However, if James wants an even bigger pay day he would be well served waiting another year for the salary cap to increase. Assuming that the cap is actually set at $108 million, James would be eligible for a five-year deal worth $211 million. That's an unprecedented contract and Cleveland is the only team that can offer LeBron a five-year contract.
There's no doubt in my mind that LeBron James will opt out of his current contract, but that doesn't indicate that he's leaving. There are already rumors swirling that LeBron will leave Cleveland for the warmer weather in Los Angeles and Miami but that seems like an absurd proposition. It's also worth noting that the source, ESPN's Stephen A. Smith, has a reputation for creating rumors to boost ratings.
"From what I've been told, the Lakers and Heat are possiblities as a destination for LeBron James this summer."

– Stephen A. Smith

— Mike & Mike (@MikeAndMike) June 20, 2016
The Cavaliers just won a championship and will return nearly their entire core including Kyrie Irving, Kevin Love, Tristan Thompson, Iman Shumpert and Channing Frye. The level of talent in the Eastern Conference gives Cleveland an easy path to the Finals, and an excellent opportunity to repeat. In fact, the Cavs (+250) have the second-best odds of winning the 2016-17 NBA Championship.
LeBron James would alienate many basketball fans by leaving Cleveland so soon after his emotional homecoming and he stands to make the most money by signing a long-term contract after next season. At -300, the implied odds of LeBron James remaining with the Cavs are 75% and I believe those odds should be much higher. These types of prop bets don't take high limits, but I think it's a near certainty that James stays in Cleveland.
6/22/16 Update: After taking this prop bet off the board, Bovada re-opened the Cavaliers as a -900 favorite to re-sign LeBron James next season.
Where do you think LeBron will sign? Will he remain with Cavs? Would LeBron consider signing with a rebuilding Lakers team? Please leave your thoughts in the comment section below.