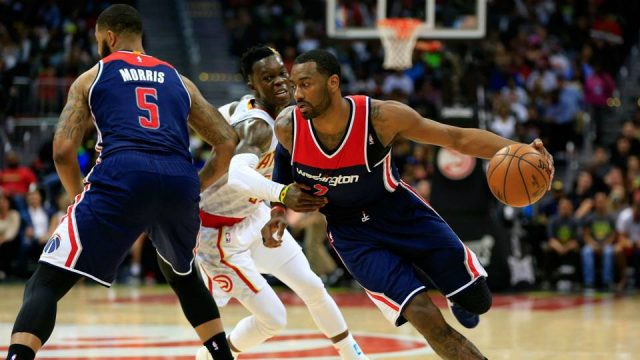 What's Causing the Hawks-Wizards Line to Move?
After two consecutive road losses, the Washington Wizards (51-35 SU, 44-41 ATS) will return home to the Verizon Center to face the Atlanta Hawks (45-41 SU, 41-45 ATS) in Game 5 of their first-round playoff series. The Hawks have won the past two games by double-digits, but clearly bettors believe the Wizards will bounce back this evening.
The Wizards opened as 5.5-point favorites at the market-setting Pinnacle sportsbook and have received overwhelming public support. According to our public betting trends, Washington has received 67% of spread tickets and 71% of spread dollars. Bettors have also been hammering the Wizards to win straight up, with 67% of moneyline tickets and 96% of moneyline dollars taking the chalk.
With spread and moneyline bettors backing the home favorite, the Wizards have moved from -5.5 to -6 across the sports betting marketplace. While it may seem like public money is solely responsible for this half-point line move, there's reason to believe that sharp bettors are also taking Washington tonight.
[click image below to enlarge]

There was a Pinnacle steam move triggered on the Wizards, which caused the line to move from -5.5 to -6 this morning at 10:33 AM EST. The Pinnacle NBA steam move has gone 758-640 (54.2%) this season and 3,862-3,376 (53.4%) since their inception in 2007. For anybody who's unfamiliar, Pinnacle caters to professional bettors, which means they take higher limits and have sharper line moves. That's one of the reason bet signals triggered at market-setting sportsbooks are consistently profitable across all six major US sports.
"Public consensus is certainly with the home squads right now," according to Scott Cooley, a spokesman from Bookmaker.eu. "We've seen a little bit of sharp money on Washington and the over in that game, but not a lot in either matchup."
We typically advocate a contrarian approach to sports betting, but it's important to make sure you're not betting against sharp action. Since 2005, NBA playoff teams receiving no more than 40% of spread tickets have gone 211-183 ATS (53.6%) when there hasn't been a Pinnacle steam move triggered on their opponent. When a Pinnacle steam move has been triggered on their opponent, that record drops to just 31-31 ATS.
Much of the value derived from betting against the public comes from capitalizing on lines that have been artificially inflated based on public perception, and that value has historically been amplified in these heavily bet playoff games. Nonetheless, it's unwise to fade the public when sharp money is on the same side.
This same strategy should be implemented during the regular season, as there's no value betting against the public when sharps and squares are on the same side. Past research has found the sweet spot for NBA contrarian betting comes at the 30% threshold. When there's no Pinnacle steam move on the opponent, the ROI for those teams is +0.5 percent. When there's at least one Pinnacle steam move on the opponent, that ROI dips to -1.5 percent.
It's also interesting to note that we have seen similar trends for the over/under in tonight's game. With 67% of tickets and 85% of money taking the over, the Game 5 total has increased from 211.5 to 212.5 at Pinnacle. Although it may look like public money has caused this one-point move, the total receives roughly three times less action than the spread for the typical NBA game. That means public money is rarely responsible for moving the total and there's less value fading the public on totals.
In fact, there was also Pinnacle steam move triggered on the over which is responsible for this movement. This looks like the rare example where both sharps and squares are on the same side for both the spread and total.
[click image below to enlarge]

Although contrarian bettors may be tempted to take Atlanta and the under this evening, the Pinnacle steam move on Washington is ample reason rethink their position.
Sportsbook Insider Pro subscribers also have access to real-time odds, public betting trends, money percentages, bet signals (including steam moves and reverse line movement alerts), injury alerts, value meter, line watcher, line predictor, and many other unique features. Looking to try our service? Sign up now for a 4-day trial and start winning today!
Have any questions for the staff at Sports Insights? Make sure to utilize our live chat or call us directly at 877-838-2853.