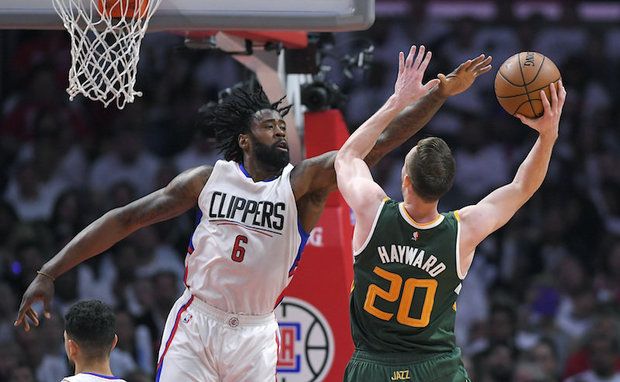 What Should Bettors Know for Jazz/Clippers Game 7?
Jazz/Clippers will be the first Game 7 of the 2017 NBA Playoffs (and first of the NHL Playoffs this year), and this series has been crazy in terms of injuries. Jazz C Rudy Gobert left Game 1 within the first couple minutes but was able to return for Game 4 and helped Utah to consecutive victories. Clippers F Blake Griffin was not so lucky as he left Game 3 with a toe injury and will miss the rest of the playoffs. Bettors should also be aware that Gobert still has a lingering ankle issue which could affect him on Sunday.
For Game 7, Clippers opened -3.5 at Pinnacle and moved to -4 initially. They briefly dropped back to -3.5 before going up to -4 moments later. The line was steady at -4 for most of Saturday until another move on the Jazz to +3.5. The majority of early bets was coming in on the Clippers but since then the percentages have nearly evened out. As you can see from the line graph at Pinnacle below, odds have bounced between -3.5 and -4 with the tickets and money around 50/50.

As for the total, we've seen considerable movement on the Under from 192.5 to 189.5 despite a lofty % of bets on the Over. Sharp bettors tend to lean towards the Under in these late-series games (same goes for NHL Playoffs), and Unders have gone 23-15 in Game 7 since 2005. One of the most profitable Under refs in our database, Dan Crawford (378-319, 54.3%), will also be officiating the game along with Tony Brothers and Bill Kennedy.
In our database going back to 2005 (via BetLabsSports.com), favorites have gone 22-16 ATS in Game 7 and home teams have gone 23-15 ATS.
The team that won the previous game is 19-19 ATS, so no advantage either way historically. LA won Game 6 in Utah.
Teams receiving less than 40% of tickets have gone 11-6 ATS, but betting is currently 52%/48% right now so it doesn't appear that there will be a chance to fade the public.
Jazz have covered 4 of 6 games ATS in the series, but Clippers covered 3 of 4 ATS in the regular season.