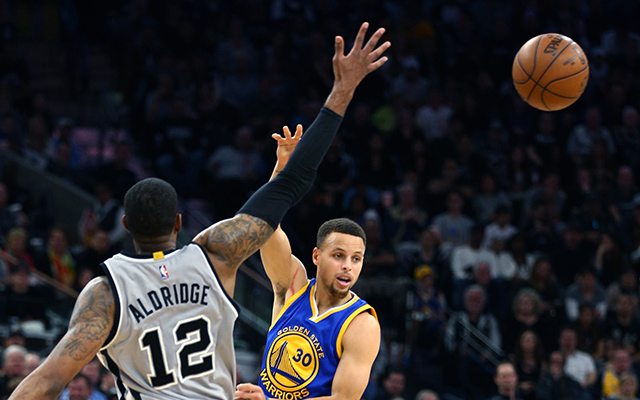 Warriors at Spurs Preview: The Quest for 73 Wins
The Warriors and Spurs will meet for the second time in four days, this time in San Antonio. Golden State won at home on Thursday night, 112-101, as 7-point favorites to keep their record-breaking season going. Golden State has been on a quest for 73 wins to surpass the 72-10 record of the 1995-96 Chicago Bulls, and their odds to do so have fluctuated greatly throughout the season. They've been as high as -900 to break the record and as low as +300 during the year. If they can win their final two games (at Spurs, vs. Grizzlies), they'll break the Bulls' record to go 73-9.
NBA proposition

Golden St Warriors win 73 or more games in 2015-16 regular season?
Yes +200
No -240

— Jeff Sherman (@golfodds) April 10, 2016
The Spurs opened -4.5 at both Pinnacle and CRIS but quickly moved to -5.5 where the current line stands. This was a bit surprising since the majority of spread tickets have come in on the Warriors, signifying reverse-line movement on the Spurs. So far we've triggered a profitable reverse-line move from Heritage on the Spurs -5 (meaning that when Heritage triggers a RLM move this season, they've been profitable). San Antonio is receiving just 29% of spread wagers around the market but the sharper money is clearly taking the home team to ruin Golden State's dream season.
Below illustrates the line movement and betting percentages since opening at Pinnacle:

As you can see, public bettors are on the Warriors but sharper bettors are on the Spurs. Golden State is receiving the majority of spread bets at each of our seven contributing sportsbooks for betting percentages: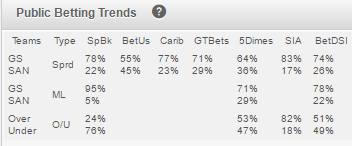 But public bettors are not just taking Golden State on the spread– they're also hammering the Warriors' moneyline, getting a whopping 82% of moneyline tickets as +200 underdogs. Casual bettors have been enticed at the prospect of getting one of the best teams ever at "+" odds, but that could ultimately be a sucker bet. Here are some quick notes and records that could be set today:
Golden State hasn't won a regular season game in San Antonio since 1997 (33 game stretch).
Warriors looking for their 72nd win this year, which would tie an NBA-record.
Warriors looking for their 34th road win this year, an NBA-record.
Spurs looking to go undefeated at home this season, which would be a first in NBA history.
To keep up with the latest line movement, betting trends, injuries and more, visit our Free Live Odds page.