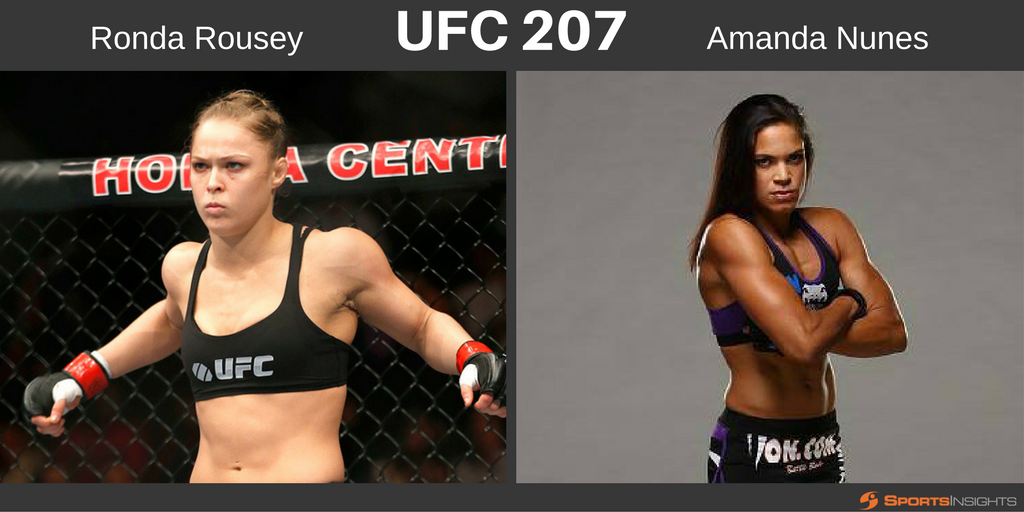 UFC 207 Betting Preview: Rousey vs. Nunes
UFC 207 marks the highly anticipated return of Ronda Rousey (12-1), who takes on Amanda Nunes (13-4) on Friday, December 30th. Rousey is fighting for the first time since November 2015 when she suffered a devastating loss to Holly Holm. Rousey opened -1500 on the moneyline for that fight and was bet down to -813, with Holm pulling off the shocker as a +620 underdog. On the other side, Nunes most recently beat Miesha Tate in early July as a +265 underdog while getting only 41% of tickets. Bettors have far more confidence in Nunes this time around and continue to be down on Rousey.
Back on October 12th, 5Dimes opened Rousey as a considerable -250 favorite for UFC 207 but was bet down to -205 that night with more than 90% of tickets coming in on Nunes. By the following night Rousey was down to -190 where the line settled for a bit before coming down multiple times over the next couple weeks. Below shows the public betting and line movement on Amanda Nunes at 5Dimes:
More than 60% of bets and money were still taking Nunes to pull the upset in mid-November and Rousey moved all the way down to -140. Finally bettors were ready to back Rousey in late November, where she eventually moved back up to -165, but even so, she's been bet back down to -130.
Rousey is currently receiving the slight majority of tickets with 53%, but books obviously took considerable action on Nunes early on. Big fights like these will also draw a lot of action on the day/night of the fight, so the line will certainly be on the move again. Premium and Pro memberships allow bettors to follow the latest odds and betting percentages and find out where the late sharp money is going.
There are also prop bets available including method of victory and length of the fight:
Fight goes distance (5 rounds): Yes +700, No -1300
Fight ends in draw: Yes +7500, No -20000
Rousey by submission: Yes +125, No -165
Rousey by TKO/KO: Yes +620, No -1260
Nunes by submission: Yes +713, No -1523
Nunes by TKO/KO: Yes +175, No -245
Do you think Rousey is a good bet now that the line has come down, or will Nunes pick up her third victory of the year?