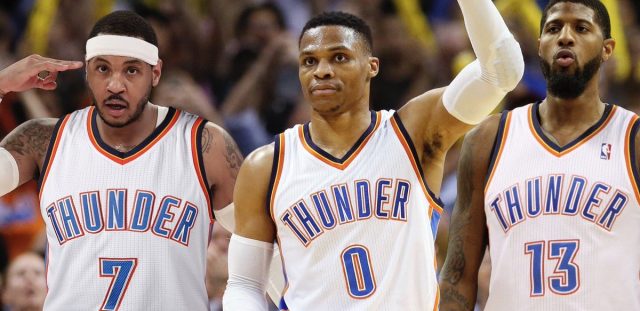 Thunderstruck: Why has OKC Struggled and Can Bettors Expect A Turnaround?
Before the season began, I looked at how NBA "super teams" have done in the past and how the new super teams would perform this season. I hate to toot my own horn here, but I'm looking pretty genius-like with my prediction about the Celtics starting the year off well and the Thunder struggling out of the gates.
"OKC has added two legitimate superstars to their roster in a (futile) attempt to become a true western contender. With Paul George and Carmelo Anthony set to join Russell Westbrook, there could be some trouble in the 'chemistry' department. Egos on top of egos if you ask me. Billy Donovan certainly has his hands full. I expect this team to follow the first-half struggle narrative given the potential problems they may run into. Can Russ share the ball enough with Carmelo and PG13? We shall see."
As Director Krennic once said in The Place Beyond the Pines, "If you ride like lightning, you're gonna crash like thunder." And the Thunder have CRASHED.
The problem: they got too greedy. This isn't a video game. You can't just add a bunch of random stars onto the same team and expect the team to play great. There's a human element involved and the three human superstars in Oklahoma City are not meshing well together.
At 8-18 against the spread, the Thunder have been the worst team to bet on this season.

This includes their current skid of nine straight spread losses, a span in which they've gone 4-5 straight up. At 12-14 overall, they hold the ninth spot in the western conference standings—safe to say they've underperformed so far, no? On the bright side, they need just four more spread losses in a row to beat the 2008-09 Grizzlies record of 12 straight ATS losses!
The public hasn't given up on them, either, as they've received at least 60% of spread bets in six games during their nine game streak without a cover.
Despite the struggles, they still have the sixth best NBA title odds at 5Dimes at +3250. Kind of irrelevant in the NBA, though, since the Warriors are -170.
Will they continue to underperform or will they start to figure things out? History suggests that they'll do better in the second half of the season, as all five previous super teams I examined did better against the spread in the second half than they did in the first half. That doesn't necessarily mean they'll be a good team, though.
We may be seeing the 2012-13 Lakers all over again, a team with the second best preseason title odds that ended up going 34-47-1 ATS and was swept in the first round of the playoffs.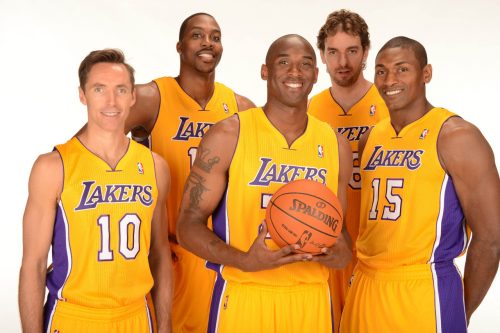 You don't want to be the 2012-13 Lakers.