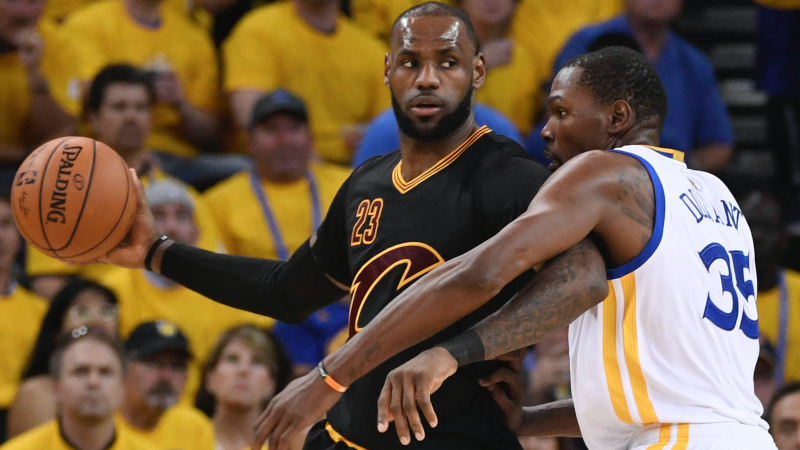 Ultimate Christmas NBA Betting, DFS Guide
With the marquee event of the NBA regular-season calendar finally here, we've gone deep on all five Christmas Day matchups. We're talkin' Steph-Curry-from-the-tunnel deep.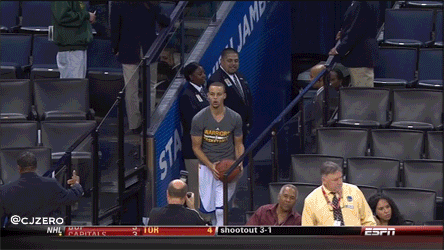 Before we dive in, a few tasty Xmas trends to whet your appetite:
Road teams are 20-31 (39.2%) straight-up and 22-29 (43.1%) ATS on Christmas since 2005. In all other regular season games, road teams have covered the spread 50.9% of the time.
The under on Christmas is 32-18-1 (64%) since 2005. And the Big Cat Special (aka betting the under in the first three games of the day) has gone 24-8 (75%). More on that gem of a trend here.

Home dogs on Christmas are 7-11 straight up and 11-7 ATS the past 20 seasons. We have a few of those on the docket this season.
OK, that's enough appetizers. Behold, our feast of a preview.
All info below as of Monday morning.
---
PHILADELPHIA 76ERS AT NEW YORK KNICKS (-3)  |  O/U: 209
12 p.m. ET | ESPN
Betting market: Fifty-two percent of bettors are backing the Sixers, who have gone just 2-9 straight up and 2-8-1 ATS in December. But 84% of the cash is coming in on the Knicks, who have gone from -1.5 to -3 since opening. — Mark Gallant
Injury watch: Joel Embiid returned to the lineup Saturday after missing the previous four games with a sore back. His presence will be a big boost to the Sixers, who are 1-7 without him in the lineup this season and are 12.5 points per 100 possessions worse when he's off the court. Defenses have sagged in the paint more than usual without the threat of Embiid as they key in on Ben Simmons, who's shooting just 46.7 percent with Embiid on the bench as opposed to 58.4 percent when the two share the court. JJ Redick's status is uncertain due to a hamstring injury, and his absence would mean extended run for Jerryd Bayless and Robert Covington on the wing. Tim Hardaway Jr. remains out for the Knicks with a leg injury and doesn't appear close to a return. — Justin Phan
DFS nugget: Kristaps Porzingis leads the team with a usage rate of 34.5 percent with THJ off the court this season, which represents an increase from his already sky-high usage rate. The matchup with the 76ers has the potential to be a good one for him, evidenced by his Opponent Plus/Minus of +3.91. — Matt LaMarca
Trend No. 1 to know: The 76ers have covered the spread just twice in their past 14 games. — Evan Abrams
Biggest advantage for the 76ers: With Embiid on the floor this season, they have scored 110.9 points per 100 possessions and have allowed just 102.6 points/100; with him off, they have scored 105.2 and allowed 114.0. The many advantages the 76ers have over the Knicks rely on Embiid's strengths. Philly is very strong with him defensively, ranking second in the league in diverting chances at the rim. With Hardaway's shooting off the court, the 76ers could very effectively pack the paint on defense and make scoring difficult for the Knicks. — Bryan Mears
Biggest advantage for the Knicks: The Knicks are great at creating second chances this season, ranking first in the league in offensive rebound rate. Especially if Embiid is limited, the Knicks could take advantage on the boards thanks to the solid trio of Kristaps Porzingis, Enes Kanter, and Kyle O'Quinn. Other important advantages the Knicks may have: The 76ers are turnover-prone, and they foul their opponents at a high rate. The Knicks aren't the most talented team in the league, but they're certainly good enough to capitalize if they're given free plays. — Bryan Mears
Trend No. 2 to know: The Knicks are the best home team against the spread this season (15-5). They're covering by 7.4 points per game inside MSG. — Evan Abrams
Matchup to watch: Joel Embiid vs. Kristaps Porzingis
The Knicks have allowed the second-fewest paint points per game, but Embiid's individual matchup against Enes Kanter is as good as it gets. Kanter has the worst Defensive Real-Plus Minus among all active centers over the past three seasons. Embiid was eased back into action on Saturday, logging just 23 minutes, but it's worth noting that coach Brett Brown has done a particularly bad job managing Embiid's minutes in national TV games. That bodes well for his outlook in this Christmas Day Showcase on ESPN, as only James Harden, Russell Westbrook, and DeMarcus Cousins have averaged more DraftKings points per minute since Embiid entered the league.
It's been a tale of two seasons for the Knicks depending on their locale. While they've been among the worst road teams this season, their +6.7 efficiency differential at Madison Square Garden ranks eighth. It makes sense: They go as Porzingis does, and KP has exhibited significant home/road shooting splits, posting a 52.2 effective field goal percentage at home compared to 45.5 percent on the road. As a result, he's exceeded his salary-based expectation on DraftKings just 28 percent of the time on the road compared to 55 percent at home. Porzingis will go overlooked in a star-ladden slate, but he has GPP-winning upside given the Sixers have allowed more steals and blocks than any other team this season.
Edge: Embiid — Justin Phan
---
CLEVELAND CAVALIERS AT GOLDEN STATE WARRIORS (-5)  |  O/U: 216.5
3 p.m. ET | ABC
Betting market: With the Warriors still missing Steph Curry, 65% of bettors are taking the Cavs, who have remained at +5 since opening. I haven't seen a dog this popular since Snoop dizzle. However, you know the old saying — trendy dogs get slaughtered. You may have seen the Sarah McLachlan commercials about it. This game is following Big Cat's script, with 68% of dollars on the under, moving the total from 221 to 216.5. — Mark Gallant
Did you know? Of the 24 meetings between the Cavs and Warriors under Steve Kerr, this will be the first game Stephen Curry misses. The Warriors have been favored in 19 of those 24 previous games; they are 11-8 ATS. — Evan Abrams
Injury watch: There was some buzz about a possible Isaiah Thomas return after he was recently put on the active roster, but Cavs coach Tyronn Lue announced he'll remain out with a hip injury. Derrick Rose still doesn't have a timetable for return due to a bone spur in his ankle. JR Smith sat out Thursday due to a sore knee but will start at shooting guard barring any setbacks. Coach Steve Kerr said Stephen Curry is moving "better and better" on his sprained ankle, but added that he'd be "shocked" if Curry played and that there's a "99.9 percent" chance he sits. The Warriors have nearly run the table in Curry's absence, going 7-1 on the back of a stifling defense that's had to deal with the absence of Draymond Green as well. They've gotten next to nothing out of the point guard spot either as Patrick McCaw, Shaun Livingston, and Quinn Cook have combined to average 13.9 points and 4.7 assists during that stretch. — Justin Phan
DFS nugget: LeBron has been playing arguably the best basketball of his career this season, and the Cavs coaching staff have had no problems playing him big minutes early in the season. His average of 1.66 fantasy points per minute over the past month is the top mark on a slate filled with MVP-caliber talents, and his average of 37.3 minutes per game ranks second in the league. He's posted a ridiculous 100 percent Consistency Rating and 85 percent Upside Rating over the past month, and his $11,000 salary on DraftKings comes with a Bargain Rating of 98 percent. He has a solid matchup against the Warriors, owning an Opponent Plus/Minus of +2.98, although his track record against the Warriors during the regular season isn't great: He's exceeded salary-based expectations just once in his past four meetings, although the lone exception did come on Christmas day last season. — Matt LaMarca
Trend to know: Cleveland failed to cover as 10-point favorites vs. Chicago on Thursday night. Since LeBron returned to Cleveland in 2014, the Cavs are 60-84-2 (41.7%) ATS in the regular season after failing to cover the previous game. — John Ewing
Biggest advantage for the Cavaliers: The truth is, the Cavs don't have many major advantages against the Warriors outside of LeBron James being a cyborg. The Cavs rank second on offense, but the Warriors rank second in defense. The Cavs rank third in eFG%; the Warriors are first in eFG% allowed. The best thing the Cavs can do is protect the ball, which they've done well, and attack the rim with their offensive spacing. Getting to the foul line and making the game ugly is likely their path to a victory. And LeBron reminding all ye who doubt that he is indeed still the King. — Bryan Mears
Biggest advantage for the Warriors: Like with Philly and Embiid, the Warriors' identity changes without Curry. They've played much slower without the two-time MVP, operating at a pace of 101.9 possessions/48 minutes with him on versus a snail-like 94.5 with him off. Their offensive efficiency has also dipped: They've scored a stupid 123.9 points/100 with him versus 108.8 without. They're still very talented but clearly a little more vulnerable. That probably won't matter too much against the Cavaliers, who rank an atrocious 26th on defense and 27th in eFG% allowed this season. — Bryan Mears
Did you know? The Warriors are 22-11-1 ATS in the regular season under Kerr when facing teams with a winning percentage of 70+%. — Evan Abrams
Matchup to watch: LeBron James vs. Kevin Durant
This is as close as it gets. Since Curry's injury, LeBron and Durant are No. 1 and 2 in DraftKings points per game. Both continue to push the bounds of efficiency and are two of three players with a true shooting percentage north of 62 percent and usage rate of at least 30 percent — James Harden being the other. LeBron is in the midst of one of the best seasons of his career at age 33 (his birthday is later this week), which is absurd given he's a four-time MVP. No player in league history has posted a 30-plus player efficiency rating in their age 29 season or later; LeBron is doing it at 33. On the flip side, the Warriors haven't just stayed afloat without Curry and Green; they've thrived thanks to Durant. His scoring prowess is well known, but it's his improvement defensively that's made the difference. Opponents have shot 6.5 percent below their season average this season with Durant as the primary defender, and he's also blocking shots at a career-high rate.
It'll come down to matchups here, and no team is more experienced and better equipped to try to slow down LeBron than the Warriors. James has exceeded his salary-based expectation just once in four regular season meetings against them over the past two seasons, as he's been held to 42.7 percent shooting. The Cavs, meanwhile, have allowed the highest DraftKings Plus/Minus (+5) and Consistency (67%) to small forwards this year, and rank 27th in defensive efficiency at the position.
Edge: Durant — Justin Phan
---
WASHINGTON WIZARDS AT BOSTON CELTICS (-4.5)  |  O/U: 206.5
5:30 p.m. ET | ABC
Betting Market: The Celtics have certainly cooled off from their covering ways, going 4-8-1 ATS this month. But that isn't stopping the public from piling on Boston, as 75% of bettors are taking the Celtics as a 4.5-point favorite. They've moved to -5 at several books around the market. The majority of the tickets and the money are both on the over in this game, causing the line to move from 204.5 to 206.5 since opening. — Mark Gallant
Trend to know: Under Brad Stevens, the Celtics are 65-45 (59.1%) ATS vs. Eastern conference teams with a winning record. — John Ewing
Injury watch: Marcus Morris has been upgraded to questionable for Monday's contest versus the Wizards as he recovers from a left knee injury. The Wizards are finally healthy with Otto Porter returning to the lineup Friday against the Nets, although they did limit John Wall to just 16 minutes in that game. We'll update his status if we get word on a firm minutes limit moving forward. — Bryan Mears
DFS nugget: The Celtics are the anti-Cavs: They have a deep roster of players capable of going off in any game. Kyrie Irving is their clear lead dog and a rightful MVP candidate, but he's actually averaging fewer shots and points per game than in his last season with the Cavs. He does have a solid matchup against the Wizards, resulting in an Opponent Plus/Minus of +2.91, and Irving has shown what he can do in big, primetime spots (#NarrativeStreet). The Christmas day games would certainly qualify as that, and Irving torched the Warriors for 63 DraftKings points in this situation last season. — Matt LaMarca
Biggest advantage for the Wizards: The Wizards don't have much of an offensive advantage over the Celtics. Oddly enough, the same is probably true for the Celtics. These teams are more similar than you might think, winning with a talented point guard, versatile wings, and a great defense. The Wizards have been a bit underrated in that last regard this season, ranking seventh in points/possession allowed and fifth in eFG% allowed. That, combined with the fact that they hardly ever turn the ball over, will keep them in the game. — Bryan Mears
Biggest advantage for the Celtics: The metrics point toward this game being a bit of a defensive battle. Both teams rank top-five in half-court and transition points/possession allowed, along with 3-point defense. That means this game could come down to Kyrie Irving half-court magic at the end. Luckily, he ranks in the 84th percentile in field goal percentage at the rim, 80th percentile in the midrange, and 82nd percentile from the 3-point line. He's been nearly unstoppable within the half-court offense and can do damage wherever the defense cracks. — Bryan Mears
Did you know? Celtics are 21-12-2 ATS this season, best in the NBA. But Boston has struggled in December, going 3-8-1 ATS. — Evan Abrams
Matchup to watch: Kyrie Irving vs. John Wall
In the 10 games Kyrie Irving has played against the Wizards since 2014, he has averaged 36.7 DraftKings points, a bit below his 39.2 average this season. With that said, he's a different player with the Celtics, averaging a career-high usage rate and 3-point rate. His assist rate is back up over 30 percent, and his 60.4 percent true shooting mark is easily the best of his career. Wall has faced the Cavs 12 times since 2014 and has averaged an impressive 45.9 DraftKings points. He's yet to face Boston Kyrie, but the Wizards are a unique team in that the Celtics can't hide Kyrie on the weaker guard. They'll likely both get the better of each other offensively in this one.
Edge: Kyrie at home. — Bryan Mears
---
HOUSTON ROCKETS (-2) AT OKLAHOMA CITY THUNDER  |  O/U: 216.5
8 p.m. ET | ABC
Betting market: Fifty-five percent of bettors are backing Houston as road favorites, but with Chris Paul potentially missing a second straight game, the line has dropped from -3.5 to -2. This is the most popular over bet of the day, with 70% of tickets banking on a high-scoring affair. — Mark Gallant
Injury watch: Clint Capela and Chris Paul are both questionable for their Christmas matchup with a left heel contusion and a groin injury, respectively. In the first game without those starters, the trio of Trevor Ariza, James Harden, and Eric Gordon all played 39-plus minutes. Harden went for 71.0 DraftKings points and posted a massive 47.1 percent usage rate. — Bryan Mears
DFS nugget: Russell Westbrook has dominated for the Thunder recently, owning an average Plus/Minus of +6.13 on DraftKings over his past 10 games. He's returned value in a variety of ways over that time frame, but his calling card recently has surprisingly been his efficiency: He's shot a combined 61.8 percent from the field over his past four games. While that number is not sustainable – he's a career 43.2 percent shooter – he can likely make up for it fantasy-wise by increasing his volume. The Rockets have historically been one of Westbrook's favorite opponents; he's averaged a ridiculous +8.51 Plus/Minus over his past 15 meetings against them. — Matt LaMarca
Biggest advantage for the Rockets: This isn't exactly an unstoppable-object-versus-immovable-force situation, but it's close. The Rockets own the league's top offense; the Thunder rank first in defense. The Rockets are second in eFG%; the Thunder are top-10 in eFG% allowed. This will be fun to watch. One certain advantage the Rockets have is that they're the best team in the league at drawing fouls, and the Thunder have been a bit exploitable this season in that regard. Unfortunately for OKC, slowing the pace down might not work: The Rockets have also been incredible defensively this season, and they're third in points/possession allowed in the halfcourt. — Bryan Mears
Biggest advantage for the Thunder: Offensively, the Thunder have been perhaps the most disappointing team in the league, ranking 21st in points/possession despite their talent. They have essentially no big advantage over the Rockets on that end of the floor and need to hope their Big 3 in Russell Westbrook, Paul George, and Carmelo Anthony can get hot and be efficient in half-court situations. The Thunder are an enticing home dog, but this is one of the worst matchups in the league for them. With that said, a Russ explosion game is always on the horizon. — Bryan Mears
Trends to know: Elite teams like the Rockets (won 80+% of their games) have gone 272-315-10 (46.3%) ATS on the road since 2005. But consider: Since November 1, the Rockets are 7-1 ATS on the road, covering the spread by 10.6 points per game — Evan Abrams and John Ewing
Matchup to watch: James Harden vs. Russell Westbrook
Although they won't guard each other, Westbrook vs. Harden will be a fun offensive duel to watch. Westbrook has eviscerated the Rockets since 2014, averaging 66.8 DraftKings points in 15 games. The Rockets are a different team this season, ranking sixth in defense, although they could struggle to limit Westbrook's penetration if Paul and Capela can't go. Harden has been solid against his former team, averaging 55.8 DraftKings points in 16 games since 2014. He'll draw the tough defensive attention of Andre Roberson and Paul George, but it may not matter: The dude has a 63.1 percent true shooting mark on 36.3 percent usage. This is his spotlight to show the MVP trophy is coming to Houston this year.
Edge: Harden. — Bryan Mears
---
MINNESOTA TIMBERWOLVES (-5) AT LOS ANGELES LAKERS  |  O/U: 216
10:30 p.m. ET | TNT
Betting Market: In the nightcap, nearly 55% of bets and more than 70% of dollars are on the Timberwolves. We've also tracked a steam move on Minnesota from the sharp offshore book, Pinnacle, which has helped move their line to -5 across the market. This is the most lopsided total in terms of the money split: 97% of the dollars are taking the over. — Mark Gallant
Injury watch: In the two games since Brook Lopez's injury, Kyle Kuzma has led the Lakers with an average of 54.5 DraftKings points per game and 41.4 minutes of action. The core of Kuzma-Brandon Ingram-Lonzo Ball-Kentavious Caldwell-Pope have all averaged a robust 34-plus minutes per game in those contests. Ingram has been added to the injury watch after missing Saturday's game due to right quadriceps contusion and left quadriceps tendinitis. He should be considered questionable for Monday. — Bryan Mears
DFS nugget: Karl-Anthony Towns has had a down season after dominating as a sophomore, thanks mostly to a decrease in usage of 4.5 percent. He has picked up his play recently, however, averaging a Plus/Minus of +5.81 over his past 10 games. His matchup against the Lakers is one of the best of the day regardless of position, evidenced by an Opponent Plus/Minus of +6.67. If he sees the ball on a consistent basis – which unfortunately isn't always a guarantee – he could be in line for a massive day. — Matt LaMarca
Biggest advantage for the Timberwolves: The Lakers are improved defensively this season, but the Wolves still have some sizable advantages. Perhaps the biggest is on the boards: The Lakers rank 20th in securing defensive rebounds, and the Wolves are one of the best offensive rebounding teams in the league thanks to guys like Taj Gibson and Karl-Anthony Towns. The Timberwolves have a very underrated offense this season: They're fifth in points/possession, they draw a ton of fouls, and don't turn the ball over. Towns may be too much to handle for a team currently starting Andrew Bogut at center. — Bryan Mears
Biggest advantage for the Lakers: For as impressive as the Wolves have been on offense, they've been nearly that bad defensively this season. Minnesota ranks 25th in points/possession allowed and dead last in eFG% allowed. Unfortunately for the Lakers, offense has been their weakness; they aren't particularly efficient in any phase of the offense, especially in the half court, where they rank 29th in points/possession. They have been better in transition with Lonzo Ball, and they have talented guys like Kyle Kuzma who can get hot. This is a tough matchup for the Lakers, but they're at least home for the holiday. — Bryan Mears
Trend to know: Since Tom Thibodeau took over as head coach of the Timberwolves at the start of last season, Minnesota has gone 65-47-2 (58%) against the first-half spread, second-best in the NBA. But Thibs & Co. are an NBA-worst 44-64-6 (40.7%) against the second-half number. — Evan Abrams
Matchup to watch: Jimmy Butler vs. Brandon Ingram
One of the biggest reasons the Wolves have struggled on defense is the lack of rim protection they're getting from Towns. Jimmy Butler still ranks top-seven in Defensive Real Plus-Minus this season, and he's first in total RPM among SGs. Ingram has the length and athleticism to win these one-on-one matchups eventually, but the 20-year-old has yet to turn his immense potential into on-court efficiency.
Edge: Butler. — Bryan Mears
Photo via Kyle Terada-USA TODAY Sports