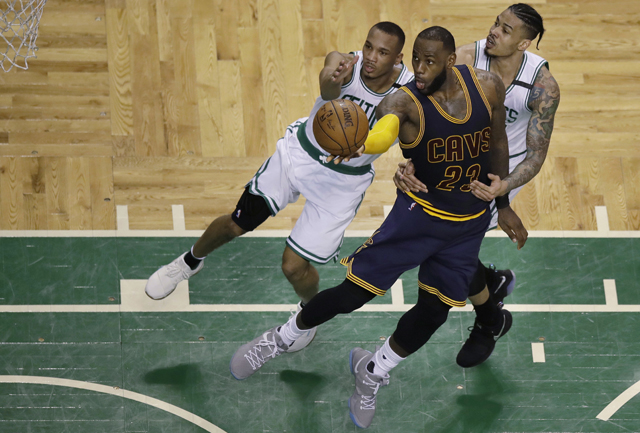 Sportsbooks lose "biggest NBA decision" of the year
In Game 1 of the Eastern Conference Finals, Cleveland dismantled Boston in an easy 117-104 road victory. While LeBron and company seemed to barely break a sweat, the experience was the complete opposite for sportsbooks.
According to our NBA betting trends, 74% of spread tickets and 64% of spread dollars took the Cavaliers. While this doesn't seem overly drastic in terms of lopsided betting, oddsmakers reported that the sheer volume (total number of bets and dollars wagered) handed them massive Cavs liability.
According to Dave Mason of BetOnline.ag, last night's handle rivaled that of a Monday Night Football game:
Gulp. Cavs -4 @ Celts biggest NBA decision of year. Monday Night Football type volume. 84% of $ on Cavaliers. Odds> https://t.co/gLbjpD3yoh

— Dave Mason (@DaveMasonBOL) May 17, 2017
Scott Cooley of Bookmaker.eu echoed similar sentiments when speaking with us yesterday, telling our David Solar:
"[Betting has been] largely one-sided action on the Cavs as we have almost 85 percent of the public wagers on the visitors. We do have some sharp action on Cleveland as well so fairly large liability, which means we'll need the Celtics in a big way."
Matthew Holt of CG Technology in Las Vegas reported heavy Cleveland action as well over the counter, while account wagers were much more balanced.
12x more $$ wagered on Cleveland spread OTC but on account just 1.5 more $$ wagered on Cleveland spread and getting closer to even

— Matthew Holt (@MatthewHoltVP) May 17, 2017
Sportsbooks have reacted by pushing the Cavaliers up to 5.5-point favorites for Friday's Game 2 after Game 1 closed at Cleveland -3.5. Despite the adjusted price, NBA bettors have remained undeterred backing the Cavs with 81% of early spread tickets laying the favorite.
For updated NBA playoff odds and betting percentages, we recommend checking in at our Free NBA Odds Page for the real-time betting data.