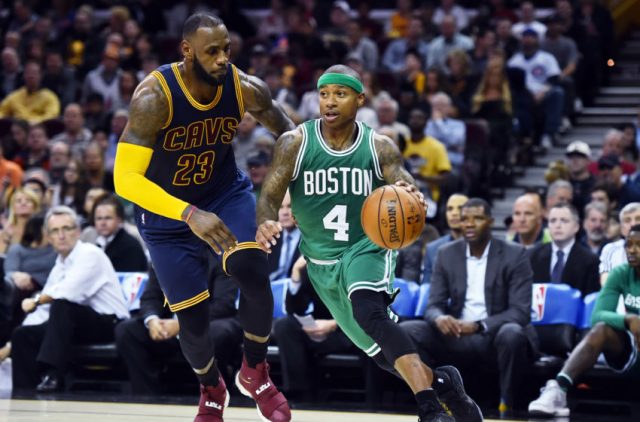 Historically One-Sided Public Betting for Cavs-Celtics Game 1
Just one night after earning the number one overall pick in the upcoming draft, the Boston Celtics (50-44 ATS, 22-26 ATS at home) will host the Cleveland Cavaliers (41-46 ATS, 20-24 ATS on the road) in Game 1 of the Eastern Conference Finals. These teams faced off four times during the regular season, with the Cavs going 3-1 straight up and against the spread.
Sportsbook Insider subscribers have access to our historical archive, which displays the public betting trends and line movement for every game in our database. The screenshots below show our archived information for the four previous matchups between these teams.
November 3, 2016

December 29, 2016
March 1, 2017

April 5, 2017

A slight majority of public bettors were willing to take the Celtics (closed +10.5) back on November 3. In the three later games, the majority of spread tickets were placed on the Cavaliers. That's hardly surprising when you consider Cleveland has received the majority of public support in 81 of 90 games this season
The Celtics actually closed as 4-point favorites the last time these teams played in Boston, but the Cavs won in dominating fashion. As these two teams prepare to face off once again, there have been some significant changes to the spread. Although the Celtics will once again enjoy home-court advantage and have recently looked fantastic at the TD Banknorth Garden, the Cavs actually opened as 3-point road favorites at the market-setting Pinnacle sportsbook.
Cleveland hasn't played in over a week after their impressive sweep against the Toronto Raptors, while the Celtics had to grind out a seven-game series against the Wizards. Perhaps this helps explain why bettors have been hammering the chalk at an alarming rate. Not only has the percentage of spread tickets (81%) favored the Cavs, the percentage of money splits have been even more drastic with 92% of all spread dollars taking Cleveland.
[click image below to enlarge]

With the market steadily pounding Cleveland since the line opened, oddsmakers have been forced to adjust their number multiple times, eventually landing at the current line of Cleveland -4. In fact, some square sportsbooks (like Bovada) have already moved to Cleveland -5.
That one-sided public betting was confirmed by Scott Cooley, a spokesman from Bookmaker.eu. "[Betting has been] largely one-sided action on the Cavs as we have almost 85 percent of the public wagers on the visitors. We do have some sharp action on Cleveland as well so fairly large liability, which means we'll need the Celtics in a big way."
Cooley also touched on the "rest vs. rust debate," with Cleveland coming off a long layoff. "It is something that we certainly consider during postseasons," stated Cooley. "You really have to examine what kind of team you're dealing with. The Cavaliers are a veteran-laden team that should benefit much more with the rest, and not be affected as much by the rust. Clearly, we know that this is a squad that can turn it on and off so the rust isn't much of a concern."
It's no surprise that bettors are pounding a fresh Cleveland team that dominated Boston in the latest matchup, but readers may be surprised to know exactly how one-sided tonight's action has been. According to my research, Cleveland is on pace to be the most popular side during the NBA playoffs in our historical database.
Since '05, no NBA playoff team has received more than 81% of spread tickets. #Cavs (-4) currently getting 82% of bets. (via @SportsInsights)

— David Solar (@TheDavidSolar) May 17, 2017
I should also note that parlay percentage is an excellent indicator of square money. You won't find many sharps betting parlays since they're usually a losing proposition. At the time of publication, 85% of bettors who parlayed or teased this game had taken Cleveland.
In addition to this historically one-sided betting on the spread, there has been some interesting action on the total. It's well-known that bettors tend to prefer taking overs, and that's especially true as more casual bettors enter the marketplace during the postseason. At least 54% of tickets have been placed on the over in every single game during the 2017 playoffs, but the majority of tickets are actually on the under tonight.
According to our public betting trends, 54% of tickets have taken Under 219.5 but the total hasn't moved all week. That could be good news for over bettors. Since 2005, NBA playoff overs have gone 459-198 (48.0%) when at least 50% of tickets are on the over and 56-49 (53.3%) when less than 50% of tickets are on the over.
There could be some value on the over tonight, but make sure to keep an eye on the spread. Although many sportsbooks have moved to Cavs -4.5 or -5, the market-setting books (like CRIS and Pinnacle) haven't moved off Cavs -4. It will be interesting to see whether they continue to hold steady, or whether public money continues to inflate the spread.
Historically there has been more value betting against the public in later rounds when the volume increases, and contrarian bettors may be able to capitalize on overreactions to recent events by snagging Boston and the points.
NBA playoff teams receiving <40% of spread tickets (since '05)

Finals: 12-4 ATS
Conf Finals: 29-11 ATS
Second: 63-65 ATS
First: 142-141 ATS

— David Solar (@TheDavidSolar) May 16, 2017
Sportsbook Insider Pro subscribers have access to real-time odds, public betting trends, money percentages, bet signals (including steam moves and reverse line movement alerts), injury alerts, value meter, line watcher, line predictor, and many other unique features.
The only plays we officially endorse are our Best Bets, and we will be releasing our picks later today. Those are only available to Sportsbook Insider Pro subscribers, so sign up now for a 4-day trial and start winning today!
Have any questions for the staff at Sports Insights? Make sure to utilize our live chat or call us directly at 877-838-2853.