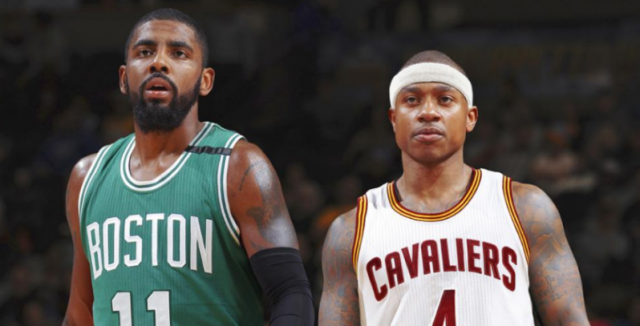 Sportsbooks Disagree On Kyrie Irving Trade Impact
The Kyrie Irving trade everyone was waiting for finally happened last night. Cleveland and Boston, the two eastern conferences front-runners, swapped star point guards and so far the deal has been meet with indecisiveness from oddsmakers and fans alike.
Who won the #Celtics (receive Kyrie) and #Cavs (receive Thomas, Crowder, Zizic and protected 2018 Nets 1st-round pick) reported trade?

— Sports Insights (@SportsInsights) August 22, 2017
Do you like The Trade?

— CelticsBlog (@celticsblog) August 22, 2017
Although the Celtics are receiving a superstar talent in Irving, they don't appear to be overly ecstatic with what they had to give up. Not only did Boston have to part ways with their fan-favorite little man Isaiah Thomas, they also had to get rid of their Brooklyn Nets draft pick which could yield a number one pick in what appears to be a stacked draft class. They also lost some important depth players in Jae Crowder and the promising young center Ante Zizic.
Oddsmakers also seem a bit wishy-washy about the trade.
NBA Title odds prior to K Irving/I Thomas trade

Cavaliers 4/1
Celtics 10/1

NBA Title odds after trade

Cavaliers 4/1
Celtics 10/1

— Jeff Sherman (@golfodds) August 22, 2017
Last night, Jeff Sherman of the Westgate Superbook in Vegas reported that they didn't even move their NBA title odds at all. Not all books agreed, though.
NBA Title Odds
Westgate
Bookmaker
BetOnline
5Dimes
Boston
Before: +1000
After: +1000
Before: +925
After: +885
Before: +1000
After: +600
Before: +1150
After: +750
Cleveland
Before: +400
After: +400
Before: +485
After: +470
Before: +475
After: +500
Before: +540
After: +515
Bookmaker, perhaps the sharpest offshore book, increased both teams' odds a little bit. 5Dimes, another sharp offshore book, also believes the trade was a win-win, but much more so for the Celtics. BetOnline also thinks this deal helped the Celtics a ton, but slightly hurt the Cavs.
While Westgate didn't move their odds right after the deal, they have moved their eastern conference title odds over the past 12 hours.
Eastern Conference Title Odds
Westgate
BetOnline
Celtics
Before: +250
After: +200
Before: +250
After: +175
Cavs
Before: -175
After: -150
Before: -155
After: -140
While their chances at downing the Warriors have stayed put, the Celtics odds of making the finals have improved about 5% according to the Westgate.
Stay tuned as bettors react and move the odds accordingly. There will likely be some growing pains for both teams because "super teams" have historically taken some time to gel. The Celtics, especially, could start off slow considering they only have four players left from last season's roster.
Follow us on Twitter @SportsInsights for more trade fallout news over the coming weeks.