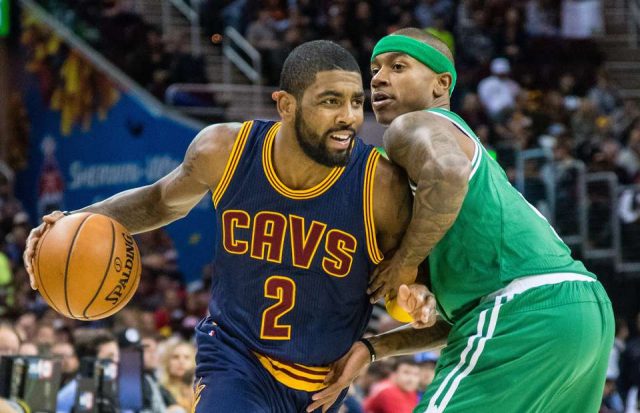 Quick Market Reaction to Irving-Thomas Trade
About an hour ago, the Celtics and Cavaliers agreed to terms on a trade that will send Kyrie Irving to Boston. In exchange, the Celts will be parting ways with PG Isaiah Thomas, SF Jae Crowder, and C Ante Zizc, along with next year's first round pick from Brooklyn.
Cavs agree to deal Kyrie Irving for Isaiah Thomas, Jae Crowder, Ante Zizic and 2018 Nets pick, source told ESPN.

— Jeff Goodman (@GoodmanESPN) August 22, 2017
Sources: Boston, Cleveland on trade call now with league office. Deal is done.

— Adrian Wojnarowski (@wojespn) August 22, 2017
With Kyrie being the biggest name in the trade, the Celtics' futures were more greatly impacted than those of the Cavs. BetOnline was quick to reopen those futures for both teams, and here's a look at the changes.
Boston Celtics
Pre-Trade
(BetOnline)
Post-Trade
(BetOnline)
Win NBA Championship
+1000
+600
Win Eastern Conference
+250
+175
Cleveland Cavaliers
Pre-Trade
(BetOnline)
Post-Trade
(BetOnline)
Win NBA Championship
+475
+500
Win Eastern Conference
-155
-140
At +600, the Celtics now have the third best odds to win the NBA title, behind Golden State (-185) and Cleveland (+500), and their implied probability has improved from 9.09% to 14.29%. The next highest odds belong to the Rockets at +1000.
The C's have also closed the gap in the East, going from +250 to +175 to win the conference (7.79% increase in implied probability).
As for Cleveland, well, they've still got this player named LeBron James who's played in seven straight NBA Finals. Their title and conference chances didn't diminish much, seeing less than 2% changes in implied probability for each outcome.
What do you think? Did oddsmakers overreact? Did they not react enough? Feel free to leave your thoughts and predictions in the comment section.