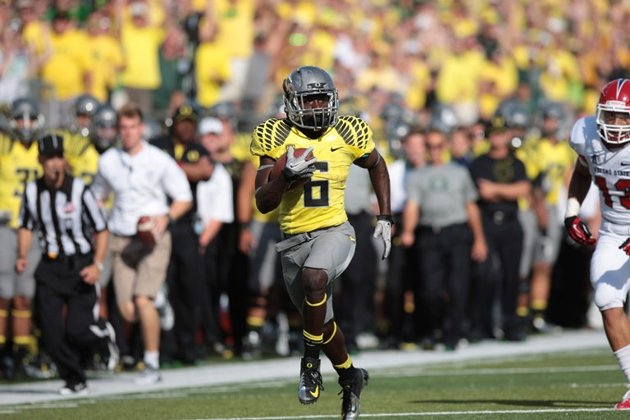 Sharp Money Finally Taking a Side in the Tostitos Fiesta Bowl
After remaining stagnant for almost a month, the line for tonight's Tostitos Fiesta Bowl has steadily dropped as sharp money began hitting the market Monday.
As you can see in the line history below, The Greek opened Oregon as a 9-point favorite on December 3rd and did not move that line for four weeks before dropping it to -8.5 on December 31st.

According to our College Football Betting Trends, 66% of spread bets have been placed on Oregon, which is to be expected as the public traditionally likes to back high-scoring teams that are exciting to watch.
The table below breaks this down into more detail, showing the betting action at each of our seven contributing sportsbooks.
Teams

Sprtsbk

BetUs

Carib

Wager

5Dimes

SIA

CRIS

Kansas St.
Oregon
28%
72%
36%
64%
12%
88%
40%
60%
45%
55%
39%
61%
37%
63%
Early this week, the line began moving against the betting percentages and has continued to drop from -9 to -7.5 at The Greek. This is an indicator that sharp money (big bets placed by professional bettors or betting syndicates) has come down on Kansas State, causing reverse-line movement.
The line history chart below compares line movement at The Greek to changes in spread betting percentages that have occurred so far this week.

The chart clearly shows that public betting has not fluctuated, but a Steam Move (designated by the icon on 12/31 at 12:00 pm) triggered on Kansas State began the push from 9 to 7.5.
Are you interested in using real time odds and live public betting percentages to track sharp vs. public money on your own?
Signup for a Free 7-Day Trial of our Sportsbook Insider Pro membership and test out our sports betting software for the remainder of the College Football Bowl Season as well as this weekend's Wildcard Round of the NFL Playoffs.
What are your thoughts on tonight's Tostitos Fiesta Bowl? Are you following the sharp money or think the high-flying Ducks will cover the 7.5?
We invite you to leave your analysis in the comments section below.