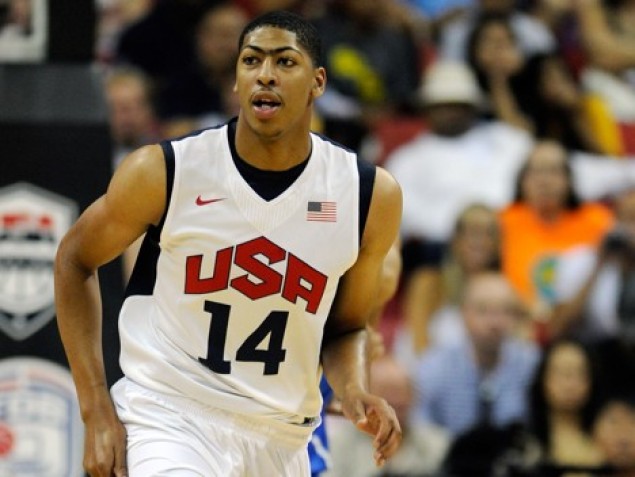 Red, White and Brow: Will Newly Added Olympian Anthony Davis Win Rookie of the Year?
With Olympic basketball just around the corner, and the top young prospects already displaying their talents in the NBA Summer League, it's only fitting that Bovada has released odds for the 2012-13 NBA Rookie of the Year. To nobody's surprise, number one draft pick Anthony Davis is the odds on frontrunner with +150 (3/2) odds to win this coveted award.
If the lanky Kentucky product is able to live up to the hype and take down this prize, it would be the third consecutive season that the top pick was able to win rookie of the year (although Blake Griffin was a year removed from his draft class after missing his first season with a stress fracture in his knee). Still, history tells us that the first pick is not always guaranteed to dominate his competition.  Since the 1998-99 season, the number one pick has received the Eddie Gottlieb Trophy just five times (Elton Brand, LeBron James, Derrick Rose, Blake Griffin* and Kyrie Irving).
While being selected with the first pick does not guarantee first-year success, there is definitely a precedent for top ten selections. Not since Mark Jackson in 1987-88 has a player outside the top ten taken down this prestigious award — and only twice has this happened since 1958 (Jamaal Wilkes was the 11th overall pick in 1974-75).
This draft has been heralded for it's depth, but do any late draft picks have a chance to be named the league's top newcomer? The table below displays the odds for each neophyte to be named Rookie of the Year.
| | | | | |
| --- | --- | --- | --- | --- |
| Player | College | Team | Draft Pick | Odds |
| Anthony Davis | Kentucky | Hornets | 1 | 3/2 |
| Michael Kidd-Gilchrist | Kentucky | Bobcats | 2 | 15/2 |
| Bradley Beal | Florida | Wizards | 3 | 19/2 |
| Harrison Barnes | North Carolina | Warriors | 7 | 19/2 |
| Thomas Robinson | Kansas | Kings | 5 | 19/2 |
| Jonas Valanciunas | Lithuania | Raptors | 5 (2011) | 10/1 |
| Dion Waiters | Syracuse | Cavaliers | 4 | 15/1 |
| Damian Lillard | Weber State | Blazers | 6 | 20/1 |
| Kendall Marshall | North Carolina | Suns | 13 | 25/1 |
| Marquis Teague | Kentucky | Bulls | 29 | 25/1 |
| Royce White | Iowa State | Rockets | 16 | 25/1 |
| John Henson | North Carolina | Bucks | 14 | 25/1 |
| Austin Rivers | Duke | Hornets | 10 | 30/1 |
| Andre Drummond | UConn | Pistons | 9 | 30/1 |
| Jeremy Lamb | UConn | Rockets | 12 | 30/1 |
| Jared Sullinger | Ohio State | Celtics | 21 | 30/1 |
| Maurice Harkless | St. John's | 76ers | 15 | 30/1 |
| Tyler Zeller | North Carolina | Cavaliers | 17 | 30/1 |
| Terrence Ross | Washington | Raptors | 8 | 35/1 |
| Donatas Motiejunas | Lithuania | Rockets | 20 (2011) | 40/1 |
| Andrew Nicholson | St. Bonaventure | Magic | 19 | 40/1 |
| John Jenkins | Vanderbilt | Hawks | 23 | 40/1 |
| Meyers Leonard | Illinois | Blazers | 11 | 40/1 |
As you can see, no player drafted outside of the top 10 appears on this list until we reach the foursome of Kendall Marshall, Marquis Teague, Royce White and John Henson at +2500 (25/1). White, an immensely talented player with supposed character issues, will be dealing with a crowded frontcourt that includes fellow youngsters Terrence Jones, Donatas Motiejunas, Marcus Morris and Patrick Patterson. This logjam was helped out with the amnesty of veteran forward Luis Scola — and could be further simplified if a number of these players are packaged in exchange for Dwight Howard — but as of now, it's tough to see the young forward log enough minutes to make a run at the rookie of the year award.
Kendall Marshall and Marquis Teague are interesting cases, as they will be given a trial by fire (assuming they are thrust into the starting lineup). With Steve Nash now playing for the Lakers, Marshall has the opportunity to step in right away. Although he is not a prolific scorer, the former Tar Heel could rack up assists in the Suns' up-tempo offense. As for Teague (whose older brother Jeff plays for the Hawks), he will likely take the reigns for a title-contending Bulls team until Derrick Rose returns from ACL injury.
Within the top ten, the two players that immediately caught my attention were Harrison Barnes and Jonas Valanciunas. Barnes, who was the top ranked player coming out of high school, has excellent athleticism and a crisp jumper. If coach Mark Jackson can light a fire under him, he could thrive in a high-scoring offense that lacks scoring punch following the trade of Monta Ellis.
The other name mentioned may cause quizzical looks and instant Wikipedia searches, so allow me to save you the trouble. Jonas Valanciunas was the fifth overall pick in last season's draft, despite the belief from most GM's that he was a top-three pick. The 6'11" big man is a true throwback — a back to the basket center, with a variety of post moves. Still only 20 years old, last season JV was named the Lithuanian Player of the Year, FIBA European Young Player of the Year and took home the Eurocup Rising Star award. Back in 2010, Valanciunas led Lithuania to a gold medal in the FIBA Europe Under-18 championship while averaging 19.4 points, 13.4 rebounds and 2.7 blocks per game. Playing for a team seriously devoid of talent, Valanciunas will have the opportunity to earn big minutes and could reward bettors with big numbers. Considering that Anthony Davis still needs to add weight and is something of a work in progress, the NBA-ready Lithuanian is worth keeping close tabs on.
While one Raptor rookie looks primed for a big season, another is getting no respect from bookmakers. Terrence Ross, the number eight pick by Toronto, was considered a reach by NBA draft experts — and there seems to be a consensus there. The 6'6″ shooting guard averaged 16.4 points and 6.4 rebounds as a sophomore at Washington, but at +3500 he has the worst odds of any top-ten pick.
Of course, with free agency still ongoing and trade rumors swirling around the league, these odds are subject to significant change. For example, any trade involving Dwight Howard likely frees up minutes for players like Andrew Nicholson and would cause his odds to improve. This brings up perhaps the biggest thing for rookie production — opportunity. Bradley Beal could have potentially been a 20-point per game scorer on a Bobcats team devoid of offensive firepower (specifically, anybody who can create their own shot) but on a Wizards team that features veterans like Emeka Okafor, Trevor Ariza and Nene as well as ball-dominating guards like John Wall and Jordan Crawford, that same opportunity does not exist for the former Gator.
But who do you think is the best bet for rookie of the year? Is it even worth betting against Anthony Davis? Make sure to leave your thoughts in the comments section.